Baseball
World Series odds: Who should you buy, sell after 1st month?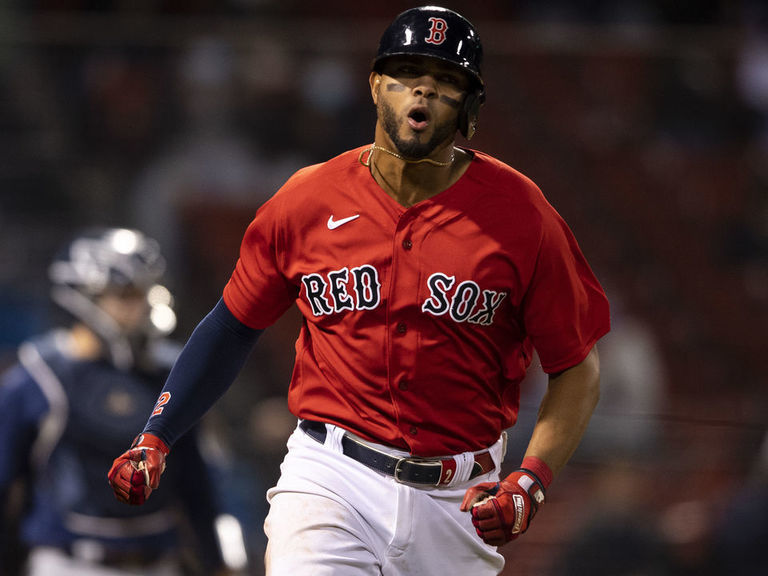 We're almost exactly a month into the MLB season, and while that would've marked the halfway point nearly a year ago, it's just a small slice in this year's 162-game campaign. Still, it's enough of a sample to shuffle the World Series oddsboard – and to mine value on clubs that haven't moved enough.
Here are the updated World Series odds at theScore Bet, along with five teams to buy or sell after the first four weeks:
| TEAM | ODDS |
| --- | --- |
| Los Angeles Dodgers | +300 |
| New York Mets | +700 |
| New York Yankees | +700 |
| San Diego Padres | +800 |
| Chicago White Sox | +1100 |
| Atlanta Braves | +1200 |
| Houston Astros | +1600 |
| Minnesota Twins | +1800 |
| Oakland Athletics | +2000 |
| Toronto Blue Jays | +2200 |
| Boston Red Sox | +2500 |
| Los Angeles Angels | +2500 |
| Milwaukee Brewers | +2500 |
| St. Louis Cardinals | +2500 |
| Tampa Bay Rays | +3000 |
| Chicago Cubs | +3500 |
| Cincinnati Reds | +3800 |
| Cleveland Indians | +5000 |
| Philadelphia Phillies | +5000 |
| Washington Nationals | +6000 |
| Kansas City Royals | +8800 |
| Miami Marlins | +12500 |
| San Francisco Giants | +12500 |
| Seattle Mariners | +12500 |
| Baltimore Orioles | +17500 |
| Detroit Tigers | +20000 |
| Arizona Diamondbacks | +22500 |
| Texas Rangers | +22500 |
| Colorado Rockies | +25000 |
| Pittsburgh Pirates | +30000 |
Buy
Chicago White Sox (+1100)
Entering the year, I loved the collection of talent on this White Sox roster. Then out of nowhere, Yermin Mercedes became an All-Star caliber bat, and Carlos Rodon threw a no-hitter to punctuate an otherwise stellar campaign – all while Chicago's price somehow lengthened from +900 to +1100.
Even if the duo regresses to the mean, there's no reason to knock the White Sox, which have won six of their last eight games and have one of the easiest remaining schedules in MLB. Tim Anderson has given this lineup a jolt after returning from injury, and future star Luis Robert is finally settling in after early struggles. There's a lot to like with this group, so don't hesitate to buy at a slight discount.
Milwaukee Brewers (+2500)
The Brewers were one of my best bets entering the season at 50-1 and my pick to win the World Series. So far, I feel even better about that bet, and I'd recommend buying at this price if you missed the boat before the year.
Corbin Burnes has been a revelation, ranking third in fWAR (1.7) while owning an MLB-best 0.50 FIP and an absurd 45.4% strikeout rate. Burnes alone would be enough to feel comfortable with this rotation, but Brandon Woodruff has been a top-10 pitcher in his own right, and it's only a matter of time before Milwaukee's loaded bullpen pitches to its potential.
We knew the lineup might struggle out of the gate, but there's enough skill here to expect average to above-average play over the back half of the year. When that happens, it'll be too late to buy at this value.
Cincinnati Reds (+3800)
The Reds profiled as a good (but not great) hitting team coming into the year, possessing two ace-level arms and a lot of question marks. That hasn't been the case through four weeks, and what we have seen is reason enough to be excited about Cincinnati's upside.
The bats have been on fire, ranking third in wOBA (.331) and first in xwOBA (.351), xwOBAcon (.430), and barrel rate (10.4%) – all of which play well at Great American Ball Park. Tyler Mahle (1.75 ERA) has been a pleasant surprise with peripheral numbers to back it up, while reliever Tejay Antone has shown some of the nastiest stuff in baseball through the first month.
The biggest questions, surprisingly, have centered around Luis Castillo and Sonny Gray, both of whom have a long enough track record of success to bet on a bounce-back effort. That would be the icing on the cake for a club with the pieces to make a run.
Sell
Boston Red Sox (+2500)
This is a classic example of a market overreaction sapping the value from a team just one month into the campaign. I actually loved the value on the Red Sox when they entered the season at 70-1. At this price, though? Hard sell.
We knew Boston's lineup was legit entering the year, and it's currently leading the league in wOBA (.335) through 25 games. That's been the catalyst for the club's 16-9 start, but an overperforming rotation has kept the team afloat while the rest of the AL East flounders.
The Red Sox starters have posted the seventh-highest fWAR (2.4) despite ranking 17th in xFIP (4.06) – a number that might even get worse as the season progresses, given the rotation's talent. That leaves little margin of error for the club's red-hot hitters to justify such a short price.
Chicago Cubs (+3500)
The Cubs have been a train wreck. The franchise ranks dead last in batting average (.203) and expected batting average (.222), while its pitchers have allowed the highest collective wOBA (.338) of any team in the majors. Does it get any worse than that?
This team has gifted pieces, sure, but with just one regular position player (Kris Bryant) hitting better than .260 and one pitcher (Jake Arrieta) posting an ERA below 4.40, there's a lot of regression needed for Chicago to suddenly transform into a legitimate World Series contender, as this price demands. The more likely scenario is a sell-off at the deadline. Stay far away.
C Jackson Cowart is a betting writer for theScore. He's an award-winning journalist with stops at The Charlotte Observer, The San Diego Union-Tribune, The Times Herald-Record, and BetChicago. He's also a proud graduate of UNC-Chapel Hill, and his love of sweet tea is rivaled only by that of a juicy prop bet. Find him on Twitter @CJacksonCowart.