Sports
Will Wade to team: 'Don't let one loss beat you twice' as LSU tries to get off the mat at Kentucky | LSU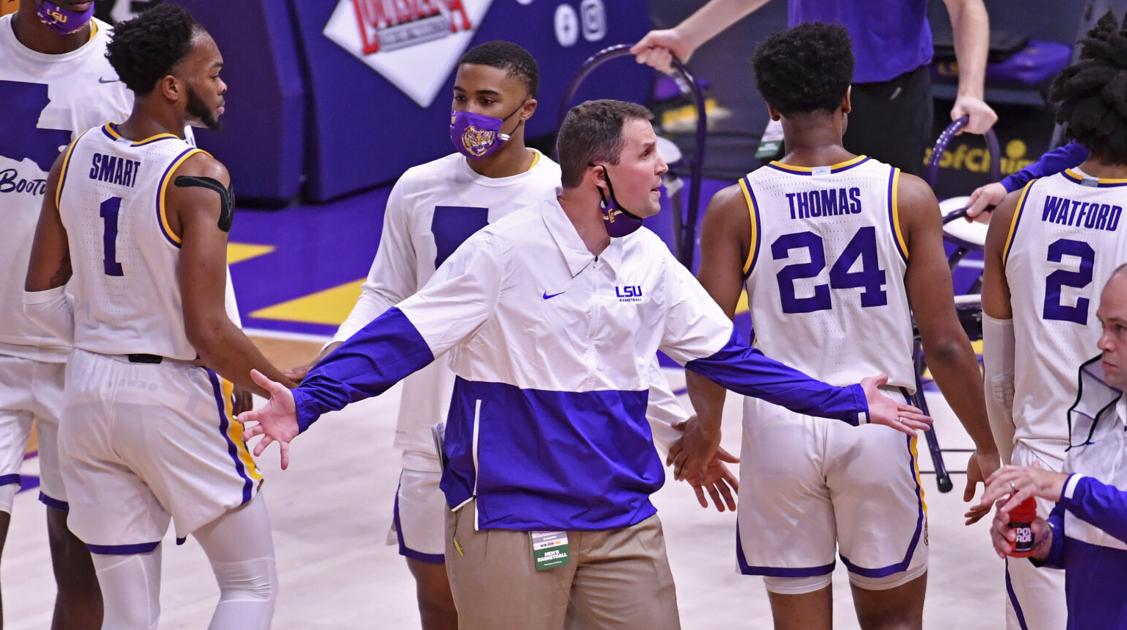 Under Will Wade, the LSU basketball program has been known to have at least one clunker in Southeastern Conference play each season.
It might be one of those nights when nothing goes right and his team comes unraveled, usually on the road, or when the Tigers aren't as focused as they need to be.
Three years ago, a horrific 95-70 loss at Auburn prompted Wade to pull his players off their idling bus and put them through a practice before heading to the airport.
Two years ago, it was an 86-80 win over an outmanned Missouri outfit in which LSU had to overcome a 14-point deficit in the final two minutes to force overtime.
Last season, after an impressive 8-0 SEC start, it was a lackluster, mind-boggling 99-90 setback to a Vanderbilt team that had lost 28 consecutive league games.
Then, on Tuesday night, No. 18 Alabama rolled into the Pete Maravich Assembly Center and shot the lights out in a 105-75 drubbing of LSU.
Wade's message to his team after it was over? "Don't let one loss beat you twice."
That's what LSU (10-3, 5-2 SEC) hopes to avoid when the Tigers get bakc on the court for a 5 p.m. Saturday game with struggling Kentucky (4-9, 3-3 SEC) in Rupp Arena.
Surely, LSU won't get any sympathy from Kentucky. The Wildcats are 4-9 overall for the first time since 1927 after falling to Georgia 63-62 Wednesday night on a field goal with 1.3 seconds remaining.
So both teams will be trying to right their ship after mid-week issues; one that got rocked from the start and one that suffered a heartbreaking road defeat.
"I've said this from the start, we have got great leadership on this team; anybody can captain a boat in smooth waters," Wade said Friday. "It's what happens when the water gets rocky, the water gets a little bit choppy.
"That's what makes a skilled sailor. … That's why we've been doing all the leadership stuff we've been doing since the summer."
Wade described the loss that snapped a four-game winning streak an "all-systems breakdown" after Alabama set an SEC-record with 23 made 3-pointers.
The Crimson Tide led by as many as 43 points with just more than 10 minutes remaining.
While stressing that they had to use the game as a teaching tool, Wade said it was important for his team to get up off the mat and make things happen.
That means not compounding the problems the Tigers had Tuesday night.
"We got our doors blown off, but anytime that happens it's all in the details," Wade said. "There are three things that we went back and had to hone in on."
That includes transition defense, which has been a recurring theme most of the season. Offensive spacing and defensive rebounding were other areas LSU fell down on, he said.
He noted it was good his team didn't have to sit around to begin prepping for Kentucky.
"That's the good part about basketball," Wade said, "we can turn around and get going and try to get this bad taste out of our mouth."
The good news is the Tigers have been able to do that for the most part under Wade.
During his tenure, LSU has had just one three-game SEC losing streak and four two-game losing streaks. It is 13-6 following a league loss since Wade took over.
In trying to rebound from Tuesday night's loss, LSU will get a test from Kentucky.
After starting 1-6 in nonconference, the Wildcats started SEC play with three wins before losing their past three.
The loss to Georgia was particularly difficult to take because Kentucky led by six with two minutes to play and couldn't close it out.
The Wildcats missed a one-and-one with 23 seconds to play, then failed to stop the Bulldogs from getting the game-winning shot even though P.J. Horne momentarily fumbled the imbounds pass under his own basket.
"I need someone to talk to me because I'm discouraged," Kentucky coach John Calipari said when asked what he told his team after the discouraging loss. "What I just saw? The way we finished the game?"
He was particularly upset the Wildcats didn't challenge Horne on his game-winner.
"(Horne) fumbled the ball," Calipari said. "(Then) no one (tried to) block it. We just gave him a layup. C'mon!"
That's how frustrating it's been for Kentucky. The Wildcats are last in the SEC in field-goal accuracy (41.9%) and are second-to-last in scoring (67.0) and 3-point shooting (28.4%).
Despite those woes, Wade knows it'll take sharper play on both ends of the floor to get past Kentucky.
"I have a lot of belief in our guys, I have a lot of faith in our team," he said. "I think we're built for situations like this. When you're in a league like this, you're going to get knocked down. It's how you get back up, how you respond."