Cricket
Vijay Hazare Trophy: Karnataka thump Kerala to make semis | Cricket News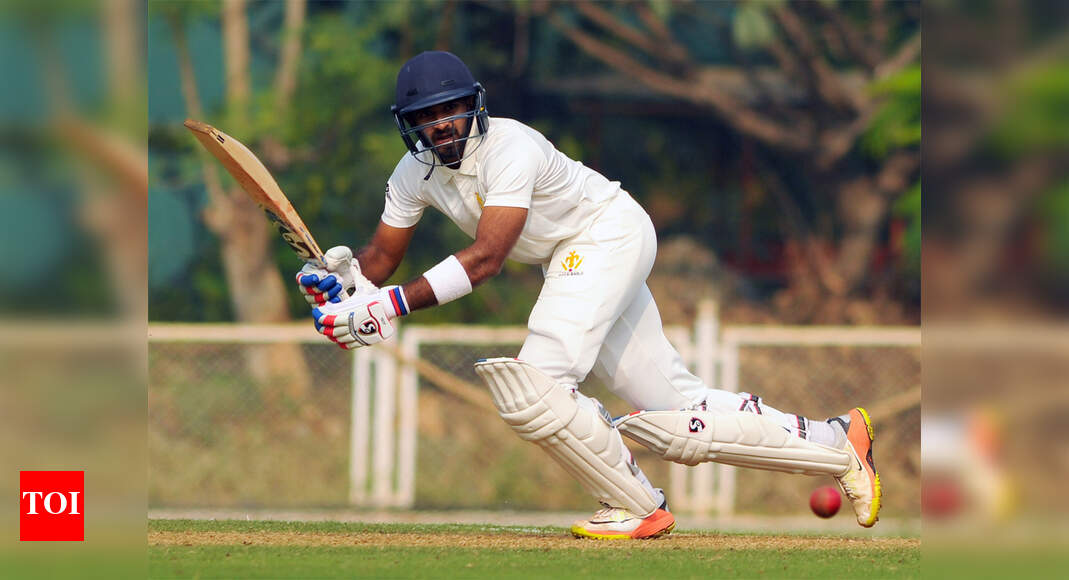 Cashing in on opportunities has been Karnataka skipper R Samarth's mantra this season. A tireless worker who hasn't been Karnataka's first choice in white-ball cricket, Samarth has turned things around for himself and silenced his critics in the ongoing Vijay Hazare Trophy.
The 28-year-old opener (192; 158b; 22×4; 3×6), who missed out on the previous season of the tournament, looks like a man in a hurry to make up for lost time. On Monday, against Kerala in the quarterfinals, the right-handed batsman, along with fellow centurion, the red-hot Devdutt Padikkal (101; 119b; 10×4; 2×6) and pacer Ronit More (5/36), fashioned Karnataka's commanding 80-run victory. Chasing Karnataka's 338/3, Kerala folded up for 258 in 43.4 overs.
Invited to bat at the Air Force Ground in Palam, New Delhi, Samarth and Padikkal got the defending champions off to a good start. Samarth was the more aggressive off the two and brought up his half-century in 59 balls. Padikkal followed with 65 balls. Samarth reached his third century of the tournament in 112 balls, while Padikkal scored his fourth consecutive century soon after. Their 249-run opening stand was broken when Padikkal lost his stumps to medium-pacer N Basil (3/57).
Padikkal became the third batsman after Kumar Sangakkara (2014-15) and Alviro Petersen (2015-16) to score four centuries on the trot in List A.
Manish Pandey's arrival immediately lifted the run rate as the star batsman struck an unbeaten 20-ball 34.
Samarth was on course to becoming Karnataka's first List A double centurion but fell short by eight runs when he holed out to Vishnu Vinod off Basil. The skipper's knock was nevertheless, the highest individual score in the format by a Karnataka player, surpassing Robin Uthappa's 169 against Goa in the 2012-13 season. Samarth's 223-minute masterclass was studded with 22 hits to the ropes and three over it. He also became the first player from the state to score three centuries in a limited overs season, a feat he had earlier achieved in the 2017-18 season.
In Kerala's innings, More, who was a late replacement for an injured Abhimanyu Mithun, struck in the fourth over with Uthappa being adjudged leg-before. Rohan SK too was sent back by More leaving the opposition precariously placed at 15/2 in the sixth over. Just when Karnataka looked in control, Vathsal Govind (92, 96b, 6×4; 3×6) took the fight to the opposition along with Mohammed Azharuddeen (52; 34b; 5×4; 2×6). They frustrated the Karnataka bowlers, spinners in particular, with their 92-run partnership for the fifth wicket. Leggie Shreyas Gopal (2/64) broke the stand when Azharuddeen was stumped by wicketkeeper BR Sharath.
When More sent back Vathsal off the last ball of the 37th over, it was the final nail in the coffin for Kerala as Karnataka wrapped up the match with plenty to spare.
SCOREBOARD
Karnataka: Samarth c Vinod b Basil 192, Padikkal b Basil 101, Pandey (not out) 34, Gowtham c Vathsal b Basil 0, Siddharth (not out) 4. Extras (W-6; LB-1) 7. Total (for 3 wkts; 50 overs) 338.
Fall of wickets: 1-249, 2-317, 3-324
Bowling: Saxena 10-1-34-0, Sreenath 10-1-73-0, Thampi 7-0-67-0, Basil 8-0-57-3, Chandran 7-0-47-0, Sachin 6- 0-44-0, Vinod 2-0-15-0.
Kerala : Uthappa lbw More 2, Vinod c Sharath b Prasidh 28, Kunnummal c Prasidh b More 0, Vathsal c Prasidh b More 92, Sachin c Siddharth b Gowtham 27, Azharuddeen st Sharath b Shreyas 52, Chandran b Shreyas 9, Saxena c Sharath b Gowtham 24, Thampi c Siddharth b More 2, Sreesanth b More 4, Basil (not out) 10. Extras (W-6; LB-2) 8. Total (all out; 43.4 overs) 258.
Fall of wickets: 1-13, 2-15, 3-52, 4-111, 5-203, 6-215, 7-219, 8-229, 9-237.
Bowling: Prasidh 6-0-22-1, More 9-0-36-5, Vyshak 8-0-45-0, Shreyas 10-0-64-2, Gowtham 9.4-0-73-2, Karun 1-0-16-0.