NFL
Todd McShay Believes 49ers Are Taking Mac Jones With No. 3 Pick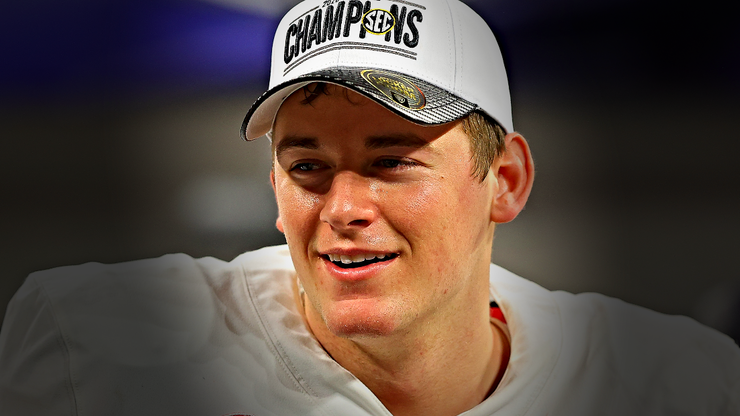 Rich Eisen: "You have the 49ers taking Mac Jones, you think they coughed up all that draft capital to go get Mac Jones? Why?"
Todd McShay: "I would take Trey Lance. I think he has the highest ceiling of the other quarterbacks after the top 2 [Trevor Lawrence, Zach Wilson], but the intel I keep getting is that Mac Jones is going to be the pick. Listen, I understand. Kyle Shanahan wants a guy that he knows can understand the game, has the same brain that he has, and he can just throw him out there. If you look at the analytics from the pressure QBR, to the blitz QBR, to the 20+ yard QBR, Mac Jones has the best numbers. But he's not as athletic as Justin Fields or Trey Lance. Personally, I would take Lance, but Mac Jones makes a lot of sense, and that's what everyone keeps telling me." (Full Segment Above)
Listen to ESPN NFL Draft analyst Todd McShay join The Rich Eisen Show explaining why he believes the 49ers will select Mac Jones with the number three pick, despite McShay himself believing the 49ers should draft North Dakota State quarterback Trey Lance.
Here is McShay's latest mock draft on the first 20 selections.
1. Jaguars: Trevor Lawrence, QB, Clemson
2. Jets: Zach Wilson, QB, BYU
3. 49ers: Mac Jones, QB, Alabama
4. Falcons: Kyle Pitts, TE, Florida
5. Bengals, Ja'Marr Chase, WR, LSU
6. Dolphins: DeVonta Smith, WR, Alabama
7. Lions: Jaylen Waddle, WR, Alabama
8. Panthers: Patrick Surtain II, CB, Alabama
9. Broncos: Trey Lance, QB, North Dakota State
10. Cowboys: Jaycee Horn, CB, South Carolina
11. Patriots: Justin Fields, QB, Ohio State
12. Eagles: Micah Parsons, ILB, Penn State
13. Chargers: Penei Sewell, OT, Oregon
14. Vikings: Rashawn Slater, T/G, Northwestern
15. Giants: Jeremiah Owusu-Koramaoh, ILB, Notre Dame
16. Dolpins: Alijah Vera-Tucker, OG, USC
17. Raiders: Trevon Moehrig, S, TCU
18. Cardinals: Caleb Farley, CB, Virginia Tech
19. Washington: Christian Darrisaw, OT, Virginia Tech
20. Bears: Kadarius Toney, WR, Flordia
Check out the segment above, and the FULL interview below at the bottom of the page.
Clay Travis Calls Out Adrian Wojnarowski For False Reporting on Jacob Blake
Julius Randle is the Most Valuable Player in the NBA
Bucky Brooks: 49ers Didn't Move Up to #3 to Draft 'Pedestrian' Mac Jones
Colin Cowherd: Nets Are 'Too Pretty' & 'Not Tough Enough' to Win NBA Finals
Why Aaron Rodgers Will Be Traded to 49ers For Third Overall Pick
Why Steph Curry is a 'System Quarterback' and Not an All-Time Great Player
Colin Cowherd Predicts Which Notable NFL Players Will Make the Hall of Fame
New Surveillance Video Refutes the Assault Allegations Against Aaron Donald
Will Cain: Transgender Athlete 'Inclusion' Would Destroy Women's Sports
Sean McVay Opens Up About Why the Rams Traded Jared Goff for Matt Stafford