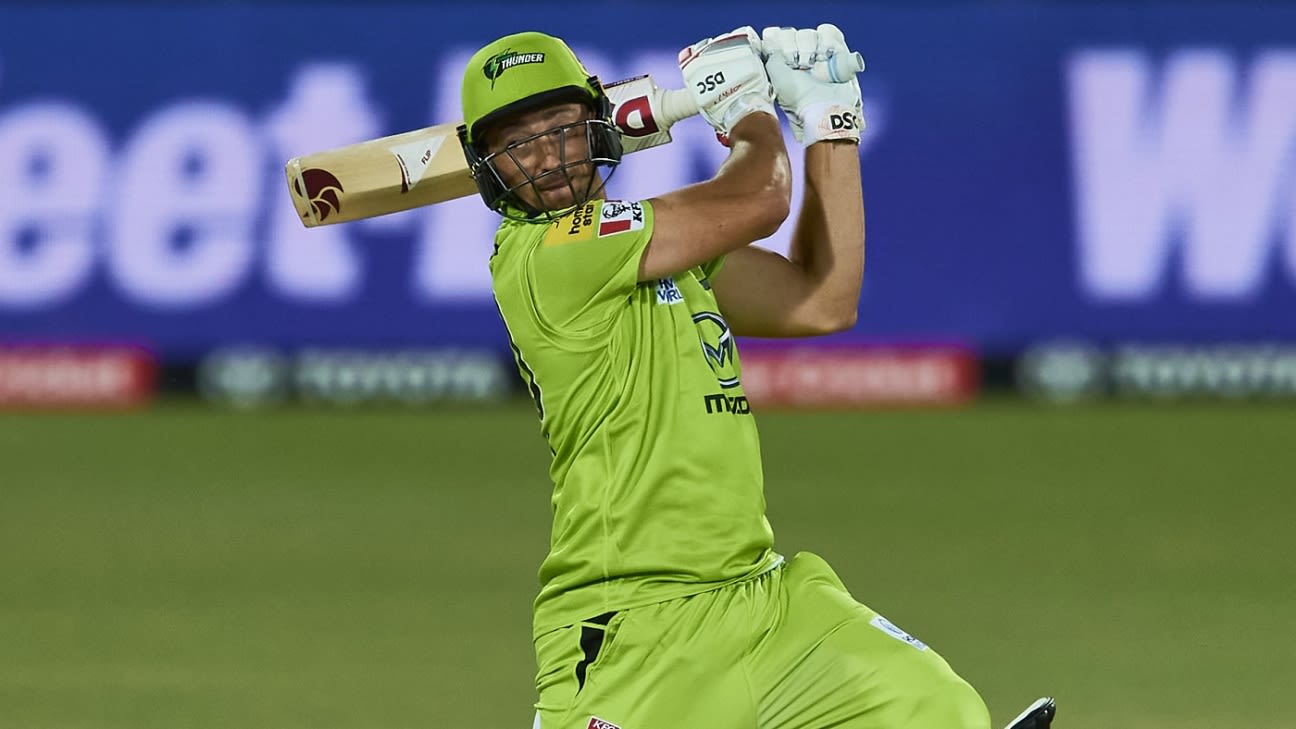 News
The allrounder has recovered from a hand injury to bring the Thunder back to full strength
Daniel Sams has been passed fit to play in the BBL Knockout final against the Brisbane Heat, giving the Sydney Thunder a significant boost and returning their middle order to full power.
Sams suffered a bone and tendon injury in his right hand when he fell awkwardly fielding off his own bowling against the Hobart Hurricanes earlier this month and missed the last three regular-season games which saw the Thunder qualify third in the table.
While they covered for his absence effectively in the bowling attack through Brendan Doggett's impressive form at the back-end of the tournament, Sams' batting has been a point of difference for the Thunder this season.
He is striking at 191.34 from seven innings for his 199 runs – propelled by his thumping 65 off 25 balls in the group match against the Heat – placing him second overall for the season behind team-mate Nathan McAndrew. He has been a key part of the Thunder's strong performance in the Power Surge – the two overs of fielding restrictions which can be taken by the batting side after the 10th over – where they lead the way with a run rate of 12.69.
Sams himself has scored 69 runs off 31 balls during the Surge, which places him fourth behind team-mate Ben Cutting at the top (91 off 40), Brisbane Heat's Jimmy Peirson (82 off 50) who will be in the opposition on Sunday and Jordan Silk (79 off 45) from the Sydney Sixers.
"All the stuff that I needed to [do] yesterday, I was able to tick it off without any problems really. We're actually a little bit surprised with how good it's turned out," Sams said. There's a little bit of awareness of pain. But, I'll be able to go out there and bat as I usually would."
Sams has also taken 10 wickets with his left-arm pace but it was his ability to be at full tilt with bat in hand that was the main decider over his fitness
"His batting was the main thing we looked at," Thunder coach Shane Bond said. "There's always a couple of risks that are associated with an injured hand, so the main concern was his batting. The good news is he had no problems and is ready to go."
Sams' availability will leave Bond with a tough selection decision after the impact Doggett has had with the ball and the all-round skills that McAndrew brings to the side.
"It's a good headache," he said. "It's nice to have a fully fit squad at this time of the season. It's an unusual situation, but it's definitely welcome.
"In terms of our bowling, I think in the last three games we've started to really see our game plan come to fruition because we've bowled really well. If we can do that again in this game it will be great.
"Our batting has been good and consistent throughout the tournament, but it's tremendous to see that our bowling has picked up."
The two group matches between the Thunder and Heat were shared one apiece. The Thunder chased down 179 with seven balls to spare at Manuka Oval – the venue for the Knockout – thanks to Sams' brilliance, and then the Heat successfully chased at the Gabba although Sams again made an impact with 37 off 18 balls before having to be subbed out with concussion.
Andrew McGlashan is a deputy editor at ESPNcricinfo