Formula 1
THROWBACK: Ayrton Senna Spins Michael Schumacher Into Retirement During the 1993 South Africa F1 GP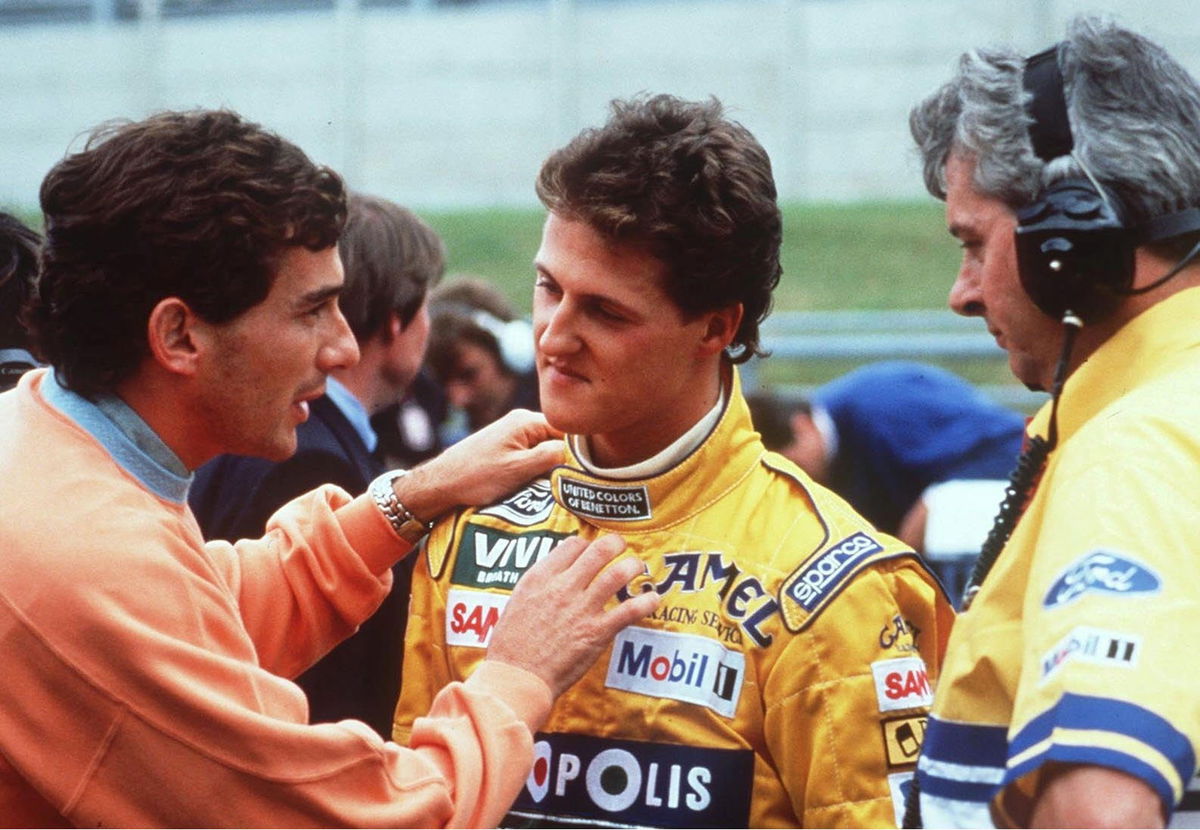 Ever since their takeover by Liberty Media, F1 have been hunting for more circuits to add up to what is already looking like an extensive racing calendar. One of the circuits that is in the race for a berth on the calendar is the Kyalami Grand Prix circuit in South Africa.
Although it is currently lined up under the Grade 2 category of FIA, the former F1 hosts have been prepping up to return to Grade 1 soon. Furthermore, with F1 showing interest in Kyalami, the high-speed circuit's return to F1 is looking imminent.
Hence, cherishing their potential return to the sport, let's take a look at one of the most controversial moments that took place on the track – one of the most-talked-about incidents between Ayrton Senna and Michael Schumacher.
Race Start at 1993 South Africa GP
It was a warm Sunday afternoon at Kyalami, and the trio of Alain Prost, Senna, and Schumacher was again in the spotlight through the race.
Prost was on pole, while the other two lined up right behind him. But the former's advantage soon vanished following a slow start to the race. Both his rivals raced past him, as Prost saw himself in third in a span of few laps.
However, the Frenchman paced himself along with the Benetton of Schumacher and breezed past the German on lap 13. Eventually, he also caught the Brazilian, who was leading the race until lap 25.
And there was no catching the Renault-powered Williams after that, as it was absolute domination by Prost.
Heavy drama on lap 40 of the F1 race
With Prost out of the frame, the focus shifted onto Senna and Schumacher. The latter somehow managed to give up his position to the German.
However, a smart pit-stop strategy meant that the McLaren driver took hold of second place again. But Schumacher was never going to give up that easily.
He commenced a late charge on Senna and remained on his rear wing for a handful of laps. Unfortunately, a bigger drama unfolded on lap 40 of the race.
Schumacher dived onto the inside of Senna while going around a right-handed turn, but the latter closed the door aggressively, leaving Schumacher with no room.
Ultimately, the German clipped his front wing with the McLaren and spun off, facing the wrong direction. Despite the contact being very minimal, enough damages were done, as Schumacher retired from the race.
It was a long walk for Schumacher back to the paddock, as he portrayed a dejected figure throughout. Meanwhile, Senna managed to see the checkered flag in P2.
Now, with Kyalami GP likely around the corner, will F1 manage to churn out more such unforgettable moments in the coming years? Well, let's see what the future holds.
Also Read: Where Michael Schumacher Had the Edge on Ayrton Senna in F1