NASCAR
The Tide | Pro athletes take a stand, or a knee, for social justice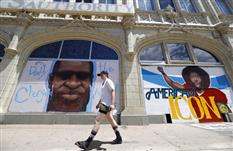 Following NFL quarterback Colin Kaepernick's iconic National Anthem protests in 2016, a new wave of athletes have decided to utilize their platform for change in 2020.
Kaepernick was not the first to openly protest on the field, as a long history of professional athletes pushing for social justice precedes him. This includes Jesse Owens' refusal to salute Adolf Hitler during the 1936 Berlin Olympics, Kathrine Switzer's completion of the Boston Marathon despite an official's attempt to drag her off, and the Denver Nuggets' Mahmoud Abdul-Rauf's 1996 suspension for choosing to pray during the National Anthem in protest of America's oppressive history. 
However, widespread acceptance of athletes participating in protests did not come about until rather recently. Bold actions like Kaepernicks' served as turning points for a long chain of athletes demanding change that is long overdue, both on and off the field.
While many athletes take it upon themselves to carry on the legacies of the greats who came before them, one competitor charting new territory is NASCAR driver Bubba Wallace. Being one of only two black drivers in the history of NASCAR racing, Wallace has taken the spotlight in 2020, most notably contributing to the ban of the Confederate flag at NASCAR events. 
After spending his entire NASCAR career tolerating this racist symbol of the sport, it was the killings of unarmed black men Ahmaud Arbery in June, and later George Floyd, that convinced Wallace to speak up and encourage his racing peers to do the same. 
Although not everyone in NASCAR followed suit, Wallace was still able to gain recognition and launch a new chapter of his career with a focus on ending the marginalization of African Americans. To further press his point, Wallace drove a June 10 race with his car flaunting #BlackLivesMatter and "Compassion, Love, Understanding." 
In recent months, with a significant election approaching, professional athletes turned their focus to the issue of voting. Tying directly with the growth of the Black Lives Matter movement, the media saw a push to increase voter turnout among a new generation of African Americans. "I think that [professional athletes] should also use social media to their advantage…because that's where I think they can really reach people. Especially young audiences who should hear about social justice at a young age," sophomore Dana Ayebare said. 
An example of a cohesive effort among professional athletes attempting to increase voter turnout was the creation of More Than A Vote. The Lakers' LeBron James teamed up with over 50 other African American athletes and media members, including Allyson Felix, Odell Beckham Jr., and Kyle Lowry to form the organization.
"Our priority right now is combating systemic, racist voter suppression by educating, energizing, and protecting our community in 2020," reads the organization's official website. With a large-scale social media effort led by its founders More Than A Vote recruited over 40,000 poll workers during this election season. Campaigns like this, centered on increased voter turnout among people of color, who tend to vote democratic, was one of the reasons for Biden's historic win.  "If athletes start making change in the world, then other people will see that and act on it as well." Hamza said.
Another long-standing issue was brought back into the spotlight after last year's Women's World Cup: the gender wage gap in the sports industry. The USWNT has been fighting a legal battle with the U.S. Soccer Federation over pay discrimination since early 2019 and one star who rose out of the events was captain and winger Megan Rapinoe.
"
[They] have been given this great platform, especially since people are so invested in athletes,"
— Dana Aybare
"She's not only a soccer player, she's a huge advocate for LGBTQ rights and for women's pay," Hamza said, "We see her posting and talking about things for equal rights. Even after they won the World Cup that was one of her main focuses, equal pay."
Rapinoe's outspokenness has garnered respect and admiration from many but has also created friction with the Federation. Inspired by Kaepernick, Rapinoe also chose to kneel for the National Anthem in 2016 in an international friendly. Shortly after, U.S. Soccer created a policy requiring players to stand during the Anthem. 
However, after mounting pressure from players and fans, the USSF Board of Directors repealed this policy in June of 2020. "It should be, and will be going forward, up to our players to determine how they can best use their platforms to fight all forms of racism, discrimination, and inequality," they said in a statement. Megan Rapinoe is but one example of the platform that athletes have and what can happen when utilized. 
The influence that professional athletes have on creating change is undeniable. "[They] have been given this great platform, especially since people are so invested in athletes," said Ayebare. The voices of generations are heard through these professional athletes, who will continue to speak and take action to lead the next generation.