NFL
The perfect storm in 2021? Pairing the Rhett Lashlee offense with the Manny Diaz defense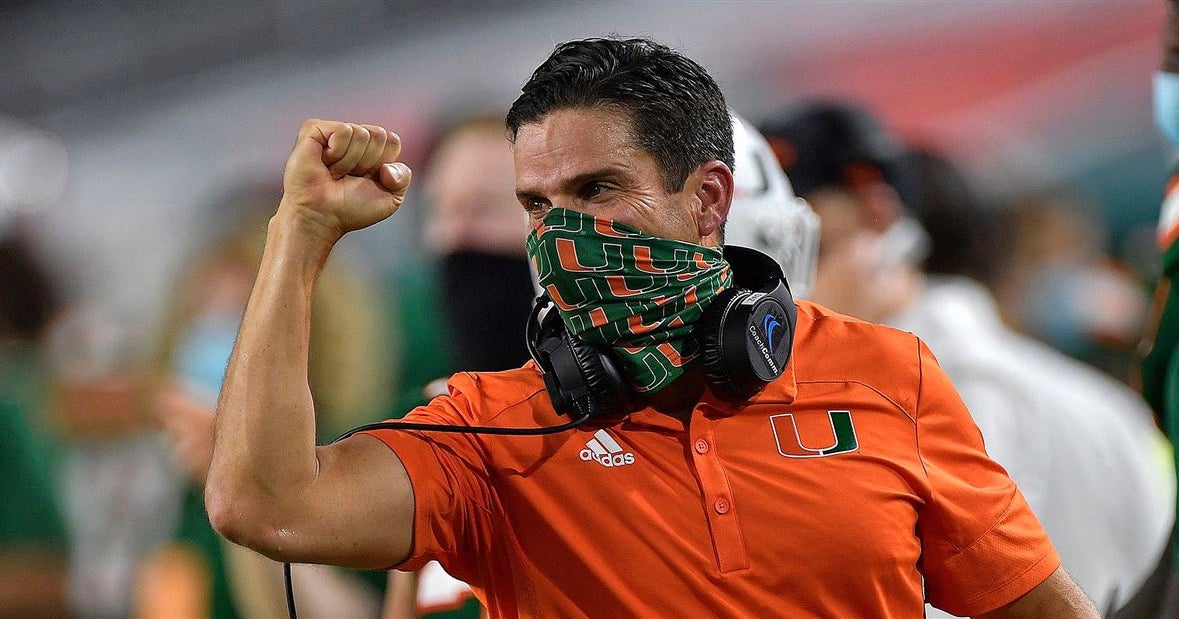 What would it look like if the Miami Hurricanes featured one of the most aggressive offensive coordinators with a defensive coordinator that is constantly attacking on the other side of the ball? 
We are about to find out in 2021. 
Miami's 2021 offense will be led by coordinator Rhett Lashlee, who will be entering his second season at UM, while head coach Manny Diaz will be serving as the defensive coordinator in 2021. 
From a stylistic standpoint, the pairing is one of the most interesting in the country. 
On paper, the potential is there for Miami to win at a high level while also playing an exciting brand of football in 2021. 
Read on for a closer look at why UM's 
THE RHETT LASHLEE OFFENSE
Modern offensive football at the college and NFL level can largely be judged in one key phase: the ability to consistently generate explosive plays. 
Explosiveness can be achieved in different ways by offenses and Lashlee looks to take a balanced approach between passing and running the ball while playing at a fast tempo. 
The year over year improvements in explosiveness for the 2020 season—Lashlee's first at Miami—were impressive. UM wrapped up the 2020 season averaging 5.8 yards per play, which was up from 5.1 in 2019. Miami ranked 45th in the country in yards per play this year while ranking 97th in the country in that stat in 2019. 
For further context on the yards per play metric, the general thinking is that elite offenses average more than seven yards per play. Good offenses average six-to-6.9 yards of offense. Miami was right on the cusp of that six yards per play threshold in 2020. The 2016 offense that featured Brad Kaaya, Mark Walton, Ahmmon Richards, Stacy Coley, David Njoku, and Chris Herndon is the best yards per play offense of recent memory for the Hurricanes with that group averaging 6.1 yards per play. 
The Hurricanes also generated more plays of at least 30 yards in 2020 than in 2019. UM generated 32 plays of at least 30 yards in 2020 while in 2019 Miami generated 27 plays that went for at least 30 yards. 
Keep in mind that Miami generated more explosive plays while playing two fewer games and the fact that UM played a harder schedule in 2020. Miami played a FCS opponent in Bethune-Cookman in 2019. The Hurricanes played only one Group of Five team in 2020 in UAB (who has a good defense) while in 2019, UM faced four non-Power Five teams. 
When compared to 2019, Miami's offense was more explosive in fewer games and against better opponents in 2020. 
The 2020 UM attack was also able to generate more explosive touchdowns from outside the red-zone compared to the previous year. In 2019, Miami scored 15 touchdowns from outside the red-zone. During the 2020 season, UM was able to score 18 touchdowns from outside the red-zone—and again that is in fewer games and against a tougher schedule. 
Efficiency is also key to success in offensive football and this phase can best be demonstrated in third down conversion rate and red-zone touchdown rate. 
Miami's 2020 offense converted 40-percent of their third down opportunities while scoring a touchdown on 60-percent of their trips inside the red-zone. Those numbers are fairly average, but they still represent an improvement from the 2019 attack, when Miami finished the season with a 27-percent third down rate and converted 53 percent of their red-zone trips into touchdowns. In terms of efficiency, Miami made the jump from very poor to average from 2019 to 2020.
Can Miami's offense take another leap in 2021? There is reason for optimism as the Hurricanes return ten of 11 starters (including quarterback D'Eriq King). Continuity and familiarity can provide a boost to any offense and this will be the second season that UM will be playing in the Rhett Lashlee system (and it should be noted UM had to try and install the new offense and build chemistry with a new quarterback during the COVID-19 global pandemic in 2020). 
THE MANNY DIAZ DEFENSE 
The cornerstones of the Manny Diaz style of defense are built on pressure and negative plays. The pressure and negative plays tilts the third down opportunities in favor of a defense over the course of a game and playing an attacking style of play up front while having sound play in the secondary increases the opportunities for turnovers via interceptions. 
Under the coordination of Diaz from 2016 to 2018, Miami was one of the best defenses in the country in this regard. 
The Hurricanes made a significant leap in 2016, Diaz's first season, improving the scoring defensive average from 28 points per game in 2015 to 18.5 points per game. Miami also improved the team tackles for loss measurement from 5.1 per game (ranking 105th in the country) in 2015 to 8.3 per game in 2016, which ranked fifth nationally. 
The 2017 season was the year of the 'Turnover Chain' as UM forced 31 turnovers, which ranked third best in the country. The Hurricanes also finished that season ranked first in the country in sacks while averaging 3.38 per game. 
Miami's defense was arguably the best in the country during the 2018 season. UM led the country in third down defense, with opponents converting only 25 percent of their opportunities. UM also allowed the fewest passing yards per game nationally at only 135 per game and first in the country in tackles for loss per game at 10.5. 
In 2018, Miami's defense was number one in the country in sack rate with 11.7 percent of all non-garbage time pass attempts ending in a sack. 
During those three seasons, Miami's defense never allowed more than 21 points per game in a single season. 
Now with all this being said, it is fair to have questions about the personnel Miami will feature on defense in 2021. Coaching and scheme certainly matters, but ultimately it is the talent level of the players that determine the success of a defense. 
The last time Diaz was defensive coordinator for the Hurricanes, in 2018, Miami featured a group that was stacked with NFL caliber talent in the two-deep like: DE Joe Jackson, DE Jonathan Garvin, DT Gerald Willis LB Shaquille Quarterman, LB Michael Pinckney, CB Michael Jackson, DB Jaquan Johnson, and DB Sheldrick Redwine. 
To expect Diaz to take over the defensive coordinator duties, snap his fingers, and get 2018 level results is unrealistic and unfair. 
Should an improvement from the 2020 defensive showing be expected with this personnel, however? Even though UM must replace star edge rushers like Jaelan Phillips and Quincy Roche, we think it is fair to expect better defensive numbers as a whole in 2021 compared to 2020. 
Every new season represents a new team and this offseason will be an important time for Diaz to identify how to best utilize Miami's defensive personnel in 2021. 
WHAT IT ALL MEANS
As head coach at Miami, Manny Diaz wants to run schemes on offense and defense that will be attractive to recruits. When the Rhett Lashlee offense and the Manny Diaz defense are being executed at a high level, it is hard to argue that they wouldn't be fun to play in. 
Both systems are designed to keep things simple for the players so that they are able to play fast during the games. 
The Lashlee offense is the first modern spread attack that the Hurricanes have run in program history. In a lot of ways the tempo and ability to get players in space mirrors a lot of the attacks that high school programs are running on Friday nights. The Diaz defense is aggressive and allows players to show their speed. It is a big difference from the Al Golden era of read-and-react style of play. 
Both Lashlee and Diaz want to dictate the play to the opponent with speed and aggression. 
You could argue that the Lashlee and Diaz combination is the best offensive and defensive play caller duo UM has featured on the same coaching staff in a long time. It will be interesting to see how it all comes together in 2021 with a veteran team that returns the third most production of any program in the country.