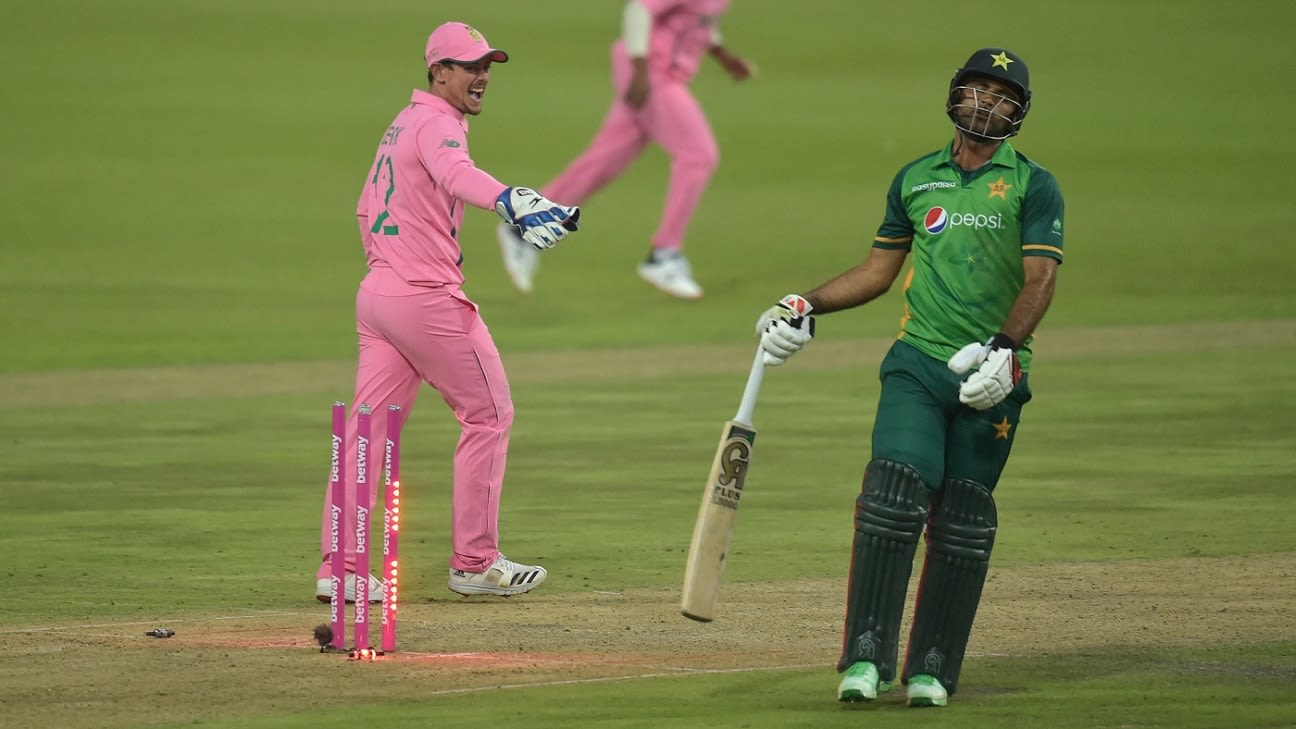 Has an IPL ever opened on such a nailbiter? We don't mean the first match – Mumbai Indians vs Royal Challengers Bangalore – in which India's captain and vice-captain faced off against each other. The pandemic is at a new peak in India, with players and officials testing positive even in the bubble – can the buzz around the tournament keep the Covid cloud at bay?. Only one way to find out as we go into the 14th edition. Elsewhere, Pakistan have just wrapped up a big ODI series win in South Africa, and Fakhar Zaman is the hero they deserved, but is he one they need right now, and always? And Meg Lanning's Australia have just hit a record streak that is not going to be threatened any time soon. Catch up on all the action in our weekly round-up.
Fakhar Zaman, Babar Azam set up Pakistan's second ODI series win in South Africa
Pakistan became the second team after Australia to win two bilateral series in South Africa after successfully defending 321 in the ODI series decider. But all the drama came in the second ODI, in which a rampaging Fakhar Zaman was run out controversially on 193, and everyone came for Quinton de Kock. Zaman occupies a curious place in Pakistan cricket, says Danyal RasoolHe's more than capable of destroying an attack, but also needing to prove himself constantly.
Australia women clinch 23rd straight win, shatter ODI record
Meg Lanning's Australia broke Ricky Ponting's record for the most consecutive ODI wins in the first game against New Zealand, then added one more in the second for good measure. Australia women have now not lost an ODI since March 2018.
Stopping the slide – Bangladesh's six-point agenda
Coming off a defeat to West Indies at home, and with big-ticket series coming up in all formats, Bangladesh have too many loose ends to tie up, and have much to fix in T20 cricket, says Mohammad Isam.
An IPL cloaked in a bubble of uncertainty
The caravan returns to India against the backdrop of surging Covid-19 cases and a looming T20 World Cup. Nagraj Gollapudi and Gaurav Sundararaman take stock of the key issues and questions the organisers and the teams will face. The IPL also has a different schedule and no home venues for teams this year. How will that affect each team's strategy? Deivarayan Muthu also has a few tips for the Chennai Super Kings who are looking to bounce back from their worst IPL season yet.
Aakash Chopra has five things he's curious to see this season, while Matt Roller and Andrew McGlashan are keeping a close eye on the England and Australia players' form and stats. Shashank Kishore is looking still further ahead, at what India's young hopefuls need to do in the IPL to impress the selectors for the upcoming T20 World Cup. Also returning to the IPL after a break of six years is Cheteshwar Pujara, who once "worried that T20 would affect my Test technique, but I'm over that now".
With the start of this IPL, we're also launching ball-by-ball commentary in Hindi – more on which you can read here in Hindi.
In the lead up to the tournament, we polled ESPNcricinfo staff for their greatest IPL performances since 2008. At No. 9 is a Corey Anderson blitz against the Rajasthan Royals, while Kieron Pollard's final-over assault vs the Chennai Super Kings comes in at No. 8.
T Natarajan: 'If I make an error, I back myself to come back with the yorker'
The left-arm seamer talks about his surprise inclusion on the Australia tour, his first IPL season, and perfecting his favourite weapon.
Umesh Yadav: 'The more you play, the better you play'
The fast bowler spoke to Himanshu Agrawal about how being secure about your place in the side helps your game.
Is there a place in T20 for 40-year-olds?
Alan Gardner says Chris Gayle, Imran Tahir, Brad Hodge, Gareth Batty and others will tell you there certainly is.
Deepti Unni is an assistant editor at ESPNcricinfo