NASCAR
The Conspiracy Theory That NASCAR Rigged Dale Earnhardt Jr.'s 2001 Season, Specifically His Win at Daytona, To Help Boost Ratings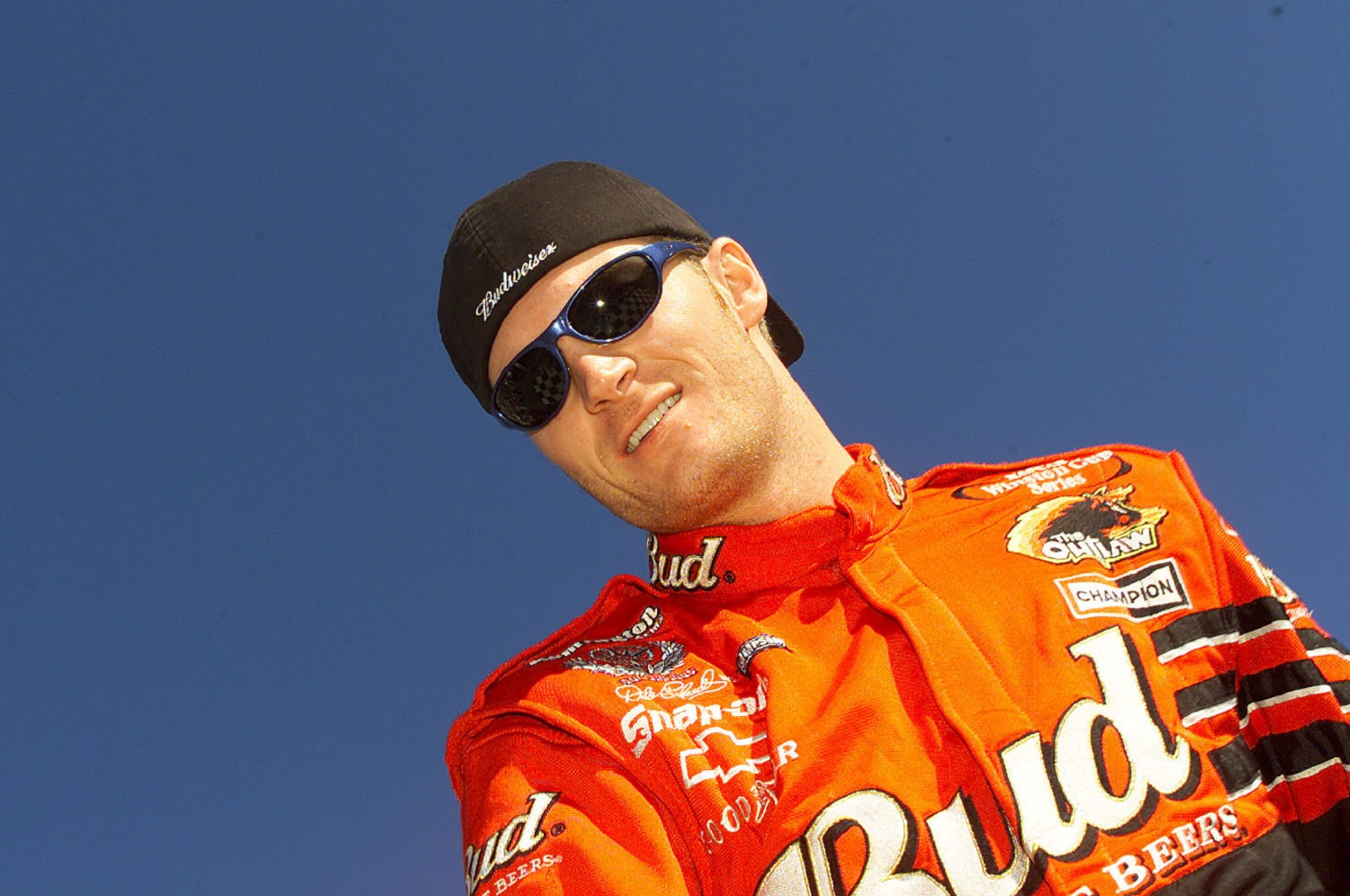 Dale Earnhardt Jr. is easily one of the most popular drivers in the history of motorsports and while it was always going to be tough for him to live up to the standards set by his father, he was a solid driver in his own right. He won 26 NASCAR Cup Series races over the course of his career, good for 31st on the all-time wins list, including two victories at the Daytona 500.
Three of those victories came during the 2001 season, the season that began with the tragic death of his father at Daytona, the same track where Junior picked up one of the most emotional victories of his career just a few months later, a win that's part of a wild conspiracy theory that Dale Earnhardt Jr.'s entire 2001 campaign was staged by NASCAR in order to boost television ratings.
Dale Earnhardt Sr. died at the Daytona 500 in February 2001
Heading into the 2001 NASCAR season, Dale Earnhardt Jr. was coming off his breakout season on the Cup Series, which was actually his first full season, in which he picked up two victories, three top fives, and five top-10 finishes.
As usual, the 2001 season began with the biggest race on the NASCAR calendar, the Daytona 500, and Junior had a phenomenal showing, finishing in second place just 0.124 seconds behind winner Michael Waltrip. But just as he was crossing the finish line, the bigger story of that race was unfolding behind him as Dale Earnhardt Sr., who was right behind his son in third place on the final lap, got tangled up and crashed into the outside wall. He was pronounced dead a short time later at a nearby medical facility.
Despite his father's passing, Dale Earnhardt Jr. raced the very next weekend at Rockingham but finished in 43rd place after wrecking his car on the very first lap.
Junior won the Pepsi 400 at Daytona that July, one of three NASCAR Cup Series wins he had in 2001
On July 7, 2001, Dale Earnhardt Jr. returned to Daytona International Speedway for the Pepsi 400. Naturally, the big storyline for this race was just how fitting and emotional it would be if Junior actually won a race on the track on which his father died. And then he went out and did just that. He led 115 of 160 laps but still had to make a dramatic comeback late in the race to pull out the victory.
It was a storybook finish that almost seemed too good to be true, which some truly thought it was as ESPN wrote the following Monday morning that numerous outlets had taken the conspiracy theory route on the victory. But more on conspiracies in just a moment.
Following his win at Daytona, Dale Earnhardt Jr. picked up two more wins on the NASCAR Cup Series in 2001. In September, in the first NASCAR race following the September 11 attacks, he won the MBNA Cal Ripken Jr. 400 at Dover, after which he took a victory lap waving the American flag out the window. The following month, he won the EA Sports 500 at Talladega.
Junior finished eighth (you know, like No. 8) in the Winston Cup standings that season with his three wins, nine top fives, and 15 top-10 finishes. But he had clearly become the most popular driver in the sport and some think that NASCAR staged his success that season.
Conspiracy theorists believe Dale Earnhardt's 2001 NASCAR success was staged to boost TV ratings
RELATED: Tony Stewart Once Said NASCAR Races Were Rigged Like Pro Wrestling
In the years that followed Dale Earnhardt Jr.'s 2001 campaign, an urban legend started that NASCAR, in an effort to boost slumping TV ratings, had somehow staged Junior's 2001 success, which is an absurd notion.
Yes, it's true that NASCAR ratings rose dramatically in 2001 as opposed to the 2000 season. But that could easily have been due to the fact that the '01 NASCAR season was the first under a monster consolidated TV contract that included NBC, Fox Sports, FX, and Turner Sports (switching races from TBS to TNT certainly helped), a deal that brought better advertising and more awareness to the sport as a whole.
Was Dale Earnhardt Jr. part of the reason why those ratings went up? Absolutely. But he was becoming a star even before his father passed. And if NASCAR was going to truly rig the season for him, wouldn't he have finished higher than eighth in the points standings? And wouldn't they have had him win at Rockingham the week after Dale Earnhardt Sr. died instead of having him get into a wreck on the very first lap that looked eerily similar to the one that killed his father?
But I guess conspiracy theorists would say that they couldn't make it that obvious, right?
Race results courtesy of Racing Reference