NFL
Tennessee Titans free-agency overview: Pursuing a pass rush – Tennessee Titans Blog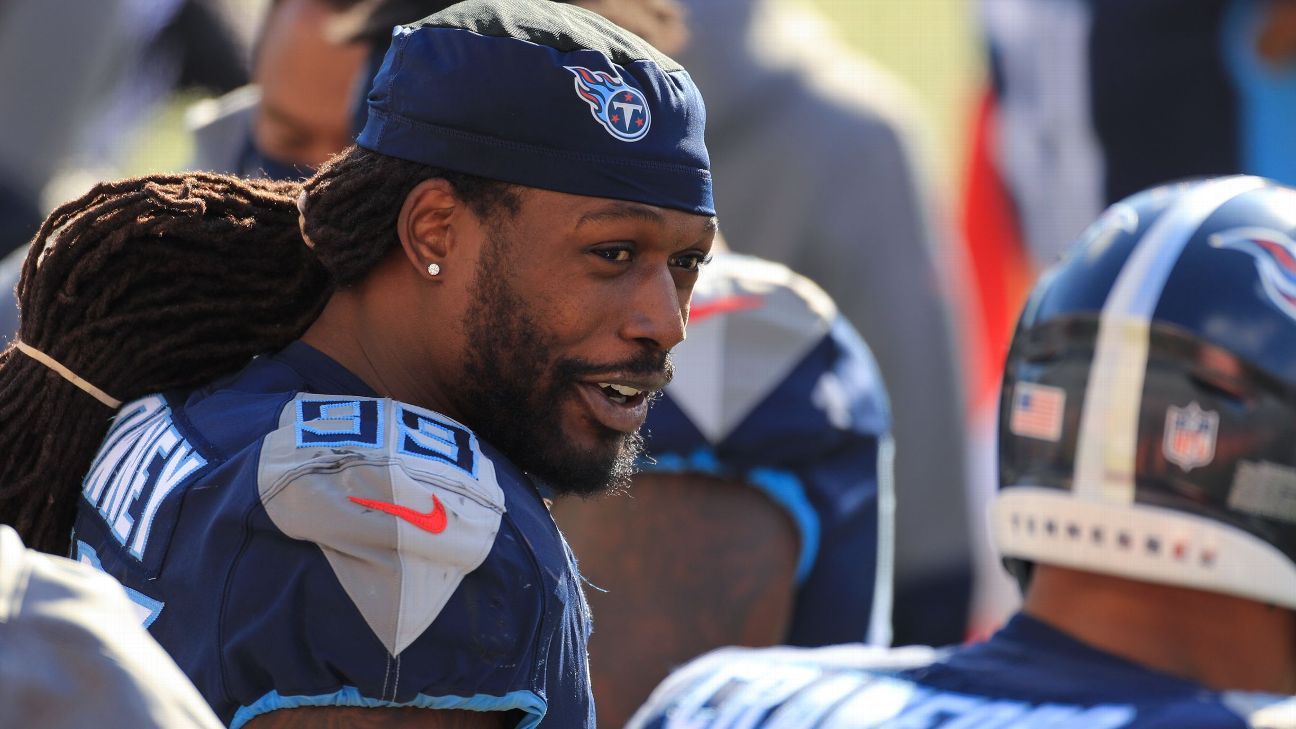 NASHVILLE, Tenn. — The Tennessee Titans enter 2021 NFL free agency coming off an 11-5 season in 2020 and have 20 unrestricted free agents. After giving up an NFL-worst 51.8% opponent third-down conversion rate and allowing opposing offenses to score touchdowns on 69% of their red-zone visits, the Titans need to improve their defense.
The pass rush is particularly an area needing improvement. The Titans finished with only 19 sacks, which ranked 30th last year.
Here's what to expect from the Titans when the NFL offseason hits high gear with the start of free agency on March 17:
QUARTERBACK
• Ranking top 50 free agents »
• Biggest looming free-agent decisions »
• Top offseason needs for all 32 teams »
• See more on free agency »
Under contract: Ryan Tannehill, Logan Woodside, DeShone Kizer
UFA: None
Game plan: Tannehill is entrenched as the starter for the next couple of seasons which puts the Titans ahead of the game. In the event of injury, Woodside and Kizer are the fallback options. Kizer has plenty of ability and could become a capable backup in the near future.
RUNNING BACK
Under contract: Derrick Henry, Darrynton Evans, Jeremy McNichols
UFA: Senorise Perry
Game plan: Henry has been the catalyst for the Titans' offense over the last three seasons. That won't change in 2021. But new offensive coordinator Todd Downing will likely try to mix in touches for Evans, who was out for most of last season. The Titans don't need to add another back with Evans and McNichols in the mix for carries behind Henry.
WIDE RECEIVER
Under contract: A.J. Brown, Nick Westbrook-Ikhine, Cameron Batson, Cody Hollister, Chester Rogers, Rashard Davis
UFA: Corey Davis, Kalif Raymond
Game plan: The big question is whether the Titans can re-sign Corey Davis, who could possibly get a lucrative deal elsewhere. Losing him would create a huge void, requiring the Titans to add a veteran free agent on a lower-cost deal. It's imperative that the Titans have a wideout who can destroy one-on-one matchups since most of the coverage will roll toward Brown. Adding a vertical threat and a slot option after they cut Adam Humphries would be solid moves, as well. They can look to the draft for those spots.
TIGHT END
Under contract: Jared Pinkney, Tommy Hudson, Parker Hesse
UFA: Jonnu Smith, MyCole Pruitt, Geoff Swaim
Game plan: The suggestion would be to re-sign Smith since he is one of Tannehill's favorite targets. That may require using the franchise tag. Anthony Firkser is a restricted free agent and it's likely that the Titans match an offer if he gets one from another team. There's a lot of uncertainty given how the top four TEs from last season are all free agents of some kind. Don't be surprised if the Titans draft a tight end to add to their depth regardless of whether they sign Smith and Firkser.
OFFENSIVE LINE
Under contract: Taylor Lewan, Rodger Saffold, Ben Jones, Nate Davis, Dennis Kelly, Isaiah Wilson, David Quessenberry, Aaron Brewer, Daniel Munyer, Brandon Kemp, Paul Adams
UFA: Ty Sambrailo, Marshall Newhouse
Game plan: The offensive line is pretty much intact as far as the starters are concerned. Wilson's uncertain status hurts the Titans from a depth perspective. They'd be smart to bring Sambrailo back on a reasonable deal to be a veteran reserve who can start in a pinch.
DEFENSIVE LINE
Under contract: Jeffery Simmons, Larell Murchison, Teair Tart, Daylon Mack
UFA: Jadeveon Clowney, DaQuan Jones, Jack Crawford
Game plan: Simmons needs a running mate who can wreck shop next to him along the defensive front. The second-year player emerged as a force last season, especially when Clowney was in the lineup.
The Titans could bring Clowney back on a lower number than the $12.5 million salary he signed last season. Crawford gave them quality snaps. He'd be a very reasonable signing as well. Expect the Titans to look to that draft to add some fresh talent.
LINEBACKER
Under contract: Rashaan Evans, David Long, Harold Landry, Derick Roberson, Wyatt Ray, Nate Orchard, Tuzar Skipper, Jan Johnson
UFA: Jayon Brown, Will Compton, Nick Dzubnar, Daren Bates
Game plan: Brown has been one of Tennessee's best defensive players over the last few seasons. The rest of the NFL likely took notice which could result in Brown fetching a pretty good contract. The Titans may have to look to the draft if they don't re-sign Brown.
Getting an impactful outside linebacker via free agency is paramount. Tennessee fielded only three OLBs on game day for most of last season. Expect GM Jon Robinson to be active on that front. The outside linebacker they bring in may not be among the best on the market, but expect the Titans to invest in one or two quality pass-rushers. They'll also need to add at least one pass-rusher in the draft, which is very deep at the position.
SAFETY
Under contract: Kevin Byard, Kenny Vaccaro, Amani Hooker, Dane Cruikshank
UFA: None
Game plan: Safety is perhaps the deepest position on the roster. Hooker is developing into an impact player and has earned the right to see more snaps. Salary-cap restrictions could push Vaccaro out of the building. That would mean Cruickshank will have to fill the third safety role behind Hooker and Byard. Tennessee could add a safety later in the draft for depth.
CORNERBACK
Under contract: Malcolm Butler, Adoree' Jackson, Kristian Fulton, Breon Borders, Chris Jackson, Kareem Orr,
UFA: Desmond King, Chris Milton, Tye Smith
Game plan: The Titans should bring King back after he helped shore up the defense down the stretch last year. King will fill the nickel role but could be challenged by Fulton, a second-year corner. The Titans found out you could never have too many corners last season after injuries piled up. Adoree' Jackson is playing on a fifth-year option and Butler's contract is a pricey one over the next two seasons. If the opportunity presents itself, the Titans should add a quality cornerback in the draft.
SPECIALIST
Under contract: (P)Brett Kern, (LS) Matthew Orzech, (K) Tucker McCann
UFA: Stephen Gostkowski, Matt Overton
Game plan: It would be wise to let Gostkowski walk after an up-and-down 2020 season. McCann was signed to a reserve-futures deal in January and is the only kicker on the roster. The Titans will add a veteran free agent or an undrafted free agent to give McCann some competition.
Darrynton Evans will hold down the kick return duties. But the Titans should select a receiver, corner or running back who can double as an explosive punt returner. Those players can usually be found on Day 2 or 3 of the draft. Adding a linebacker who could double as a special-teamer would be a strong move if they lose Dzubnar and Compton to free agency.