Sports
Scouting Kyler Murray and the Cardinals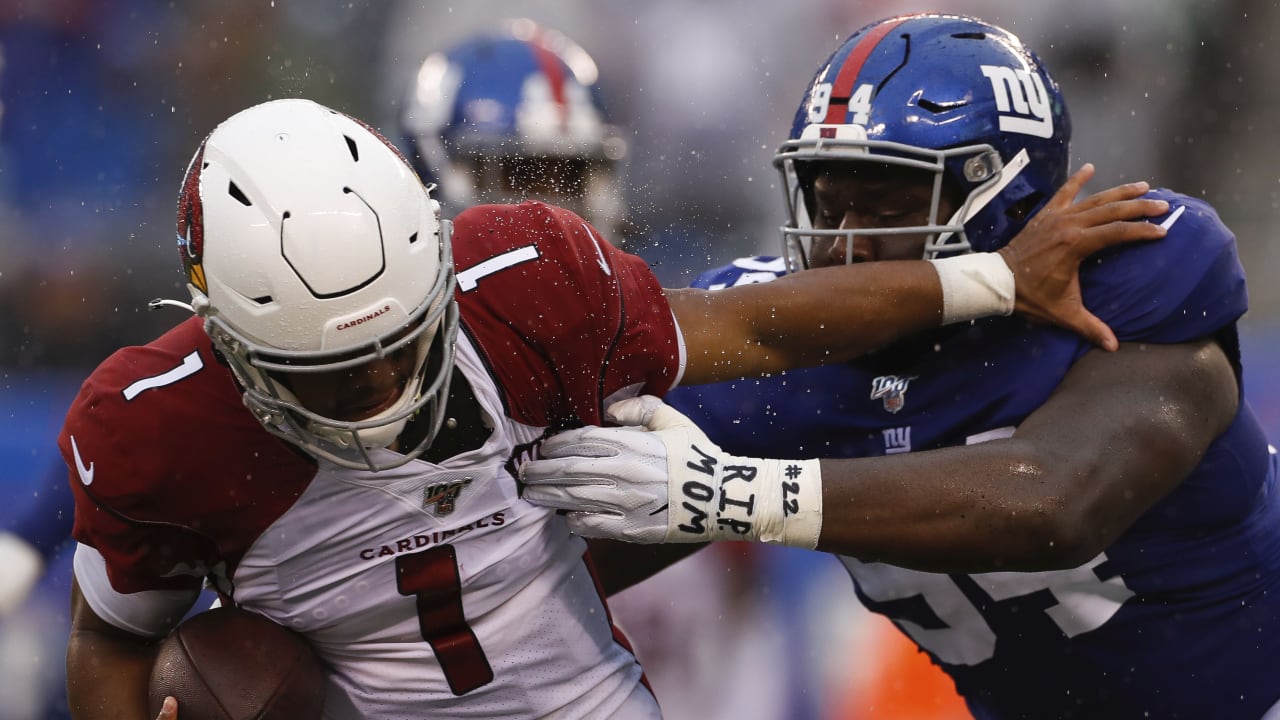 When the Giants have the ball
* The Cardinals have been a near league-average defense for most of the year. Here are some of their basic rankings:
18th in yards per game: 359.9
13th in yards per play: 5.39
22nd in rush yards per game: 123
21st in rush yards per play: 4.47
16th in pass yards per game: 236.9
7th in pass yards per play: 7th
20th in 3rd down conversions: 42.6%
14th in points allowed per game: 24.7
T19th in takeaways: 15 (10 interceptions, 5 fumble recoveries)
* The Cardinals use a combination of press coverage, man-to-man defense, and a heavy blitz package to keep opposing offenses uncomfortable. They play tight man-to-man coverage, primarily in single-high safety alignments. They run "Cover-1" (man-to-man with a single-high safety) at the 3rd-highest rate in the NFL (38%). They also mix in "Cover 0" (man-to-man to no high safety) at the 8th-highest rate (5.2%). When they play zone, they mix in a combination of "Cover 3" (three deep) and "Cover 4" (four deep).
* The Cardinals line up their cornerbacks in press-man 66.5% of the time, which is the 8th-highest rate in the league. Patrick Peterson and Dre Kirkpatrick are their two outside cornerbacks. Peterson is not the same coverage player he was a few years ago. He has allowed 43 catches on 65 targets for 618 yards and four touchdowns this season. He has three interceptions. Kirkpatrick, an off-season addition from the Bengals, has allowed 48 catches on 71 targets for 558 yards and two touchdowns. He also has three interceptions.
* Byron Murphy, the first pick in the second round of the 2019 NFL Draft, is their third cornerback. He has allowed 43 catches for 425 yards and a touchdown on 68 targets. He normally lines up as their nickel.
* Budda Baker is the Cardinals' best defensive back. He has developed into their replacement for Tyrann Mathieu, as a do-everything player who can line up in the slot or at either safety position. He plays with range (two interceptions) and often plays in the middle of the field and reads what the quarterback is trying to do. He anticipates and is quick to break on the ball. Baker is the most dangerous player on the Cardinals defense and leads them in tackles with 94.
* The Cardinals try to help their secondary in man-to-man coverage by blitzing often. They have the second-highest blitz rate in the NFL (44.2%) and often send defensive backs to get to the quarterback. Their blitzes are effective in holding opposing quarterbacks to a 89.6 quarterback rating. They have also been effective in creating 318 yards worth of negative plays, which is the 7th-most in the NFL. The Cardinals will often line up a lot of players at the line of scrimmage and make the offense figure out pre-snap who is blitzing and who isn't to create confusion.
* Despite playing a very aggressive defense, the Cardinals have also managed to prevent big plays down the field. They've only allowed 32 passes of 20+ yards, which is tied for the 6th-fewest in the NFL. Teams rarely even attempt passes down the field. Only seven teams have had a smaller percentage of pass attempts at least 20 yards down the field than the Cardinals. Along with Baker, Chris Banjo and Deionte Thompson take free safety snaps.
* Despite their heavy blitz rate, the Cardinals have not been able to put consistent pressure on the quarterback. The Cardinals have 29 sacks, which is the 14th-most in the league. They only pressure opposing quarterbacks on 29% of their dropbacks, which ranks 24th.
* Hasson Reddick has been the Cardinals' most productive pass rusher with five sacks, nine quarterback hits and 32 overall pressures. Markus Golden has only been with the Cardinals for five games, but he has managed a sack, eight quarterback hits and 21 total pressures. Former Giant Devon Kennard has two sacks, six quarterback hits, and 16 pressures. Reddick and Golden have emerged as the team's primary pass rushers. Reddick often lines up over opposing right tackles, opposite Golden.
* Jordan Hicks is the Cardinals' every-down inside linebacker. He is second on the team in tackles with 93 to go along with nine tackles for loss and two passes defended. Fellow inside linebacker De'Vondre Campbell also rarely leaves the field, and has two passes defended to go along with two sacks. Rookie Isaiah Simmons has gotten more snaps at linebacker the second half of the season. After never playing 30 snaps in a game the first seven games of the year, he has topped 30 in four of his last five games. He has primarily been used in passing situations in coverage or as a blitzer.
* The Cardinals have exhibited a league-average run defense for most of the year. They have allowed 42 rushes of 10 or more yards, which is tied for 22nd-fewest in the NFL. They have allowed an average of five yards per carry on runs up the middle and over right guard and right tackle.
* Much like on offense, the Cardinals have been very strong in the red zone. They are 4th-best in the league allowing opponents to score touchdowns on only 52% of their red zone trips. No team is better than Arizona preventing touchdowns in goal-to-go situations, holding opponents to a 50.9% rate.
* Arizona is coming off its second-worst defensive performance of the season, giving up 38 points and 463 total yards to the Rams. The Rams used their play-action passing attack well in that game.
* Christian Kirk and Chase Edmonds are dynamic returners on special teams.
Keys for the Giants offense
Do not get put off-kilter by the Cardinals' blitz
Be aware of where Budda Baker is at all times
Run the ball consistently