Tennis
Rosol Stuns Nadal in Five; Murray Masters Karlovic at Wimbledon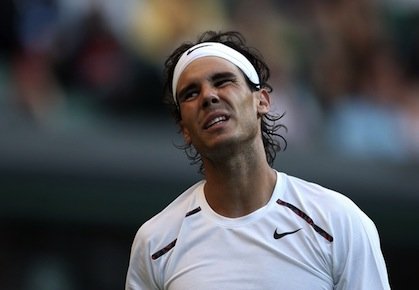 (June 28, 2012) — Never having won a grass court match until this year, World No. 100 Lukas Rosol wasn't considered to be a threat to two-time champion
Rafael Nadal
in their second round match today. But that didn't stop Rosol from delivering one of the biggest upsets of this year or any year.
At the start, Rosol came out swinging and hit huge winners with both his serve and groundstrokes while Nadal didn't play nearly at the level that took him to No. 1 in the world. Though Nadal barely scraped by Rosol to take the opening set in a tiebreak, Rosol didn't lose his belief as with a barrage of big serves and heavy groundstroke winners on both wings, Rosol, who had never even qualified for Wimbledon before this year, took the second set 6-4.
A clearly annoyed Nadal complained to umpire Jake Garner about apparent breathing noises Rosol made while waiting to receive serve and then on a changeover, Nadal deliberately bumped into Rosol sending the Czech a message that he was not happy at all.
When Rosol took the third set, things looked grim for Nadal until at 3-2, he finally converted on a break point when Rosol overhit after a long rally. With stellar defense at 5-2, Nadal broke again with a down the line backhand to take the fourth set. To ensure the match be completed, officials closed the Centre Court roof before the start of the fifth set, a decision that did not sit well with Nadal who had the momentum back on his side.
But the forty-minute delay to the final set didn't stop Rosol who immediately resumed crushing winners to break Nadal's opening service game. Though Nadal kept to within a game of the Czech, Rosol continued hitting clean winners from every part of the court, 65 in all to go up 5-4. Serving for the match, Rosol calmly banged down two back to back aces to seal a 6-7 (9), 6-4, 6-4, 2-6, 6-4 victory.
"It was a miracle for me," said a near speechless Rosol afterwards to the BBC who when trying to explain his near perfect performance.
Murray Masters Karlovic, Roddick Faces Ferrer
Playing "old fashioned serve and volley" tennis as described by the commentators on Radio Wimbledon, big serving Ivo Karlovic pushed No. 4 seed Andy Murray to the brink of a fifth set in their second round match.
Both men traded early breaks to start the match, but it was an untimely double fault from Karlovic serving at 5-6 that handed Murray the first set. But Karlovic mixed up his booming serve with multiple forays to net while Murray sought to gain the smallest advantage in his return games. Karlovic claimed the second set in a tense tiebreak but quickly gave Murray an early break lead in the third set that Murray hung on to take a two sets to one lead.
Neither player broke serve in the fourth set that led into a tiebreak that remained knotted at 4-all until another untimely double fault from Karlovic gave Murray the chance to serve out the match. Murray only needed one match point as Karlovic hit a forehand wide to give Murray a 7-5, 6-7(5), 6-2, 7-6(4) victory.
With sunshine in ample supply for the first time since the tournament began, it helped put the men's event back on track with No. 30 seed Andy Roddick earning a 6-3, 7-6 (1), 6-3 win over Bjorn Phau. Roddick next faces No. 7 seed David Ferrer who took out France's Kenny De Schepper 7-6(1), 6-2, 6-4.
Day Five Preview
In third round action, No. 1 seed Novak Djokovic will face No. 25 seed Radek Stepanek to start things off on Centre Court while No. 3 seed Roger Federer meets No. 30 seed Julian Benneteau of France. Sam Querrey and No. 21 seed Milos Raonic will try and complete their second round match halted today due to darkness with the score level at 7-6, 6-7, 3-all.