Sports
Ron Rivera 2-0 Vs. Bruce Arians in Playoffs Heading Into Bucs-Washington – NBC4 Washington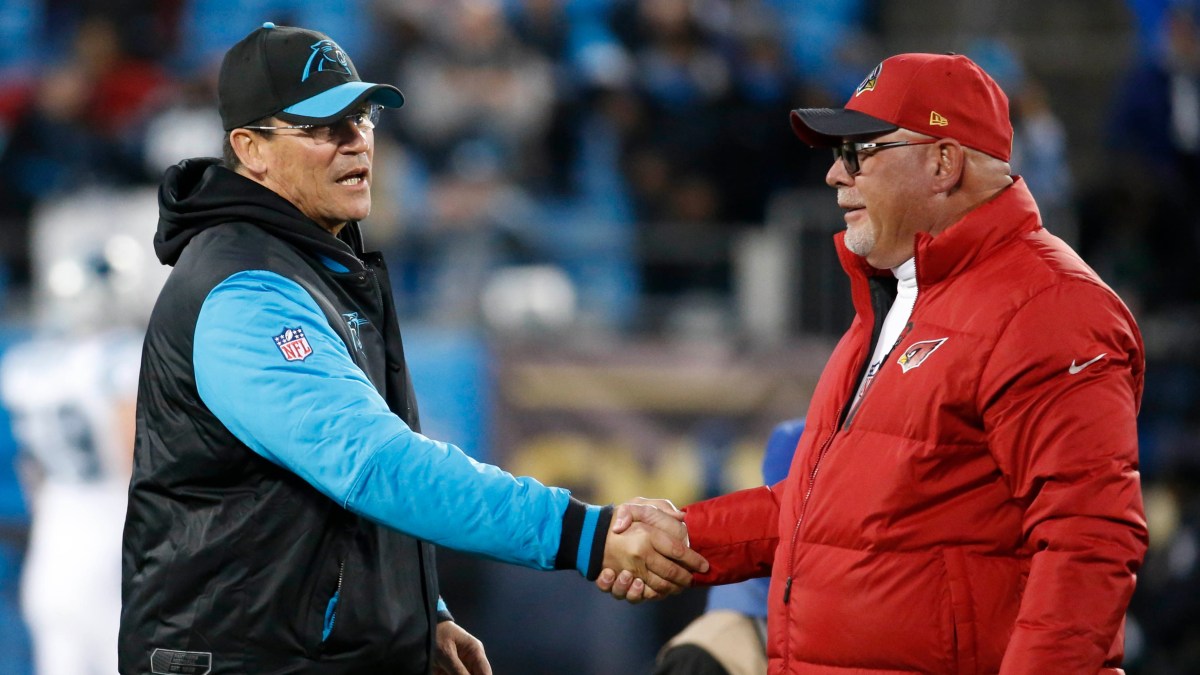 Rivera 2-0 vs. Arians in playoffs heading into Bucs-Washington originally appeared on NBC Sports Washington
Ron Rivera has gone up against Bruce Arians in a playoff game twice in his career. Both times, he walked away not only with a win, but with a record-setting performance as well.
The Washington Football Team (7-9) is slated to host Arians and the Tampa Bay Buccaneers (11-5) on Saturday night in quarterback Tom Brady's first chance to take a team not named the New England Patriots deep into the postseason. Washington will go into the contest as a heavy underdog, but this won't be the first time Rivera will have to outfox Arians in a playoff game.
In the first playoff matchup between the two head coaches, Rivera and the Carolina Panthers squeaked into the postseason after going 7-8-1 in the 2014 regular season. Much like Washington this year, the Panthers won their division despite finishing with a losing record and thus earned the right to host a playoff game. They were tasked with facing Arians and the Arizona Cardinals (11-5), who were down to their third-string quarterback Ryan Lindley after Carson Palmer and Drew Stanton got hurt.
It wasn't pretty for the Cardinals. Aided by a failed hook-and-ladder on the final play, Carolina limited them to just 78 total yards to break a record set in 1958 for the fewest yards allowed in playoff history. Lindley completed 16 of 28 passes for just 82 yards, a touchdown and two interceptions while being sacked four times. He showed he wasn't capable of leading a playoff team and the Cardinals were forced to pack it in and look ahead to the following season.
However, a little over 12 months later, the Panthers were once again waiting for them.
This time, they had the look of a super team with MVP winner Cam Newton at quarterback and a 15-1 regular season record. The Cardinals appeared up for the task, leading the league in total yards and second in points while ranking among the top seven in both categories on defense. Palmer was healthy and enjoying a Pro Bowl season while First-Team All-Pro defensive backs Patrick Peterson and Tyrann Mathieu anchored the defensive unit.
Download and subscribe to the Washington Football podcast
Carolina and Arizona met in the NFC Championship game and things quickly got out of hand. The Panthers jumped out to a 17-0 lead in the first quarter and never let the Cardinals make it a game as they pulled off a 49-15 rout. Those 49 points were the most ever scored by a team in the NFC Championship since the Super Bowl era began in 1966.
Of course, this game is very different from the first two Rivera-Arians matchups. Both head coaches are with new teams. Arians has Brady at quarterback and a plethora of weapons around him. Rivera has weathered a season that saw Washington start three different quarterbacks while an elite defense slowly emerged to help it win five of its final seven games.
Washington won't be favored on Saturday. But if history is any indication, Arians shouldn't look past Rivera after being on the wrong end of a couple of record-setting performances.