Latest
Rohit Sharma clears assessment, to fly to Australia on December 13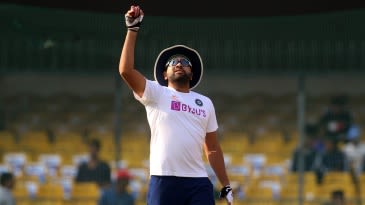 Read more at www.espncricinfo.com
News
Batsman gets go-ahead from NCA, likely to be available for last two Tests in Australia
Rohit Sharma will fly to Australia over the weekend after the National Cricket Academy (NCA) in Bengaluru cleared him following a final assessment, which included tests of both his skills and his fitness. ESPNcricinfo understands that Sharma will take a charter flight from Mumbai to Dubai, from where he will fly to Sydney on December 13 and be available for selection for the last two Tests of the four-match series.
Upon reaching Sydney, Sharma has to undergo a mandatory hard quarantine of 14 days in a facility separate from the bio-secure bubble in which the Indian Test squad is currently in. That, as reported by ESPNcricinfo earlier, will prevent him from being in the mix for the first two Tests (December 17 to 21 in Adelaide and December 26 to 30 in Melbourne). Sharma is expected to integrate with the Indian squad after Christmas in Melbourne, subject to the travel restrictions between Sydney and Melbourne, and should then be in contention for the final two Tests, in Sydney from January 7 and in Brisbane from January 15.
It is understood that the NCA, helmed by former India captain Rahul Dravid, sent Sharma's final assessment report to the BCCI in the last two days.
There had been confusion around Sharma's status – and availability for the Australia Tests – over the past few weeks, with even captain Virat Kohli saying that he had been kept in the dark on the subject. Sharma had initially been left out of India's tour because of the hamstring injury he picked up during the IPL, with the BCCI saying he would be "monitored". Sharma sat out four matches for the Mumbai Indians in the IPL after picking up the injury, but returned – after being left out of the squads for the Australia tour – to lead his team to the title. He was subsequently named in the squad for the last two Tests, subject to how his rehabilitation at NCA went. Sharma had travelled to the NCA mid-November to carry out his rehabilitation, and left for Mumbai on Thursday.
He is fit to travel now, but it is unclear what the protocols for Sharma's integration into India's bio-secure bubble in Australia are. While there is the question on whether he will come out match ready after a 14-day quarantine, the eight-day gap between the second and third Tests – which begins on January 7 – is understood to have encouraged the management to have the senior batsman in the mix.
More to follow…
Nagraj Gollapudi is news editor at ESPNcricinfo