Football
Retired Football Coach Steve Spurrier Admits He's 'Lost It'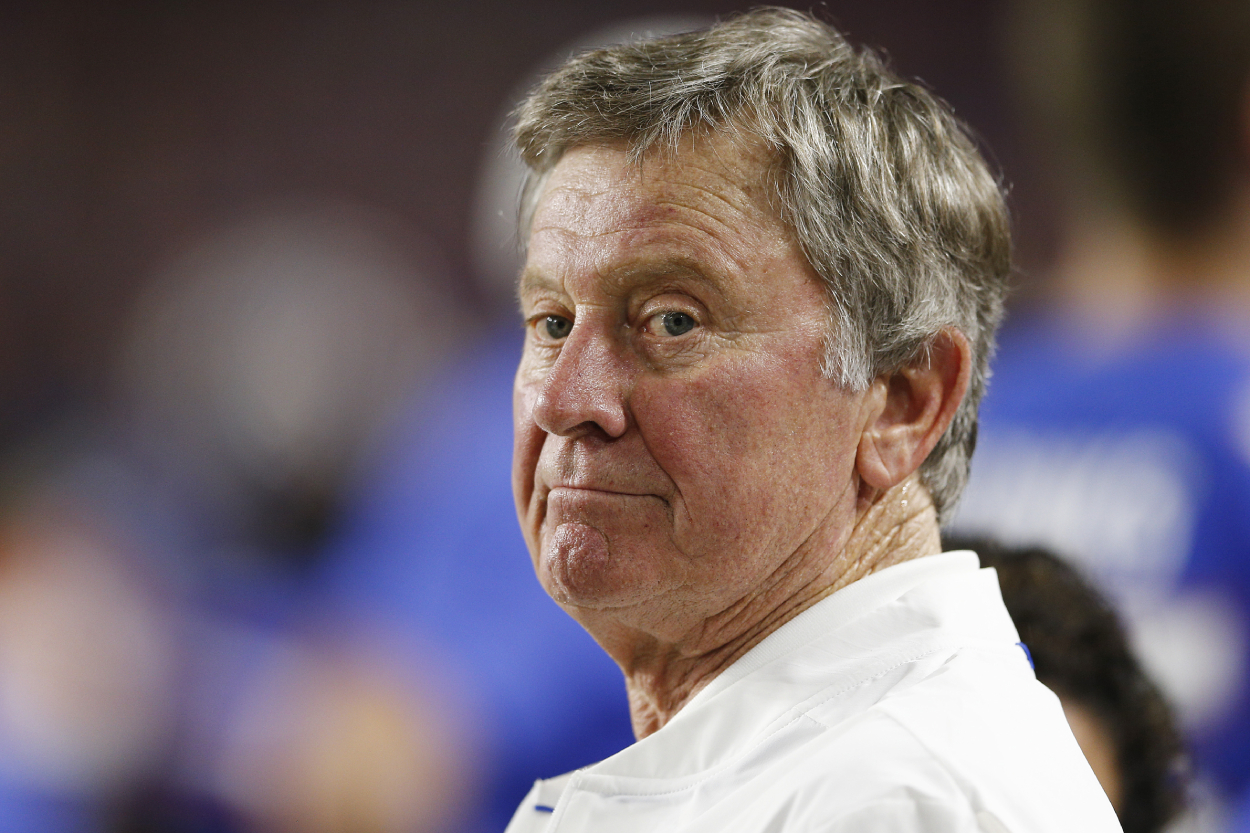 Professional football players often struggle to redefine themselves after their playing careers come to an end. A lucky few manage to continue engaging with the sport they love in a coaching role. And a small number of those players-turned-coaches may even come to find that their skills on the sidelines far outshine their former glories on the field.
Count Steve Spurrier as a member of that small group. After an outstanding college football career, and 10 years in the NFL, Spurrier established himself as one of the greatest college coaches of his generation.
Steve Spurrier's career as a football player
RELATED: Tim Tebow Gave High Praise for Clemson's D.J. Uiagaleli
After being one of the most hotly recruited high school football stars of his time, Spurrier chose to take his game to the University of Florida in 1963.
At the time, the NCAA didn't allow freshmen to play varsity sports, so the 6-foot-2 quarterback only spent three seasons playing for the team. In those three years, Spurrier established himself as one of the greatest players in Gators history.
From 1964 to 1966, Spurrier threw 392 complete passes for 4,848 yards and 36 touchdowns, with a 56.5% completion rate, according to Sports Reference.
He was a First-team All-American in 1965 and 1966. In 1966, he also won college football's greatest individual award, the Heisman Trophy, in addition to the UPI Player of the Year and SEC Player of the Year awards.
The San Francisco 49ers selected Spurrier with the third overall pick of the 1967 NFL Draft, per Pro Football Reference. Compared to his college glory, Spurrier's time in the NFL was average at best.
He spent most of his 10-year career as a backup quarterback and a punter. In 1972, Spurrier did start nine games for the 49ers, and racked up career bests of 1,983 yards and 18 touchdown passes in the process.
Redefining himself as a coach
Spurrier retired following the 1976 season, and in 1978 took his first assistant coaching position at the University of Florida. His first head coaching position was for the Tampa Bay Bandits of the United States Football League.
After the USFL disbanded in 1985, Spurrier spent three years coaching at Duke, before settling into a long run as head coach of the Florida Gators.
Spurrier was Florida's head coach from 1990-2001, when he left to spend two years coaching the NFL's Washington Redskins. In 2005, Spurrier returned to college football to spend 11 seasons as the head coach for the University of South Carolina. There he continued to build on his legacy as an innovator of aggressive and high-scoring offenses.
In his 26 total years as a college head coach, Spurrier had 228 wins, good for 14th all-time, according to Sports Reference. Only two of Spurrier's teams suffered losing seasons; his overall win-percentage as a coach is an impressive .718.
Spurrier won one national title in 1996, while coaching for Florida. He is one of just four men to be inducted into the College Football Hall of Fame both as a player and as a coach, per FloridaGators.com.
Steve Spurrier's life these days
Spurrier retired as a coach in 2015, instead taking a position as an ambassador for Florida. He made a brief return to the sidelines in 2019, head coaching for the Orlando Apollos in the short-lived spring football league, Alliance of American Football. At this point, Spurrier's coaching days are likely behind him for good.
The 75-year-old Spurrier now finds himself contending with a new foe: old age. Arthritis has taken a serious toll on his physical well-being, making it difficult for him to even grip a golf club properly, according to Sports Illustrated. He even had to have a surgical procedure a couple of years ago so that doctors could remove arthritis-related deposits from his spine.
Still, Spurrier manages to stay busy, even during the pandemic. He hosts a podcast three times per week. He's also in the process of opening a restaurant in Gainesville, Florida. And he always remains available for consultation and strategic advice in his ongoing role as an ambassador for UF.
All stats courtesy of Pro Football Reference and Sports Reference