Latest
Recent Match Report – India vs Australia 3rd ODI 2020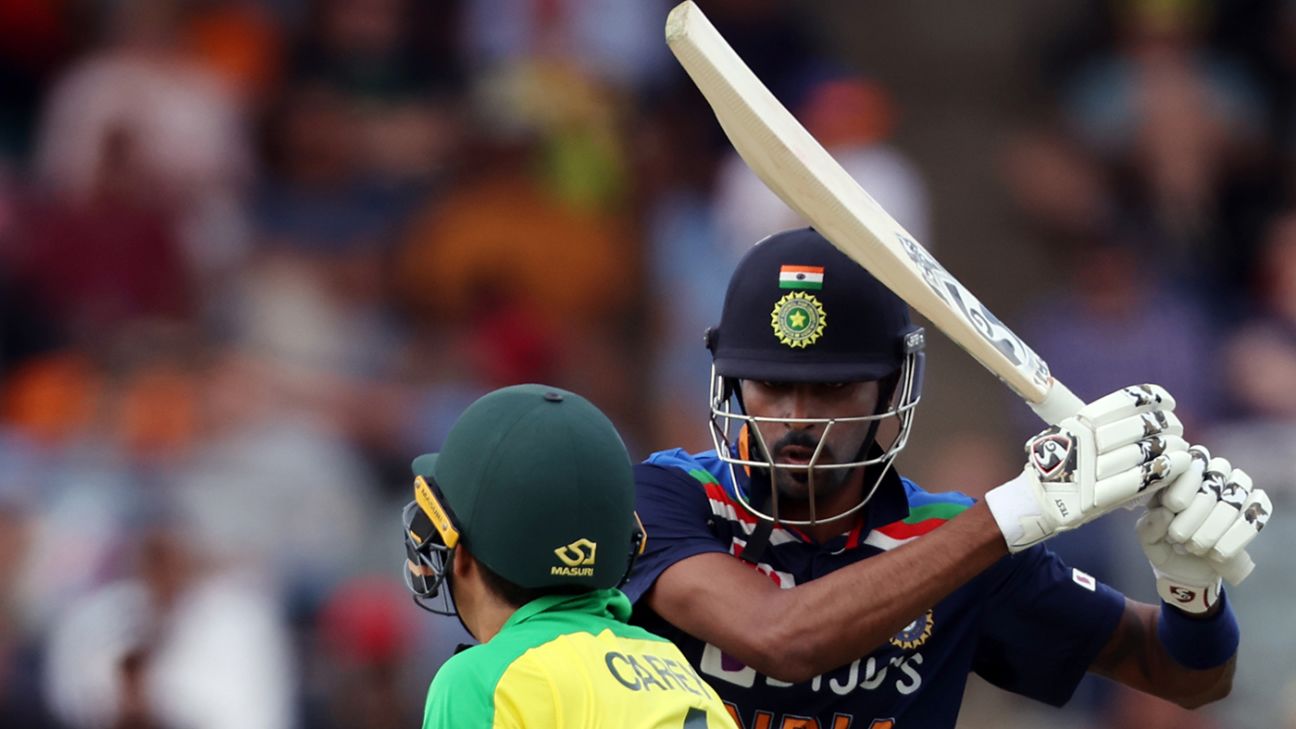 Read more at www.espncricinfo.com
India 302 for 5 (Pandya 92*, Jadeja 66*, Kohli 63, Agar 2-44) vs Australia
Hardik Pandya and Ravindra Jadeja nearly doubled India's 32-over score of 152 for 5, but India's 302 for 5 was still only the third-highest score in a full-length ODI at the high-scoring Manuka Oval. Pandya came within a couple of hits of a maiden ODI hundred, but he ran out of strike in the final overs, which was just as well for India because Jadeja ran rampage against an inexperienced Sean Abbott just then. The last five overs yielded 76 runs, but it remained to be seen whether the damage in the first 32 overs was enough for Australia to seal a sweep of the three-ODI series.
Josh Hazlewood got Virat Kohli for a third straight time with a short ball, and the rest of the engine room made errors against the spinners in the middle overs after a solid enough start. In those middle overs, Kohli went 50 balls without a boundary after getting off to a start of 21 off 16. It is a chicken-and-egg question: did the falling wickets necessitate a Kohli slowdown or did the slowdown bring about ambitious shots from the other end that resulted in those wickets?
The conditions were probably not as flat as India had expected when they won the toss after having lost chasing two humongous totals in the first two games of the series. There was some extra bounce and just the tiny bit of nibble for Australia to get off to their best bowling start of the series even though they were resting two of their first-choice quicks, Mitchell Starc and Pat Cummins. As Shikhar Dhawan tried to upset this controlled start, dancing down to Sean Abbott, he only managed a chip to short cover to make it 26 for 1 in the sixth over.
Even before Abbott had had a go, Australia had tried a couple of overs from Glenn Maxwell at the top. Australia clearly expected some assistance for the spinners having brought in fingerspinner Ashton Agar for Starc. The first specialist spinner introduced, Agar interrupted a threatening partnership between Kohli and Shubman Gill, who inexplicably replaced Mayank Agarwal, who had selflessly got India off to quick starts in the two tall chases. Agar's intervention brought about a boundary drought, Gill brought out the big sweep, and was trapped in front by one that just held its line. The promising innings ended at 33 off 39.
Tight bowling continued from both ends, Kohli set up his stall to bat through, and in these circumstances, the onus was on Shreyas Iyer to try and unsettle the bowlers. Seven overs into the partnership, he went too hard at an Adam Zampa legbreak, edging him to point. Tied down, KL Rahul repeated the Gill mistake: sweeping Agar and missing the length completely. India had now slipped from 59 for 1 in the 11th over to 123 for 4 in the 26th.
At the other end, Kohli played serenely, but he let the bowlers bowl at him. When he got a short and wide delivery from Zampa in the 29th over to finally hit a boundary for the first time since the 12th, his last 50 deliveries had brought him 34 runs. The intent now intensified, but he still eschewed aerial hits. This was the time Aaron Finch felt he needed to go back to Hazlewood. He kept banging the ball in to Kohli, using changes of pace and keeping the ball wide of his reach. In the 32nd over, he premiered his knuckle ball to take the edge but it didn't carry. The next ball was on-pace, and it held its line to take a faint scratch, which needed a DRS review to be ascertained.

India were now staring at the possibility of a well-below-par total with a long tail only one wicket from being exposed. This was when came together two allrounders whose batting has been under pressure to justify their selection. Pandya has not been bowling of late, which means he has had to justify the tag of a specialist batsman (and only a part-time bowling option). The need to play Jadeja has split India's two wristspinners, hampering their ability to pick up middle-overs wickets, which means he has to keep performing with the bat to justify that call.

Both batted like proper batsmen to keep criticism at bay. They got into their innings without sacrificing strike rate, especially with Pandya keeping the bowlers on their toes. With only two specialist quicks in the XI – debutant Cameron Green did put in four overs – Hazlewood and Abbott had to bowl all of the final six overs. This usually brings familiarity and the opportunity to line bowlers up, which is exactly what Pandya and Jadeja did.

Pandya first got stuck into Abbott, taking 17 off the 46th over, reaching 75 off 66 by the end of it. In the last four overs, though, it was all Jadeja as the bowling disintegrated. Abbott failed to bowl to his fields, providing Jadeja relatively easy opportunities to hit boundaries, which he took with both hands. By the end, he had hit more sixes than Pandya and his strike rate was higher too.