Latest
Recent Match Report – England vs India 1st Test 2020/21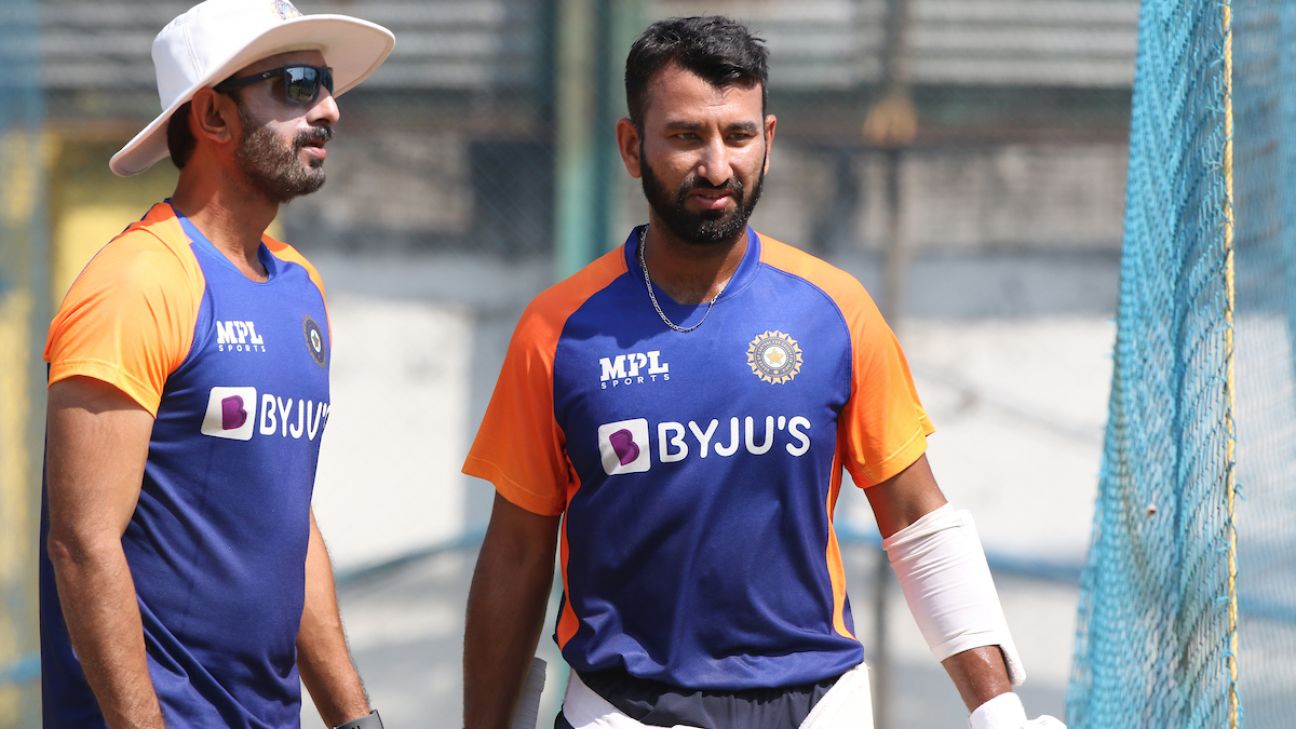 Welcome to our live report of the first day of the first India-England Test from Chennai. Join us for updates, analysis and colour. You can find our traditional ball-by-ball commentary here
*Most recent entry will appear at the top, please refresh your page for the latest updates. All times are local.
11.30am: Lunch – England 67 for 2 (Root 4*, Sibley 26*)
Dan Lawrence, who hadn't batted at No. 3 in a first-class game since September 2017, doesn't last long in his new role for England. Kohli whipped Ashwin out of the attack straight after his breakthrough in order to give Bumrah an opportunity against the new batsman, and he appeared to extract some reverse-swing to bring one back in sharply that pinned Lawrence in front.
A slightly sketchy start from Root in his 100th Test, who skewed a leading edge through the covers as Ashwin – having changed ends – got one to drift away from the bat. Root also set off for a very tight single, which Ashwin seemed convinced had run him out, but the replays showed he was safely home.
Here's Shiva Jayaraman on Burns' reverse-sweep: England batsmen played 44 reverse-sweeps/paddles against spinners in their recent tour of Sri Lanka. The shot fetched England 69 runs at the cost of just a solitary wicket. Perhaps, the lower bounce in comparison on the pitches at Galle worked to their benefit.
However, it was still a riskier, low-percentage option for the England batsmen considering that they were in control of their shots only 75% of the time. In comparison, they were in control of their other attacking shots against the Sri Lanka spinners 94% of the time. They averaged 100 runs per dismissal from the other attacking options (as opposed to 69 from reverse-sweeps). It was certainly a low-percentage shot for Rory Burns to try in the first session of the Test, on a pitch that has largely looked flat.
11.20am: Burns' brainfade
Burns had been untroubled by Ashwin's round-the-wicket angle to him, happily getting across to the off side and working him off his pads. Off the first ball of the 24th over, he skipped down the pitch to clip him through midwicket, causing Ashwin to change his plan and go over the wicket.
Almost immediately, he looked more troubled by the ball angling across him and spinning away from the bat, looking more awkward in defence that he previously had. Off the fifth ball of the over, he decided that he needed to throw Ashwin off the scent by bringing out the reverse-sweep, a shot that he had played against spin only seven times previously in his career, but he was through the shot early and the ball looped up to Pant via the glove.
11.00am: Steady progress for England
The 50 partnership comes up between Sibley and Burns, as Burns clips Ashwin behind square for a couple. There has been some slightly erratic running between the wickets as they've look to pinch singles this morning, but they've managed to rotate well and tick over, rather than allowing bowlers to settle into a rhythm of bowling at one of them for a prolonged period of time.
Shiva Jayaraman tells me this is the first time in 13 home Tests that India have conceded a 50+ stand for the first wicket, though as Gaurav Sundararaman points out, England's openers have often been successful in India across the last decade.
Shahbaz Nadeem has been thrown the ball for the first time, and he strayed a little on the short side early on, allowing Burns and Sibley to commit to getting either fully forward or fully back. Burns swept him for three, while Sibley rocked back to cut from deep in the crease. His length improved in his second over, moving a fraction fuller, but he will be keen to get the batsmen playing.
10.10am: Ashwin on early
Bumrah's first spell last only three overs, as Kohli throws the ball to Ashwin on his home ground. As the table below illustrates, both of England's openers have had their issues against spinners in their Test careers to date, but perhaps the most concerning aspect of those figures for England fans is that they have played the vast majority of their games in conditions which do not suit spin.
Burns has had issues against offspin in particular, with Roston Chase dismissing him five times in 93 balls in Tests – and there is no doubt that Ashwin is a significantly better bowler. Sibley starts solidly enough against him, getting fully back to length balls, and steering him for four through the gully, but this will be a tough challenge.
Gaurav Sundararaman tells me that since Ashwin's debut, only four bowlers – Broad, Anderson, Boult and Philander – have taken more wickets than him with the first new ball (i.e. within the first 20 overs of an innings).
9.50am: Bumrah's first home spell
More than three years after his Test debut, Jasprit Bumrah is bowling in a Test in India for the first time, and there's a chance straightaway. His first ball at home is angled into the left-handed Burns from round the wicket, and Rishabh Pant puts down a tricky, one-handed catch, diving low to his right as Burns looks to work off his pads. That will add further scrutiny to Pant's keeping, with plenty of Indian fans suggesting in the build-up that he should play as a specialist batsman with Saha behind the stumps.
There's early evidence of India's planning for this series in the first four overs, with a leg gully briefly stationed for Dom Sibley (he has been caught strangled down the leg side regularly in his fledgling career) and the seamers opting to bowl round the wicket to Burns and hoping to shape the ball into him. A silly mid-on has come in at the start of Ishant's third over, with his left boot almost touching the strip.
9.25am: Root brings up his 100
England captain Joe Root has been presented with his 100th Test cap by vice-captain Ben Stokes ahead of play. For our extensive coverage of his milestone Test, click here, and don't forget to check out Polite Enquiries with the man himself.
9.00am: England win toss and bat
No hesitation in opting to make first use of this pitch for Joe Root, who is playing his 100th Test today. "I do enjoy playing in India. It's a big challenge and the boys will have to relish it," he says. Virat Kohli admits that he would have batted first, too, and calls it a "good cricketing wicket".
For India, the big news this morning is that Axar Patel – who looked set to partner R Ashwin as the second spinner – was ruled out 80 minutes before the toss with a knee injury suffered in yesterday's training session. They have decided to pick three spinners in Ashwin, Washington Sundar and Shahbaz Nadeem, with Jasprit Bumrah (playing his first-ever home Test) and Ishant Sharma forming a two-man pace attack.
Zak Crawley misses both Chennai Tests after suffering a freak wrist injury, so Dan Lawrence keeps his place and is carded to bat at No. 3. The other big calls: Dom Bess plays ahead of Moeen Ali, while Jimmy Anderson is preferred to Stuart Broad.
Matt Roller is an assistant editor at ESPNcricinfo. He tweets at @mroller98