NFL
Peter King weighs in on what it might cost for 49ers to trade for Deshaun Watson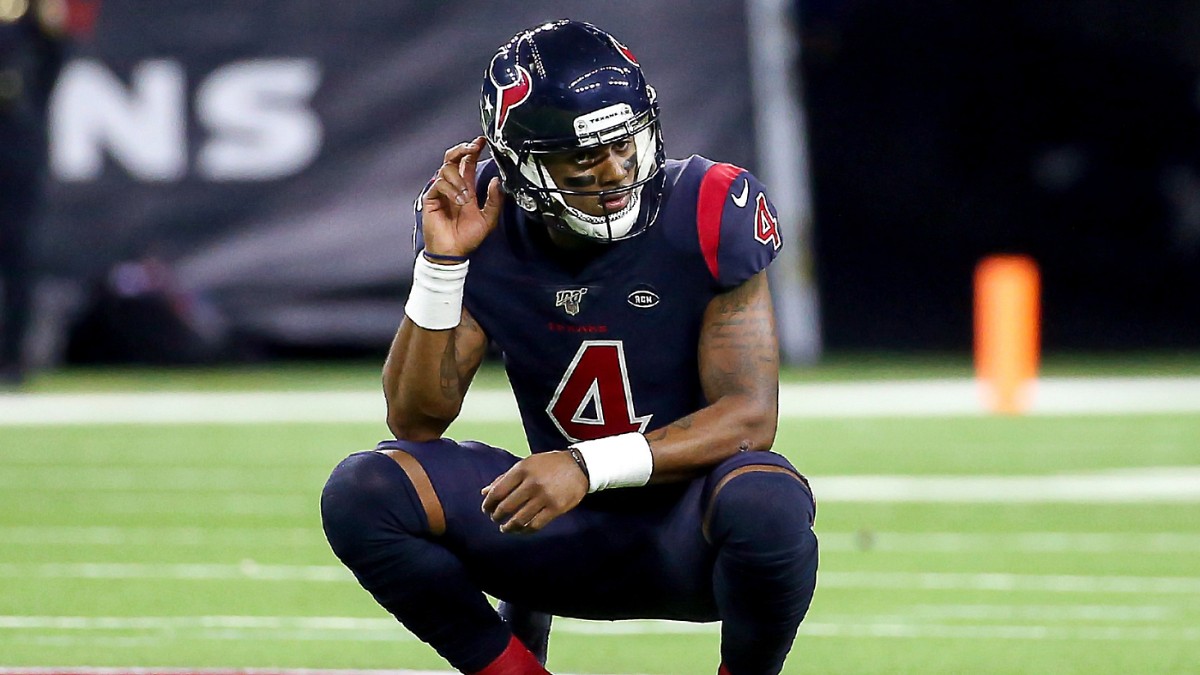 Would the 49ers be willing to trade one of their top two young defensive stars, a slew of draft picks, and more if it meant getting Houston Texans quarterback Deshaun Watson in return?
It's possible that's the type of package they might have to ship in Houston's direction if they ever have the chance. And it's one that NBC Sports NFL writer Peter King proposes in his latest Football Morning In America column, in which he comes up with his own deals for teams that could be interested in bringing the three-time Pro Bowl quarterback into the fold.
King starts this discussion with an important disclaimer, which is the Texans have yet to give any sign whatsoever that they are actually interested in trading Watson, even though Watson (4,823 passing yards, 33 touchdowns, seven interceptions, with 444 rushing yards and three rushing touchdowns in 2020) has made it abundantly clear he's no longer interested in playing for the Texans. King reports that he's hearing Texans general manager Nick Caserio is "categorically opposed" to trading Watson and that the team isn't even listening to trade offers at the moment.
"At least two teams have given offers to Houston and gotten zero feedback," wrote King. "Like, no reaction, no 'We'll get back to you.' Nothing."
But that doesn't mean there won't become a time where the Texans eventually decide it would be best interests of everyone to ship their disgruntled quarterback out of town. The question is how much it would cost for interested teams to obtain him.
King listed the 49ers as one of several teams that would be a good trading partner for Houston, then proceeded to lay out one trade scenario he thinks could get the Texans interested in sending Watson to the Bay Area. King proposed the 49ers ship first-round picks in 2021 and 2022, a second-round pick in 2021, a third-round pick in 2022, quarterback Jimmy Garoppolo (who would have to waive the no-trade clause in his contract), right tackle Mike McGlinchey, and one player in particular who would be extremely difficult for the 49ers to say goodbye to — linebacker Fred Warner.
The 49ers might not have a problem parting ways with many of the assets in King's proposal if it brought Watson in return, but Warner has become the heart of the defense and is a player the franchise would almost certainly love to sign to a long-term contract in the future. But that contract would undoubtedly be expensive, which is why King included the rising star linebacker in his deal.
"It's a lot for the Niners to pay; of all the players in all the deals I'm proposing, Warner would be the most coveted one in my book," wrote King. "But he's here because he is entering the final year of his rookie contract and would want a new deal. (McGlinchey is in exact same position, too.) Houston could view them as cornerstones for the rebuild."
King also proposed another deal involving the 49ers, albeit not one that would bring them Watson in return. He came up with a three-way trade that sends Watson to Minnesota while shipping Vikings quarterback and Kyle Shanahan favorite Kirk Cousins to San Francisco, the 49ers' 2021 first-round pick and Garoppolo to Houston, and Vikings linebacker Anthony Barr, running back Alexander Mattison, plus two first-round picks and two second-round picks from Minnesota to the Texans.
"This is centered on the premise that San Francisco would not want to rip apart a team and a future, and might be willing to take a lesser deal for a quarterback Shanahan has long admired," wrote King. "And also that Caserio, in the heart of the draft room in 2014 when the Patriots made Garoppolo a second-round pick, would want to try again with Jimmy G. It's a wing and a prayer, but fascinating to me."
Both ideas are interesting to ponder, particularly the first one for fans who have their hopes up of one day seeing Watson in a 49ers jersey. There's never been any doubt that obtaining a still-young (25) player with years of potential stardom at the quarterback position ahead of him would be extremely costly, but is there a point where he would become too expensive? Or would the payoff he could bring lead a team like the 49ers to part with the type of deal King puts on the table?
It's all entertaining to discuss, even if it's unclear if Watson will ever actually become available. The answer to that question may not be known for some time.
"If I'm Caserio, calming the waters now is the best plan," wrote King. "Over the next two months, you want to try every way you think might work to rebuild a bridge with Watson. But if it gets to the point that you can't by late April, that's when the best offers will be out there."
Click here to see King's full column, which also includes proposals for the Carolina Panthers, New York Jets, and Miami Dolphins.
Jimmy Garoppolo remains the San Francisco 49ers quarterback early into the offseason. There is a good chance he is the starter for Week 1 of the 2021 season. That doesn't mean the 49ers brain trust won't look into every possibility to upgrade at quarterback, as it does every offseason for each position group.
The 49ers reportedly had some discussions surrounding Matthew Stafford before the Los Angeles Rams surrendered a haul to the Detroit Lions for the quarterback. NFL insider Benjamin Allbright recently named San Francisco among the teams that have "made calls" to
There has been a lot of speculation surrounding the San Francisco 49ers quarterback situation this offseason. The team inquired about other options — like Matthew Stafford and Carson Wentz. It was reportedly "lukewarm" on adding Stafford. San Francisco was never going to surrender the draft capital that the Los Angeles Rams ended up giving to the Detroit Lions. And if you thought that cost was high, imagine what acquiring Deshaun Watson might cost.
Jimmy Garoppolo remaining with the 49ers for at least the 2021 season remains a strong possibility. The team had an opportunity to upgrade to Tom Brady last offseason. Peter King of NBC Sports wonders if general manager John Lynch wishes he pushed harder for the move after watching Brady and the Buccaneers win Super Bowl
Like many San Francisco 49ers fans, NFL Media reporter Jim Trotter would love to see head coach Kyle Shanahan and general manager John Lynch go after Houston Texans quarterback Deshaun Watson. Assuming Watson can convince the Texans to trade him, acquiring the quarterback will be costly, and there will be competition.
How long would the 49ers last in a bidding war for the game-changing quarterback, and how much would they be comfortable surrendering? While Watson has repeatedly indicated that he has no desire to play another snap in Houston, the Texans have said they have no desire to trade their quarterback. The situation could change if the standoff continues.
"One thing we know is that there's going to be quarterback play this offseason," Trotter said on NFL
ESPN's Jeremy Fowler is reporting that the San Francisco 49ers are among quarterback Deshaun Watson's list of teams that he is "intrigued by."
"I checked in with a source that says Deshaun Watson has a list of teams that he's intrigued by," said Fowler on ESPN's Get Up. "He's not pigeonholing anything, but he's got a list. I didn't get all the teams, but I was told that the Denver Broncos, the San Francisco 49ers are two of them.
"I also asked the source about the Jets and the Dolphins because they have the most draft capital this year and the next few years. I was told the Jets, 'Eh, probably not.' Maybe more so the Dolphins as far as viability."
Watson has expressed frustration with the Texans organization and has requested a trade. The