New Zealand
Osei-Nketia targets Australian Nationals in his bid to get to Olympics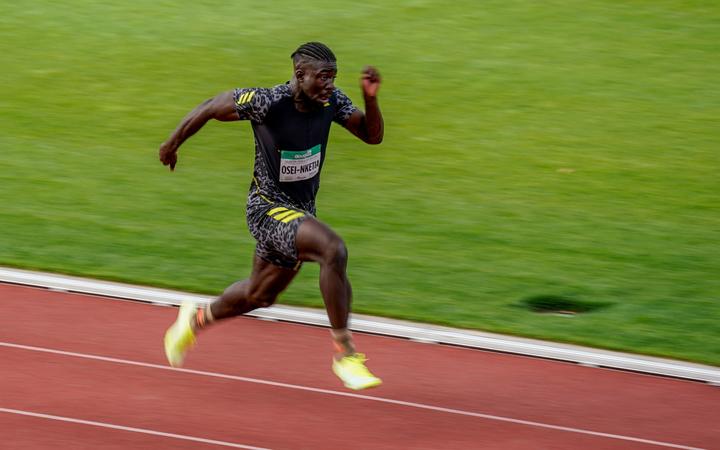 Next week's Australian National Championships will provide young New Zealand sprinter Eddie Osei-Nketia with his best shot of qualifying for this year's Olympics.
The 19 year old ran 10.12 seconds at the Queensland Track Classic over the weekend to move within just 0.01 seconds of his father's New Zealand 100m record.
His father Gus Nketia ran 10.11 seconds in Canada in 1994.
Osei-Nketia had decided to skip the New Zealand Championships in Hastings to get better competition across the Tasman.
His next outing will be the Australian Championships in Sydney where he'll get to run at least a semi-final and a final and will again come up against Australian Rohan Browning who ran the qualifying time last weekend.
The Olympic qualifying time is 10.05 seconds.
Osei-Nketia's run in Queensland will improve his world ranking but he'll probably need to reach the qualifying standard to be considered for Tokyo.
Meanwhile Zoe Hobbs equalled the women's 100m national record in Hastings over the weekend, but that effort is still unlikely to get her to the Olympics.
Her time of 11.32 seconds is well outside the 11.15s qualifying standard and her world ranking is still not high enough to seriously be considered.
The New Zealand Olympic Committee selectors require New Zealand athletes to be a top 16 contender to be considered.
Athletics New Zealand is likely to put forward their first group of Olympic nominations in the coming weeks with just the 10 people who have so far gained the qualifying standard to be included.
Hammer thrower Julia Ratcliffe became the latest person to qualify after breaking the national record at the weekend.
Canterbury's Lauren Bruce had already qualified in the hammer throw.
Kenya-based Jake Robertson will attempt to join his brother Zane in the Tokyo marathon field when he competes in Italy next month, while Alice Mason will either run the Christchurch marathon next month or in Australia in an attempt to qualify.
Athletes to have so far qualified for the 2021 Tokyo Olympics.
Shot putters Tom Walsh, Jacko Gill, Dame Valerie Adams.
Camille Buscomb in the 5,000m and 10,000m.
Malcolm Hicks and Zane Robertson in the marathon.
Hammer throwers Lauren Bruce and Julia Ratcliffe.
Quentin Rew 50k walk.
Sam Tanner in the 1500m.