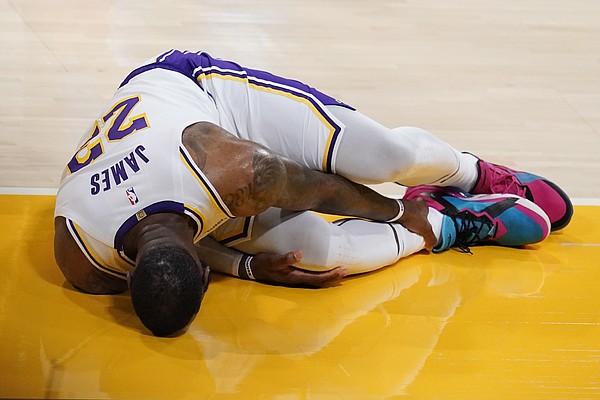 BASKETBALL
James suffers ankle injury
LeBron James injured his right ankle during the Los Angeles Lakers' game against the Atlanta Hawks on Saturday, leaving the court in visible frustration after attempting to play through the injury. James left early in the second quarter, and the team later announced he would not return. The Lakers didn't say whether James will have X-rays or an MRI. The 17-time All-Star got hurt when he rolled his right ankle and then made awkward contact on the perimeter with defender Solomon Hill, who was called for a foul on the play. James fell to the court and screamed, briefly rolling around in obvious pain. But he got up shortly afterward and walked it off during a timeout, retying his shoes and returning to the court. The 36-year-old superstar stayed in the game and even hit a corner three-pointer on the Lakers' ensuing possession. James then called another timeout moments later and took himself out of the game with 10:04 left in the first half. He smacked a chair in frustration, knocking it over as he walked off the court behind the Lakers' basket.
MOTOR SPORTS
Allgaier wins at Atlanta
Justin Allgaier snatched the lead after Martin Truex Jr. made a mistake on pit road, and then held off his furious charge at the end to win the NASCAR Xfinity Series race at Atlanta Motor Speedway on Saturday. Allgaier's celebration was marred by a scuffle on pit road between Noah Gragson and Daniel Hemric, whose cars had gotten into each other on pit road during the race. Hemric came over to confront Gragson while he was doing an interview. Gragson took several swings, but appeared to miss before crew members and officials stepped in to separate the drivers. Neither was hurt. Truex, racing in the second-tier series for the first time since 2010, dominated the first two stages and seemed headed for an easy victory until he got caught speeding on pit road. The 2017 Cup champion had to drop to the back of the field as a penalty, but he quickly snaked his way through the field. Truex got within a half-second of the lead in the closing laps, but Allgaier pulled away for a 1.449-second victory in his JR Motorsports Chevrolet. The victory was a big relief for Allgaier, who struggled mightily through the first four races before finishing eighth last week at Phoenix.
Busch first in Trucks race
Kyle Busch raced to his 60th NASCAR Trucks Series victory with a dominating performance Saturday at Atlanta Motor Speedway. Busch pulled way over the last 30 laps and finished more than 4 seconds ahead of the field. Busch has been there plenty of times in Atlanta, where he claimed his sixth Trucks victory to go along with four other top-10 finishes. He did a burn-out at the finish line in front of the socially distanced crowd before taking his customary bow. The Kyle Busch Motorsports team also picked up a third-place finish from series leader John Hunter Nemechek, a fulltime competitor in Trucks. Nemechek, as the points leader, started from the pole coming off a March 5 win at Las Vegas, where he held off his car owner to take the checkered flag. Busch got him back in Atlanta.
FOOTBALL
Cowboys, safety reach deal
The Cowboys and free agent safety Keanu Neal agreed on a $5 million, one-year deal that will reunite the former Atlanta player with new Dallas defensive coordinator Dan Quinn, two people with knowledge of the deal told The Associated Press on Saturday. Neal spent his first five seasons with the Falcons after getting drafted in the first round in 2016 when Quinn was coach. Quinn was fired last season and joined the Cowboys this offseason. Neal missed most of 2018 with a torn ACL in his left knee and then was out almost all of 2019 after tearing his left Achilles tendon. The 25-year-old played 15 games last season.
HORSE RACING
Hot Rod Charlie earns a win
Hot Rod Charlie led wire to wire to win the $1 million Louisiana Derby by two lengths over Midnight Bourbon on Saturday and earn 100 points toward qualification for the Kentucky Derby. It was the first graded stakes victory after some narrow misses for the California-based horse, who'd finished second in last years TVG Breeder's Cup Juvenile and third in the Robert B. Lewis Stakes at Santa Anita. Trained by Leandro Mora and with jockey Joel Rosario aboard, Hot Rod Charlie ran 1 3/16 miles in 1:55.06. He paid $7.80, $4.40 and $3.60. Rosario said the race demonstrated Hot Rod Charlie's prospects for competing at 1 1/4 miles at Churchill Downs on May 1 after he didn't tire when challenged by Midnight Bourbon down the stretch.
GOLF
Harding holds 2-shot lead
Justin Harding will take a two-shot lead into the final round of the European Tour's Kenya Open after a 7-under 64 on Saturday. The South African moved to 16 under overall at Karen Country Club. Johannes Veerman of the United States is one of three players sharing second place after he carded 9-under 62 for a course record. Veerman had nine birdies in the third round and didn't drop a shot. He is joined on 14 under by fellow American Kurt Kitayama (66) and Australian Scott Hend (68). Along with six birdies, Harding eagled par-4 No. 10 when he holed out with a wedge. He had just one bogey. Former University of Central Arkansas golfer Pep Angles shot a 67 for the second day in a row and stands at 9 under after three days.
TENNIS
Karatsev earns first title
Wild card Aslan Karatsev defeated South African qualifier Lloyd Harris 6-3, 6-2 in the final of the Dubai Championships for his first title on Saturday. The 27-year-old Karatsev saved the two break points he faced to win in 1 hour, 15 minutes, becoming the third Russian champion this season. Daniil Medvedev and Andrey Rublev are the others. The 42nd-ranked Karatsev has only been beaten by Novak Djokovic and Dominic Thiem in 14 matches this year. He beat top-seeded Rublev 6-2, 4-6, 6-4 in their semifinal on Saturday, when he claimed his fourth consecutive win over a seeded player at the hard-court tournament.
Los Angeles Lakers forward LeBron James rolls off the court after going down with an injury during the first half of an NBA basketball game against the Atlanta Hawks Saturday, March 20, 2021, in Los Angeles. (AP Photo/Marcio Jose Sanchez)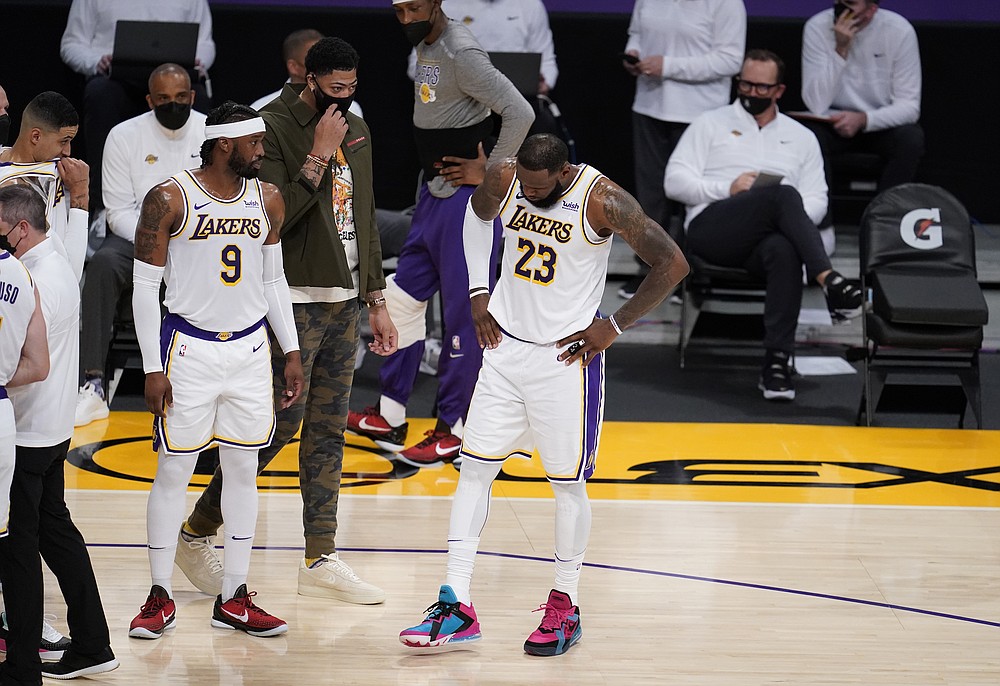 Los Angeles Lakers forward LeBron James (23) tries to shake off an injury during the first half of an NBA basketball game against the Atlanta Hawks Saturday, March 20, 2021, in Los Angeles. (AP Photo/Marcio Jose Sanchez)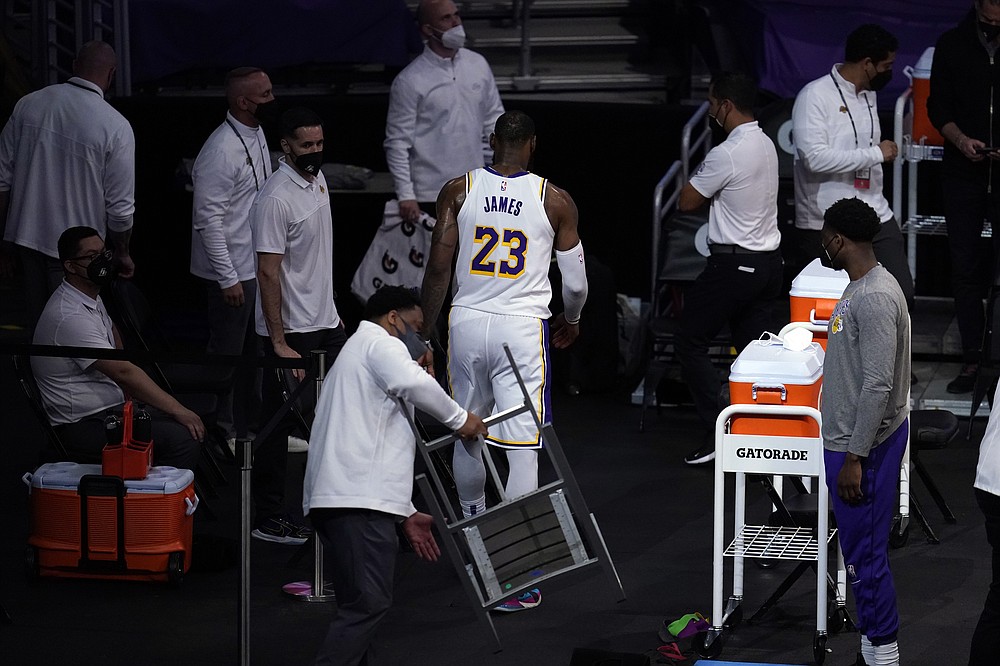 Los Angeles Lakers forward LeBron James walks to the locker room after kicking a chair following an injury during the first half of an NBA basketball game against the Atlanta Hawks Saturday, March 20, 2021, in Los Angeles. (AP Photo/Marcio Jose Sanchez)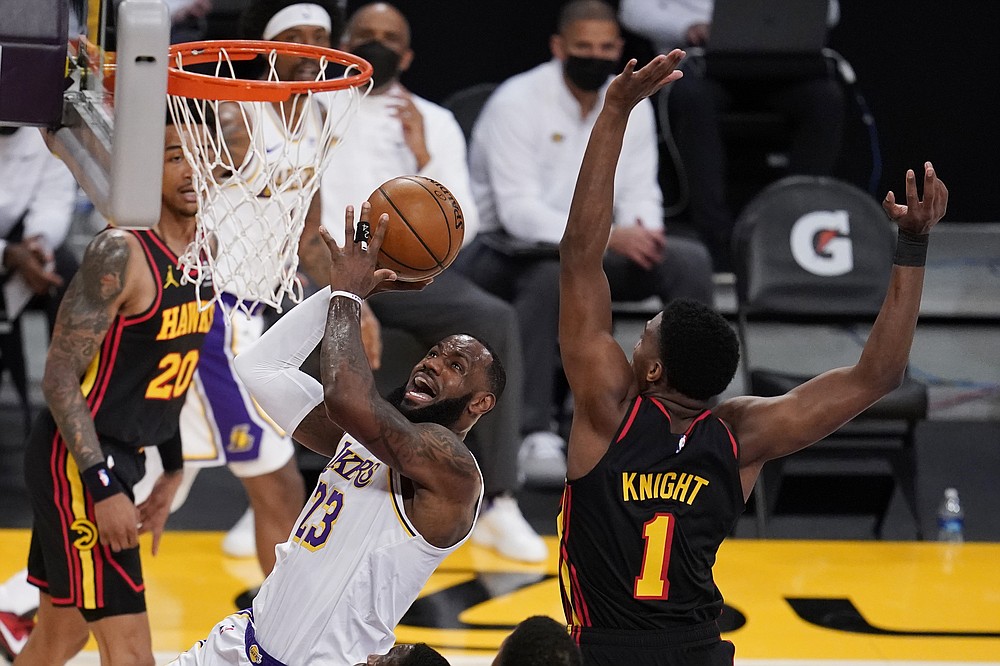 Los Angeles Lakers forward LeBron James (23) drives to the basket past Atlanta Hawks forward Nathan Knight (1) during the first half of an NBA basketball game Saturday, March 20, 2021, in Los Angeles. (AP Photo/Marcio Jose Sanchez)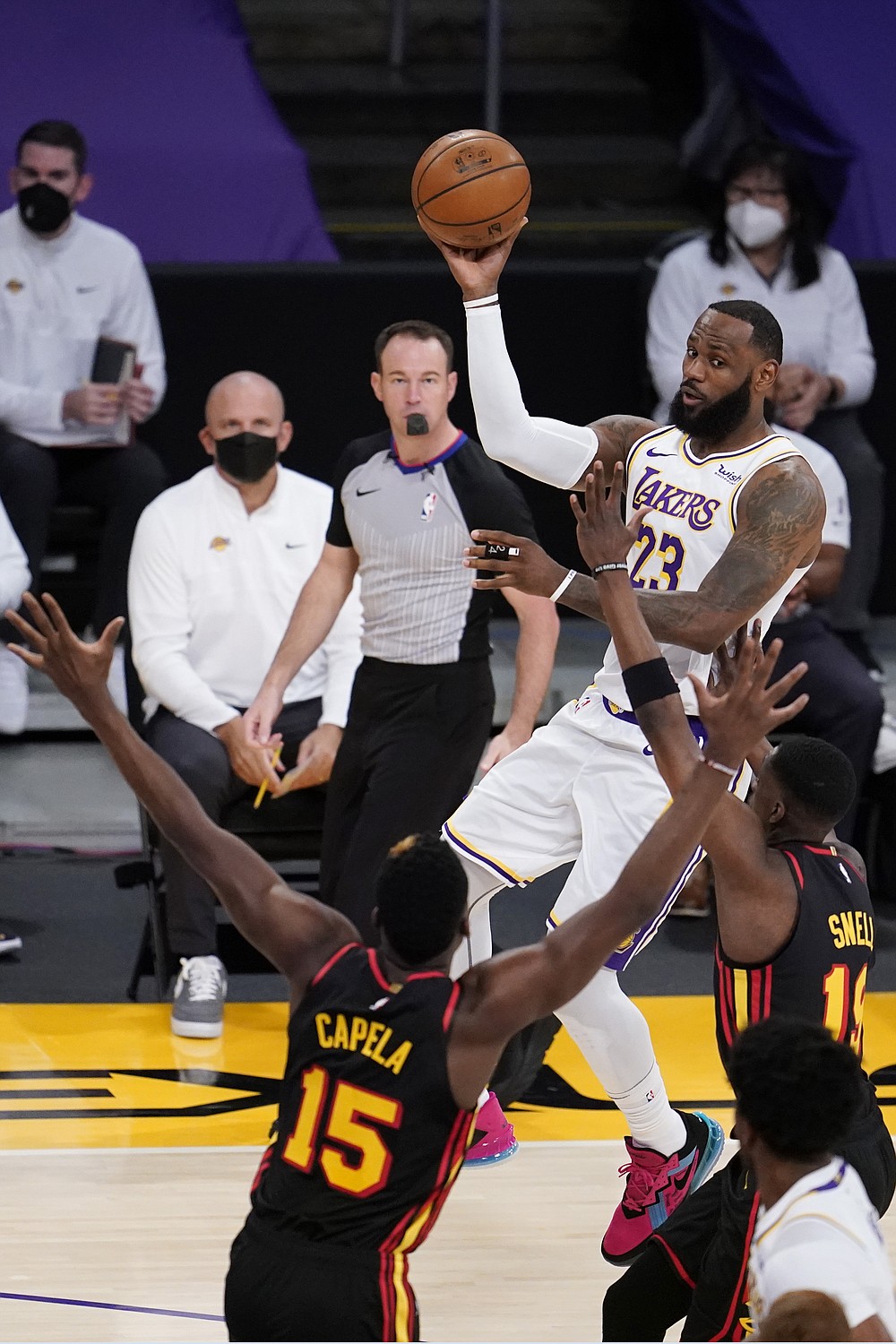 Los Angeles Lakers forward LeBron James, top, passes over Atlanta Hawks center Clint Capela (15) and forward Tony Snell during the first half of an NBA basketball game Saturday, March 20, 2021, in Los Angeles. (AP Photo/Marcio Jose Sanchez)