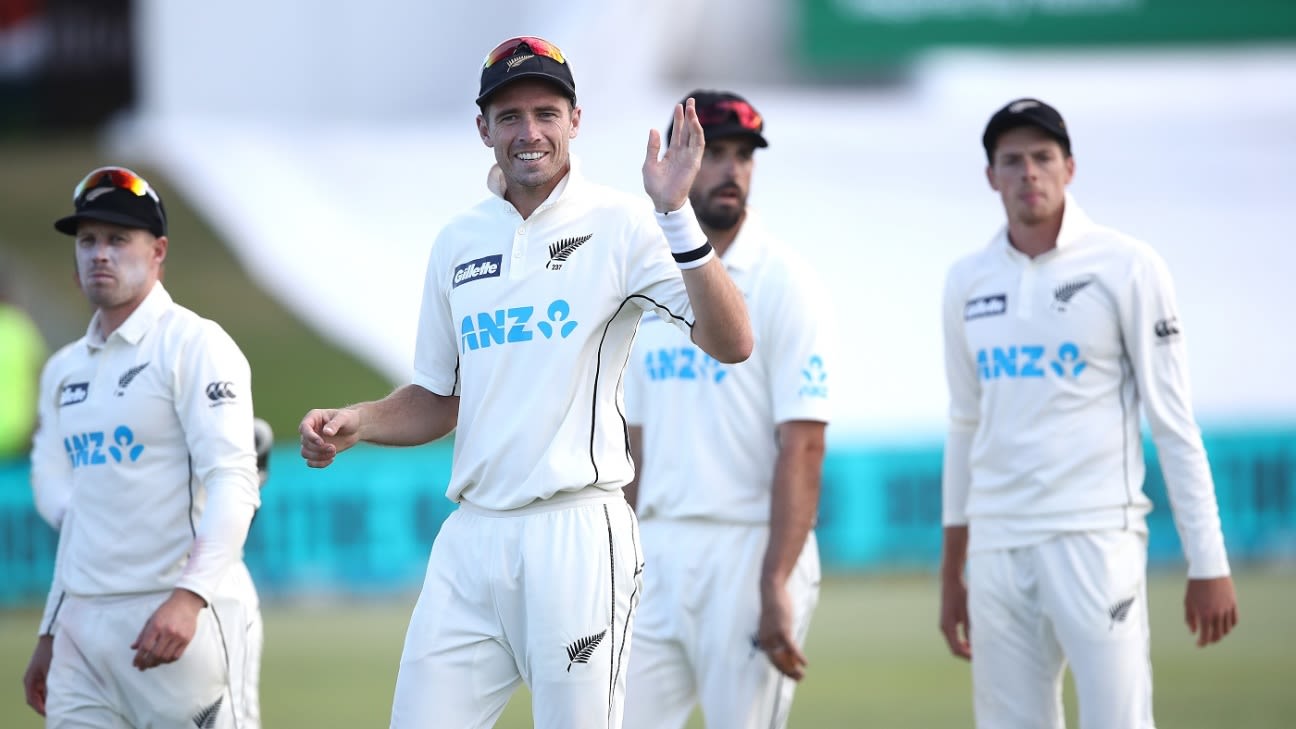 Read more at www.espncricinfo.com
Earlier this week, the ICC announced its Test team of the decade, a side that raised eyebrows – and tempers – in Pakistan for the absence of anyone from the country in the XI. As for New Zealand, there was just one – Kane Williamson – in the list. And that, in a decade that has had up to five other players who can stake a claim to be in their country's all-time Test XI: Ross Taylor, BJ Watling, Trent Boult, Tim Southee and Neil Wagner.
Those in charge of cricket in New Zealand might not say so publicly, but the absence of more than Williamson in that XI even as they are there and thereabouts at the top of the Test rankings is a glowing compliment to them. It is a vindication of the system where the whole is greater than the sum of the parts. With three fast bowlers, two batsmen and a wicketkeeper-batsman in the side strong shouts for all-time greatness, New Zealand have managed to foster that rarest of things: a team choc-a-bloc with elite sportsmen that is very well balanced, yet curiously bereft of egos, internal rifts, or selfishness.
It hasn't, however, dimmed their relentless pursuit of excellence. Williamson began this decade a prospect and ends it a giant, and yet you sense that he doesn't stay up at night moaning about a rare personal failure if he's led his side to a Test win. Southee doesn't sulk as Boult hoovers up most of the praise, while Wagner manages that seemingly impossible balance of giving this nice, mellow unit a nasty edge while also making himself the most lovable of them all. These may be top, top players, but for them, this remains very much a team game.
The fourth day of the Boxing Day Test against Pakistan in Mount Maunganui ended with New Zealand seven wickets away from a 1-0 lead. Southee capped the day with his 300th Test wicket when he had Haris Sohail driving on the up to short cover. Southee, the frontman of a legendary New Zealand bowling attack where he's almost talked about as something of a sidekick, particularly to his new-ball bowling partner Boult. And yet, despite a Test career that began nearly four years before Boult's did – the age difference between the two is barely six months – Southee looks the stronger partner as they approach this lap of their careers.
Boult is out of form by no metric besides the absurdly high standards he sets, but in that relative dry patch, Southee has seamlessly stepped in to do the heavy lifting. This summer, it has been Southee helping the side seize control early on, taking 11 wickets across the three opposition first innings in the three Tests; Boult has managed six overall. And while Boult went wicketless in the T20I series against Pakistan, Southee chipped in with six strikes in two matches to become the fifth-most prolific T20I wicket-taker.
Still, while Wagner is the enforcer, Boult the key swing bowler up front, and Kyle Jamieson the fresh force, Southee is merely the team player that complements them nicely despite a career that perhaps shines brighter than any of the others'. Indeed, he is perhaps more talked about for his entertaining lower-order six-hitting than the specifics of what make him so successful with the ball, and that success is continuing unabated.
Since the start of 2018 – before the ongoing Test – Southee played 18 Tests and picked up 92 wickets at under 22. Shane Bond's entire career, as Brendon McCullum pointed out on commentary, contains 87 wickets in 18 Tests at 22.05. But when he led his side off the field at the end of the day to generous applause from his team-mates and immense appreciation from the Mount Maunganui crowd, you could see the bashful smile, the slight discomfort at suddenly being the point of attention. Sidekicks don't come much better, or lower-maintenance, than that.
At the other end of the spectrum, Tom Blundell and Tom Latham were busy illustrating that same principle of putting the team first. If there has been an Achilles heel in this side of late, it's been the opening pairing of the slightly out-of-touch Toms, with stands of 14, 31 and 4 in the three home Tests so far. Blundell, who you sense is undergoing a very successful apprenticeship for when Watling hangs up his gloves, illustrates further the extent to which team goals are prioritised over individual ones. He has been shunted up and down the order to suit team goals; remember he made a hundred on debut from No. 8.
But with the two having responsibly seen off the new ball and ensured there was no chance for Pakistan to sneak back into the game, it might have been the perfect opportunity to face more deliveries, spend time out in the middle and get themselves some runs. After all, Blundell had just brought up his half-century, and Latham wasn't far away, while Pakistan carried little threat by this point. And yet, with the score on 111, the manner of Blundell's dismissal suggested padding up his statistics was the last thing on his mind at that moment.
His captain wanted to have a crack at Pakistan before tea, so Blundell charged down the track to Mohammad Abbas, and when he missed, the ball smacked into his leg stump. He had scored 64, and would thus look respectable on the scoreboard, but it quickly became apparent the entire side, captain included, would practice what they had presumably preached to their openers. Williamson fell on 21 playing perhaps the ugliest shot of his career, a flat-batted tennis slap to a short delivery from around the wicket he ended up skying for Mohammad Rizwan to collect comfortably. Instead of irritation, he displayed only urgency, reminding Taylor before leaving that he needed to keep his foot on the accelerator.
Contrary to what was seen when Pakistan's top order batted on the third day, there was little self-preservation. Different scenarios, of course, but the home side appears to have created a culture where any evidence of self-preservation might be the quickest way of ensuring a ticket out of the team. By turning self-preservation into a self-defeating goal, the good of the team ends up being put on a pedestal almost by default.
And what were New Zealand putting in all that effort for? To get 20 minutes at Pakistan before tea. On a potentially flat pitch where every little session counts, Williamson's side knew they needed to give themselves the best possible chance of forcing a result. Those 20 minutes produced two wickets, one each for Southee and Boult.
New Zealand began the decade with a ten-wicket loss at home to Pakistan. The hustle they went through just before tea might go a long way in ensuring they close it out with an emphatic win. It's been a decade of doing the right things, and as New Zealand start sighting the inaugural World Test Championship final, a decade's worth of improvement certainly shows.
Danyal Rasool is a sub-editor at ESPNcricinfo. @Danny61000