Australia
NRL conference plan to disadvantage Canberra Raiders, Newcastle Knights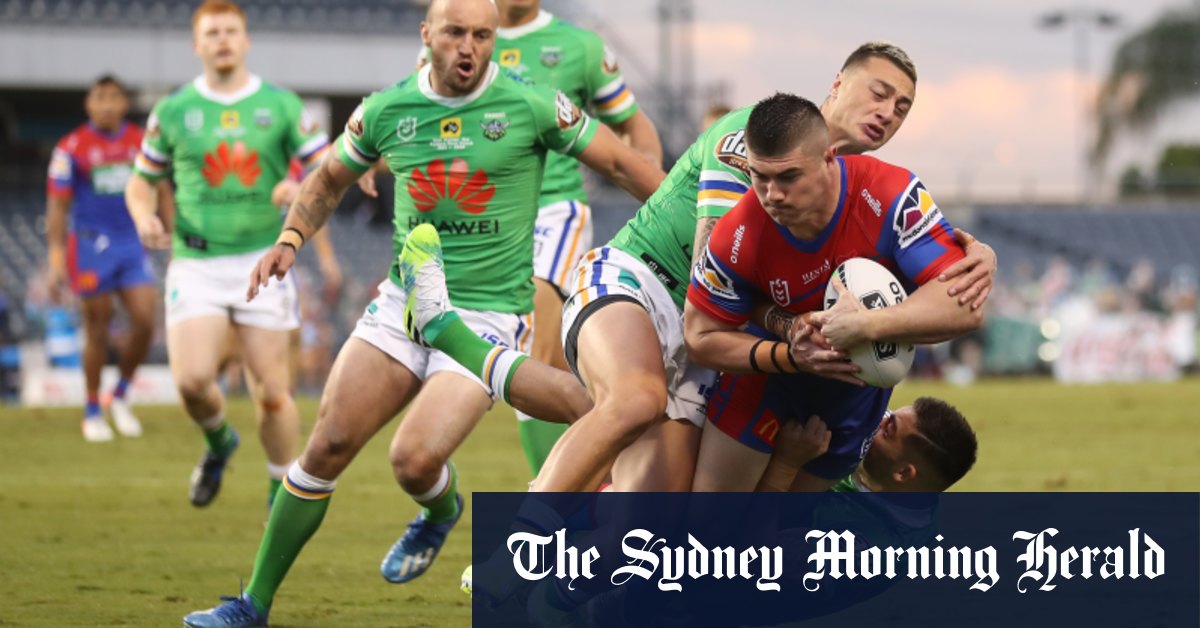 Knights chief executive Philip Gardner said: "The NRL needs to resolve expansion first and then give consideration to a conference structure. We look forward to the NRL's business case around expansion."
The chief executive of one Sydney club, speaking on the condition of anonymity, said there were "pros and cons" to the proposal. However, the biggest concern was that two Sydney clubs would never be able to meet in a grand final.
'If you can guarantee you can play home and away against all the Sydney clubs that makes a lot of sense for a club like Canterbury.'

Aaron Warburton
"That's not something I'm comfortable with," the club boss said. "We already get to play most of our Sydney rivals twice each year without the conference system. You could never have a Manly-Parramatta or Roosters-Rabbitohs grand final under this system."
But Bulldogs chief executive Aaron Warburton said the conference proposal would help the Sydney clubs commercially.
"The scheduling is so important for a club like the Bulldogs," he said. "For us, like most Sydney clubs, you look at the draw and cross your fingers you play all your big Sydney rivals. From a commercial point of view, it can make or break your year depending on who you play.
"If you can guarantee you can play home and away against all the Sydney clubs, that makes a lot of sense for a club like Canterbury."
Warriors CEO Cameron George said he was open to the proposal.
"The game can't stand still, I'm more than happy to explore what the game wants to do," George said.
"At the end of the day, our club will trust that the best decisions will be made by the commission on behalf of the whole game. Anything to grow the game, we're always positive about, that's always the club's position.
"We haven't seen anything and it's hard to comment because we haven't had the club visit yet."
The Warriors are stationed on the Central Coast due to the COVID-19 pandemic, but under normal circumstances would travel overseas every second week.
"We have to travel to Australia and back anyway, so conferences to us won't matter much," George said.
"We will either fly into Sydney, fly into Queensland or fly into Melbourne; that's us now anyway.
"I'd say it would have a far greater impact on a Sydney-based club that would have to travel."
Asked if there was enough talent to sustain another New Zealand franchise, George said: "Between the Pacific Islands and New Zealand, there's a significant amount of talent.
Loading
"But you've also got a significant amount of competition with rugby as well. It's different to Australian rugby because we've got about six or seven franchises in New Zealand alone.
"We can't afford to sit on our hands, but until we see some information we won't be able to qualify our opinion with any knowledge."
Global Media and Sports executive Colin Smith warned the 18-team expansion model could be lucrative for the NRL, but only if a second New Zealand team was competitive.
"The idea of the expansion model is quite smart and having competitive rivalry in New Zealand is critical," Smith said. "It is absolutely fertile ground to do a raid on rugby union in New Zealand. That guarantees a live game in New Zealand every week.
"The idea of adding another team, just adding more revenue, is wholly dependent on that team being competitive. If it's a bottom feeder, that's not going to attract television audiences."
Sport newsletter
Sports news, results and expert commentary delivered straight to your inbox each weekday. Sign up here.