Baseball
Nolan Arenado trade takeaways | MLB.com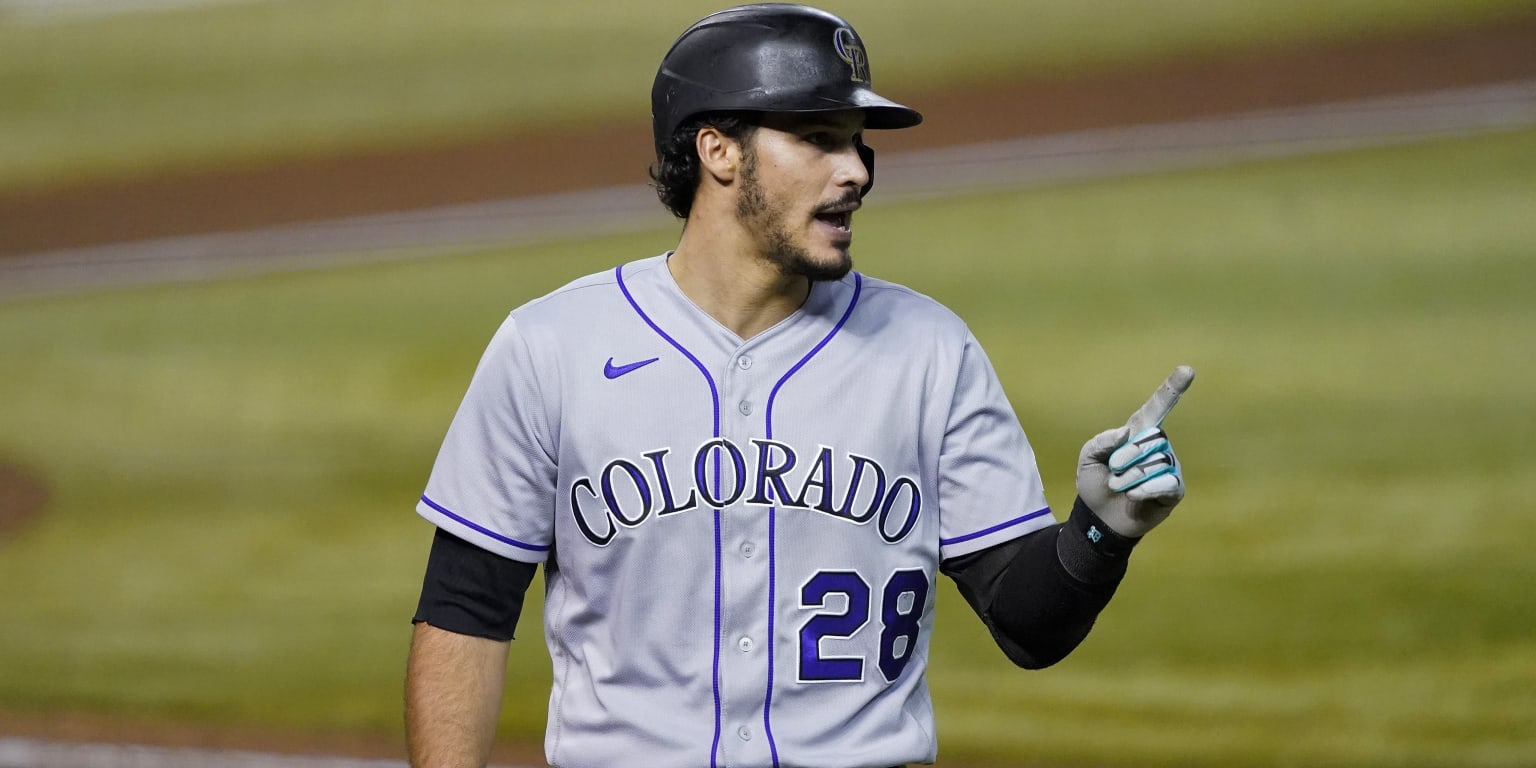 Nolan Arenado and the Cardinals have been connected in rumors for so long you half expected Ernie Broglio to have once been involved in trade negotiations. After years of wishful speculation (in the case of Cardinals fans and, seemingly, Arenado), MLB Network's Ken Rosenthal broke the news Friday night that
Nolan Arenado and the Cardinals have been connected in rumors for so long you half expected Ernie Broglio to have once been involved in trade negotiations. After years of wishful speculation (in the case of Cardinals fans and, seemingly, Arenado), MLB Network's Ken Rosenthal broke the news Friday night that the Cardinals and Rockies had agreed to a deal. The details have not all been worked out yet, and the deal, because of all the financial maneuvering involved with Arenado's contract, still requires approval from both MLB and the players' union. Therefore, there is a chance it still falls through. But from all accounts, the deal looks set to happen.
And it changes so, so many things. Here's a look at seven takeaways from the deal, for the Cardinals, for the Rockies, for Arenado, and for the rest of baseball.
1. The Cardinals immediately become the National League Central favorite.
It was going to be a muddle in the NL Central, with the Cardinals, Cubs, Reds and Brewers all jumbled and (not unrelatedly) curiously inactive this offseason. Most of baseball was waiting for one team, any team, to make an aggressive move to take advantage of the division's anticipated mediocrity. It's fair to call this an aggressive move, especially since the Cardinals are reportedly not giving up any key players from their current roster. Arenado is the bat St. Louis desperately needed in the middle of its lineup, solving several problems at once and securing the Cards' status as the one team buying in a division of inertia. Even if other teams in the division start finally making moves, none will have the impact of this one.
2. The Cubs may start shipping more guys out now.
Before this trade, you could make the argument that the Cubs were still the favorites in the division. (I myself made this argument just a few weeks ago.) But you sure can't make that argument if this deals goes through. If the Cubs aren't a serious contender right now — and Fangraphs had them fourth before this trade — then why, exactly, are they keeping pending free agents Kris Bryant, Javier Báez, Craig Kimbrel and Anthony Rizzo around? The NL Central muddle was just waiting for one team to step forward and take control. For the last few years, you would have expected Chicago to be that team. Instead, it was the Cardinals. Whether or not the Cubs trade away any of those free agents, it is clearly the end of this Cubs era. It's tough to blame Cubs fans for feeling dismayed that it happened earlier than it should have, or that it even happened at all.
3. The NL has some clear fault lines.
Do we already know all the NL playoff teams? With it looking (now, anyway) that there will not be expanded playoffs this year, there are only five playoff spots available in the NL this year. The Dodgers and Padres may be the best two teams in baseball; they clearly hold two of them. The Cardinals are now the obvious favorite in the NL Central. The Braves are the defending NL East champs and look formidable even if they haven't replaced Marcell Ozuna's bat yet, and the Mets, uh, traded for Francisco Lindor and Carlos Carrasco. It sure looks like the Dodgers, Cardinals, Padres, Braves and Mets are the five playoff teams, right now, at the end of the January. Can anyone else — the Phillies, Reds, Marlins, Nationals or Giants — break through?
4. Trevor Story just skyrocketed to the top of everyone's trade lists.
With Arenado's onerous contract mostly off their books now, the Rockies would love to re-sign their other All-Star, Trevor Story. But that's going to be tougher now. Story is a free agent after this season, part of that incredible shortstop class of Lindor, Corey Seager and Carlos Correa, and one has to wonder how eager he's going to be to sign long-term with a franchise that just traded away their longtime superstar only 23 months after extending him in the first place. The Rockies weren't likely to contend in 2021 with Arenado, and they're definitely not going to now. Story, even with free agency coming up, would likely bring back a considerable return (potentially better than Colorado got for Arenado). The Rockies are clearly in need of a reboot. Trading Story next seems like a logical way to accelerate that process.
5. John Mozeliak can stave off the haters for a while.
The Cardinals' president of baseball operations, along with general manager Michael Girsch, has taken a considerable amount of heat this offseason, not just for not making any moves, but for not looking particularly eager to stand out in a winnable division. One aspect of Mozeliak's tenure that is often underappreciated is how the Cards never do a sell off or a teardown; they're trying to win the division every year, and have, essentially for 25 years. That looked questionable most of this offseason, though, particularly after the team didn't pick up Kolten Wong's reasonable $12.5 million option. The Cardinals have a bunch of money coming off the books after the 2021 season; were they punting on this year just to get clear and ready for '22? It turns out: No, they were not. Mozeliak spent most of the winter pleading with Cardinals fans to "stay patient." Now they can see why.
6. Yadi's not going anywhere.
A few hours before the Arenado trade was reported, the Cardinals made their first notable move of the offseason, signing lifelong Cardinal Adam Wainwright to a one-year, $8 million incentive-laden contract. Wainwright was downright giddy in the Zoom press conference, hinting at more potential moves coming soon (quite correctly, as it turned out) and even, at one point, sporting one of Yadier Molina's catcher's masks. Molina, of course, is still a free agent, but it's difficult to imagine him not signing with St. Louis for his 18th season now. Molina's connection to Wainwright is already part of Cardinals history, but he's also reportedly longtime friends with Arenado. You're telling me that Molina is not going to finish his career as a Cardinal after this trade? Please. There were already murmurs on Friday that Yadi was going to return, and this news makes it all but certain.
7. This has actually turned out to be a fascinating offseason.
All right, so it took a while to get moving, but all told, some truly huge names have been traded this offseason. Lindor. Yu Darvish. Blake Snell. Now Arenado. For all the talk about teams being scared of a season without full capacity in the stands, these are some of the best players in baseball changing teams this winter. This is what the Hot Stove is supposed to look like. Hallelujah.