Baseball
No. 1 Gators so ready to get started again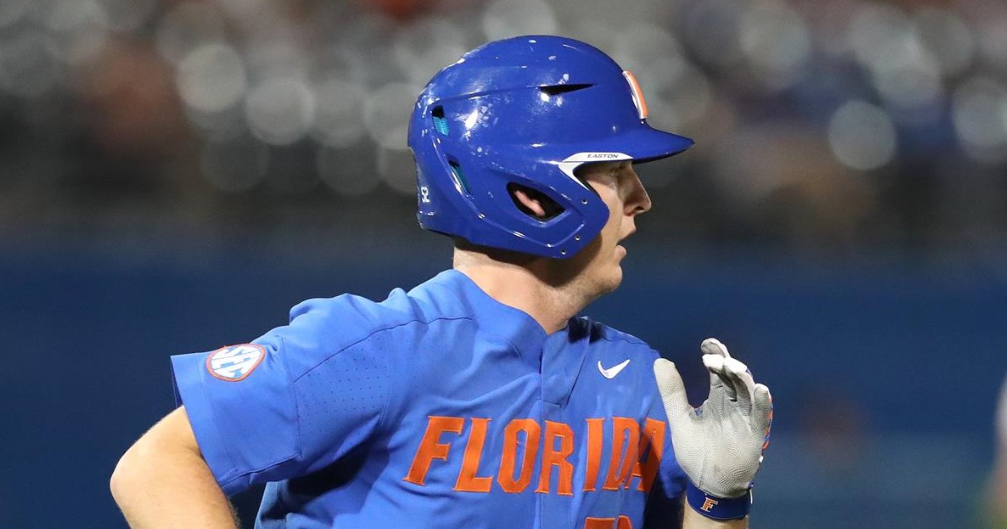 They were No. 1 in the country when the season ended way too short last season. Florida won their first 16 ball games and then dropped their 17th before the season was called for COVID-19. It was crushing for a team that had almost all the answers for everything they faced and then ended things on a sour note. The Gators are a unanimous No. 1 this preseason and ready to get to work again after an unexpectedly long layoff.
It was a quick little three-sentence phrase from Florida freshman weekend starter Hunter Barco this week that stood for everything his teammates are feeling right now, "We're so excited. It's been too long. We're ready to get back out there."
Barco speaks for college baseball players around the country that will get things going next weekend. The No. 1 Gators open up with rival and No. 21 Miami.
Florida has the added bonus of opening up a brand new ball park. A state-of-the-art facility in a new location with amenities like the baseball program has never had. But the bottom line is these Gators just want to play ball and play against guys that aren't on their own team.
"We're in disbelief," sophomore first baseman Kris Armstrong said. "It's been such a long time once we played against an actual team. It honestly feels like… to kind of flip-flop it, it feels like we played Miami about a week ago last year. It's just crazy how things are falling into place and we're playing Miami in the first series. It's going to be pretty awesome."
The Miami series is always one of the best on the Gator docket and always at or near the beginning of the season. This year it happens to be the first three games of the 2021 season.
"It's really exciting," junior weekend starter Jack Leftwich said. "Obviously… that is always one of our favorite series. It's weird because we feel like that was kind of the last team we played. That was like our biggest series we played last year. So now it's kind of like we are restarting and everyone's excited. I think it's different because normally we have a week to get our feet underneath us and then Miami the second week, so I think it will be really good for this team because a lot of us haven't played in a while, to get out there and play a really good opponent right away and see where we're at. So I think that's going to be a really good test."
As to that thought. The Gators should be ready. They return nearly their entire roster from last year including all three weekend starters and eight out if nine that were in the starting lineup. Even with the loss in the last game last year they were still No. 1 when the dust settled and that team is back with some added pieces that full expect to make them better.
This team is ready.
"I think definitely we're ready to go," Armstrong said. "You know the pitching has always been there. The pitching looks great this year. Our starting pitchers look awesome, our bullpen looks great, throwing hard, great off-speed stiff. That's a great benefit for us going into the first game of the season. Our hitters get to see the best of the best pitching right off the bat before the season starts. So I think we're all together."
And man do they just want to play a full slate of baseball this year. The Florida schedule lists 55 regullar season games. With the pandemic still hovering over us, nobody expects to get a full 55 games in the regular season, but they want to get close.
"Me and my roommates talk about it all the time, the fact that we've been here for two falls and played four weekends of college baseball," Barco said. "But it's how it happened and we've done our best to do our part like everybody else to be able to play a full season this year."
And then there is this thing about finishing last season No. 1 but no banner to show for it, no College World Series to talk about, etc. Last year was last year, but they do feel like they have some unfinished business.
 "We don't really talk about it but we all kind of know that how we got off to the good start, we kind of were on a roll," senior third baseman Kirby McMullen said. "We kind of had a feeling that we had some unfinished business from last year. I mean losing only Langworthy and Brady Smith. We should be able to get right back to where we were at. I think that's definitely in the back of our mind, but we're definitely trying to go out there and play Florida baseball and win games every single day."
The three-game series with the Hurricanes is scheduled for a first pitch at 3 p.m. on Friday and will be aired on the SEC Network. Saturday and Sunday's games are at 1 p.m. and will be streamed on SEC Network+ and the ESPN App.