Formula 1
Nico Hulkenberg Reportedly Rejected McLaren F1 Offer for 2021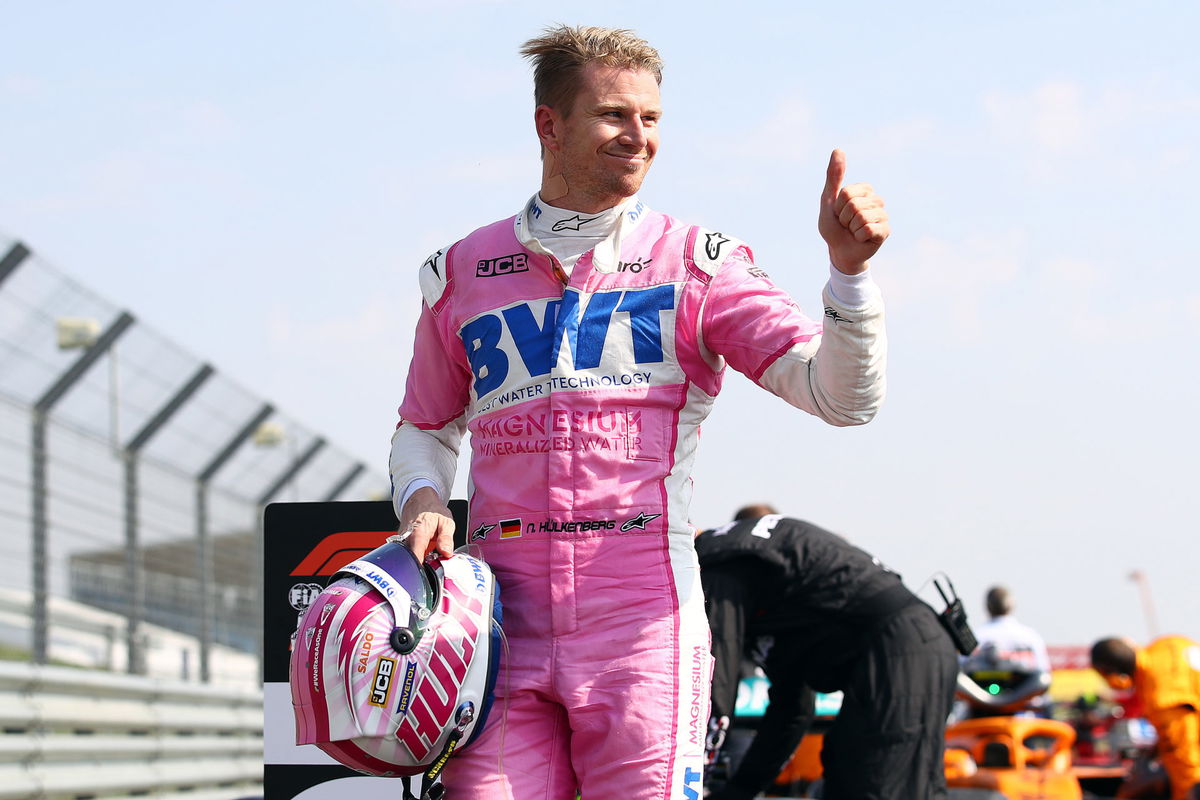 German driver Nico Hulkenburg is apparently a very sought-after driver on the F1 paddock. According to reports by F1 insider, the German could be employed by F1 teams as a super-sub should their drivers be unavailable for any reason. He could function as a 'Double Agent' of sorts as he could be employed by more than one team.
Hulkenburg was not a team-contracted driver on the grid in 2020. This came after the German lost his Renault seat to Esteban Ocon for the 2020 season.
However, he found himself very quickly in an F1 race seat as both Racing Point drivers Sergio Perez and Lance Stroll were on the wrong end of Covid-19 diagnoses. He suited up for three races and had very impressive performances to show for it. This has clearly impressed the powers that be at various teams. 
Nico Hulkenburg to become a Double Agent?
The German is in high demand and according to reports by F1 insider, could be employed by both Mercedes and Aston Martin. The report (translated via Google) stated, "Both the Mercedes works team and the drive customer Aston Martin are planning to hire the German from Emmerich as a replacement and development driver."
"Both racing teams are convinced of the capabilities of the "Hulk" – not only as a development pilot who can provide important information about the driving behavior of the car and engine in the simulator, but also as someone who can replace one of the regular drivers with a cold start on a GP race weekend."
He could also be hired by McLaren according to the same report. It stated, "McLaren has also asked whether he would be available if the worst comes to the worst. However, the German could not accept due to his other obligations. Nevertheless, a use at McLaren is not considered completely impossible if Mercedes and Aston Martin would agree."
"McLaren is considered a competitor, but the orange cars are also being cheered on by Mercedes engines this year."
Can the Hulk make a permanent comeback to F1?
Unfortunately, the answer to that has to be in the negative. Despite his encouraging performances as a super-sub, that wasn't enough to tempt teams into giving him a permanent contract.
Seven out of the 10 teams in F1 made changes to their driver lineup for 2021. We can cancel out a few of those teams as they are looking to make an upgrade in the line-up. But, the head-scratcher had to have been Alpine and Haas.
Alpine, turned to a man six years Hulkenburg's senior, in Fernando Alonso to take over the spot left by Daniel Ricciardo. Haas went for two fresh-faced rookies instead of him.
Teams are a little put off by the absence of a podium in his long F1 career. This has ultimately tarnished his solid career and could deter future teams from giving him a permanent drive. He should look to be very good in those super sub appearances to impress future recruiters.