Cricket
New IPL team: Plenty of questions as talks about new IPL franchises gather steam | Cricket News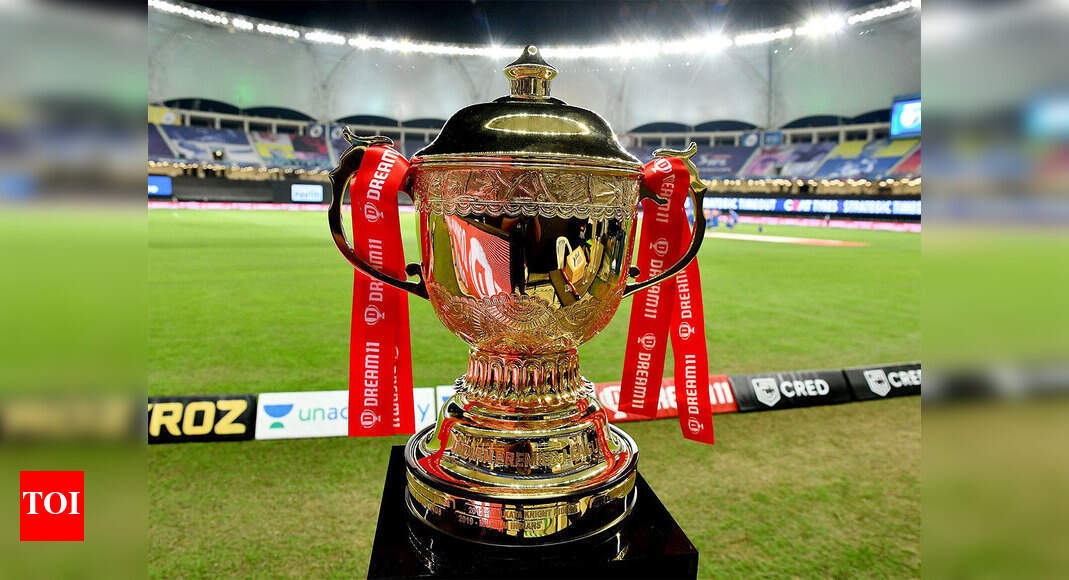 Read more at timesofindia.indiatimes.com
More teams may dilute player field, fear owners; extra foreigner proposed
MUMBAI: As the BCCI plans to go ahead with a tender and introduce new franchise(s) to the present eight-team Indian Premier League (IPL), questions are being asked every passing day. While the Board does have the necessary space, ecosystem and financial foresight to proceed with the move, it has still not taken the final call on whether one or two new franchises should be brought on board.
While that call is expected to be taken soon, the inclusion of one franchise or two will require the BCCI to plan for a mega-auction ahead of the 14th edition of the league, scheduled for April and May. In such a scenario, stakeholders believe that the Board will need to work on some policy changes.
Currently, each team can build an overall squad strength of 18-25 cricketers with a maximum of eight overseas players. Only four overseas players can be part of the playing eleven while the remaining seven have to be Indians.
"Teams are already finding it difficult to ensure quality. If we look at most IPL squads, around seven to nine players form the core while two to three players per squad are rotated to find the right balance. Now, if eight franchises are increased to 10, that quality further gets diluted. IPL's core – the very essence of having a salary purse every year – is to ensure the overall quality of all eight franchises remains somewhere at the same level, regardless of an individual franchise's spending capacity. If two extra teams draw from the same pool of cricketers at the auction, can the quality be guaranteed," ask existing franchises.
For that, a leading BCCI official has suggested that overseas players in the playing XI should therefore be increased from four to five. "There are quality overseas players who are warming the bench every season because of the restriction. An added overseas player will balance out that need," the official is learnt to have suggested.
However, with IPL being an India-centric domestic tournament, one needs to wait and see if the BCCI and more specifically, the IPL governing council, agrees to such a move.
There are other factors under consideration too as reports of new franchise(s) coming in does the rounds.
Mumbai Indians have just won their fifth title and if a mega-auction is called for, with teams being allowed to retain certain players, MI will still have to let go of more than 15 squad members. "Does that mean those players will be considered as IPL champions for just one-and-half month?" say those tracking developments.
If the BCCI intends to add new franchise(s), a mega-auction will have to be held latest by January to give all teams enough time to prepare for a March-end or an April-beginning start. "Let's say MI gets to retain just four players – Rohit, Jasprit, Hardik, Kieron. The rest can't call themselves champions after January for a title they've won in November?" they add.
And finally, the BCCI must also consider what its Media Rights Agreement (MRA) with broadcaster Star says. "It needs to be checked if, according to the MRA, matches can only be expanded to 76 (9 teams) or can be stretched to 91 (10 teams), as against 60 (8 teams) at the moment," sources say.
If it's only 76, industry executives say BCCI will have to work on restricting the number of days to a minimum if it wants 10 teams and "the only way to do it will be by changing the format and possibly going back to the 2011 arrangement for now".
BCCI to float RFP for A/V rights
The BCCI is also getting ready to float a Request For Proposal (RFP) for the audio-visual production rights to the Indian Premier League (IPL) and all other domestic cricket. Star India Pvt Ltd had won the audio-visual production rights for the 2018-19 season while reserving the right to extend the term for one more season (2020). Star, now part of the Disney umbrella, is unlikely to pick the rights once again.
Delhi Capitals set for a change in management
Getting done with what turned out to be their most successful campaign in 13 years, Delhi Daredevils-turned-Capitals are now set for a change in team management. In line with the policies laid out two years ago, when JSW scion Parth Jindal bought 50% stake in the franchise and arrived at an agreement with the GMR Group (the other 50% stakeholders) that each stakeholder would run the team for two years each, it is now GMR's turn to take over.
TOI understands that Kiran Kumar Grandhi of the GMR Group has already taken charge of the franchise.