Sports
Nazem Kadri leads Avalanche to 3-0 shutout and two-game sweep of San Jose Sharks |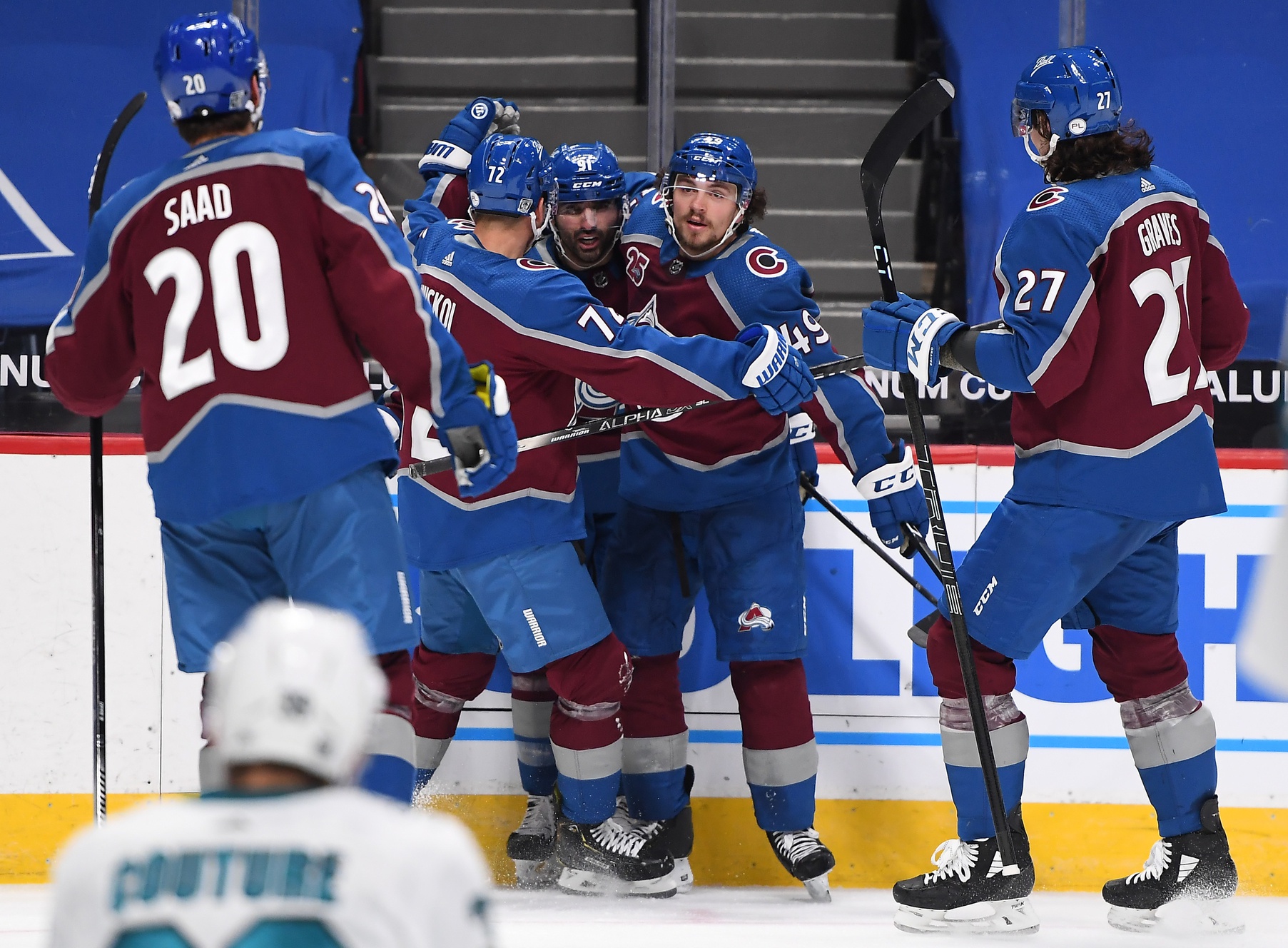 The Avalanche's second line has suddenly found its footing. And Nazem Kadri was front and center in the action.
Kadri scored the go-ahead goal in the third period to help the Avalanche shutout the San Jose Sharks for their first two-game sweep of the season at Ball Arena on Thursday. Kadri then set up linemate Andre Burakovsky 1:58 later and added another goal on the power play in the final minutes.
The third piece of that line, Brandon Saad, had two assists.
"We're keeping it simple and playing a little bit more in their end," Saad said of his line, which has combined for 11 points in the past two games. "We tend to get fancy and turn the puck over and then we're playing in our D-zone most of the night. But I think the past couple of games we did a better job of getting pucks in deep, holding onto it, making plays, and playing with confidence."
Both teams combined for just 31 shots and were scoreless after 40 minutes. But Colorado stormed out of the gate in the third period with nine shots. The Avs eventually broke through at 9:55. They finished the third period with a 20-8 shot advantage.
Nazem Kadri finished with a game-high 10 shots. He had just one goal and three points in seven games leading up to his offensive explosion Thursday. He also had 20 shots.
"It's a game of patience, especially in our division," Kadri said. "There' a lot of teams that play lockdown defense and you're going to have to earn everything you get so I understand that. In previous games, it felt like I'd been missing quality opportunities. So you just stay with it and eventually it's going to come."
Colorado's patience was certainly tested all night. Pierre-Edouard Bellemare, Nathan MacKinnon and Bowen Byram all hit the post while the game was still scoreless.
The game was the polar opposite of Tuesday's 7-3 drubbing, where the Avs scored all seven of its goals in the opening 40 minutes.
"It's always nice to get into these kinds of games because it's what the playoffs are going to be like," Goaltender Philipp Grubauer said. "We're not always going to score six-plus goals. Things are going to get tightened up and it's going to be tougher to score."
Grubauer's victory was his league-leading fifth of the season. The shutout was his second. While the Avalanche's starter has been hot to start the year, he's also had to face more than nine shots just once over the past nine periods.
And Grubauer was complimentary of his team for the defensive support.
"Phenomenal. It's phenomenal," Grubauer said. "I think that comes from every line's forwards and defensemen on the ice."
Colorado has won five of seven games since falling to St. Louis on opening night. And for the first time this season, the Avs are preparing for four straight games against the same opponent. They travel to Minnesota for a back-to-back this weekend before hosting the Wild twice next week.
"It's different," Saad said. "It's almost going to feel like a playoff series where you see the same team every night. You do the pre-scout things and get familiar with them."
Injuries pile on. Colorado, who is already without Pavel Francouz and Matt Calvert due to injuries, lost Bellemare in the first period. Bellemare collided with San Joses's Ryan Donato and was favoring his left knee. The veteran center was unable to apply pressure to his left leg as he was helped off the ice.
Footnotes: The Avalanche killed off all four minor penalties called against them to remain a perfect 15-for-15 on the penalty kill at Ball Arena. … Cale Makar recorded his ninth assist of the season. Makar's nine points are second-most among defensemen behind fellow sophomore Quinn Hughes (11). … MacKinnon recorded a shot for the 228th consecutive game to pass Joe Sakic for the club record.