Cricket
ms dhoni: Playing under MS Dhoni is a dream come true, Rs 9.25 cr price tag doesn't add any pressure: Krishnappa Gowtham | Cricket News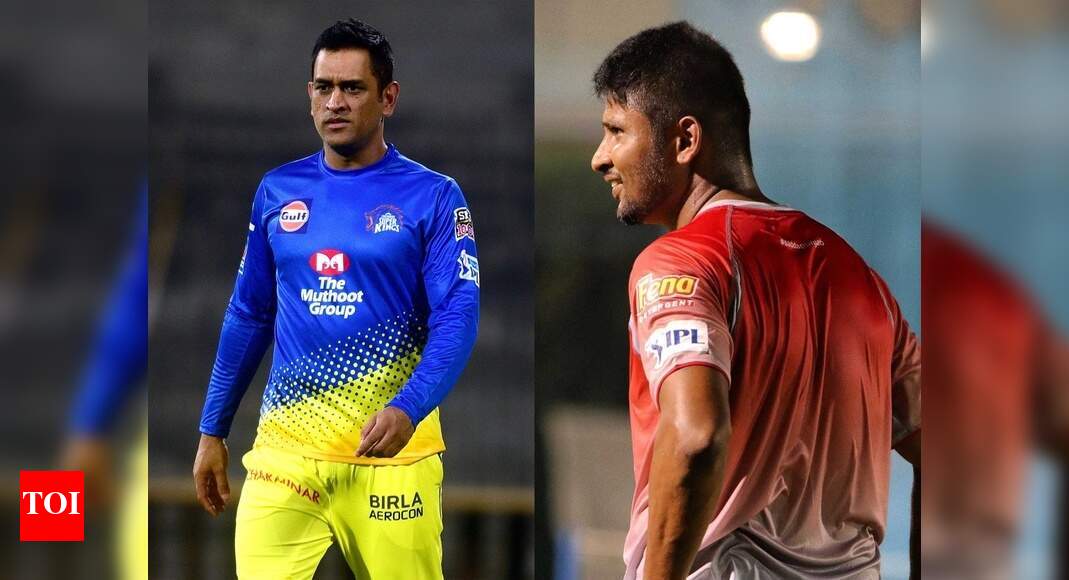 NEW DELHI: Karnataka all-rounder, Krishnappa Gowtham's long-cherished dream of playing under the leadership of the legendary Mahendra Singh Dhoni is going to come true this Indian Premier League [IPL] season.
Gowtham has had a couple of fan-boy moments during IPL matches when he met his childhood hero Dhoni. Gowtham, in fact, got a bat signed by Dhoni in the 2020 edition, held in UAE.
(MS Dhoni giving his autograph to Gowtham on a bat – Photo courtesy K Gowtham Facebook)
After being bought by Chennai Super Kings [CSK] for the IPL 2021 season, Gowtham can't wait to share the dressing room with his childhood hero Dhoni and follow his instructions on the field, and, of course, don the yellow CSK jersey.
But the big talking point of course has been the very hefty sum CSK bid to bag him at the player auction.
BIG PRICE TAG, MORE PRESSURE?
Gowtham became the most expensive uncapped player in IPL auction history recently when he was picked up by CSK. His final price of Rs 9.25 crore was over 46 times his base price of Rs 20 lakh.
Does the price tag put more pressure on him then to perform?
"The price tag doesn't put any pressure on me, I just want to go and win matches for my team. I have domestic match experience with me. I don't want to perform with a price tag on my mind. I am excited to play under Mahi bhai and learn a number of things," Gowtham told TimesofIndia.com.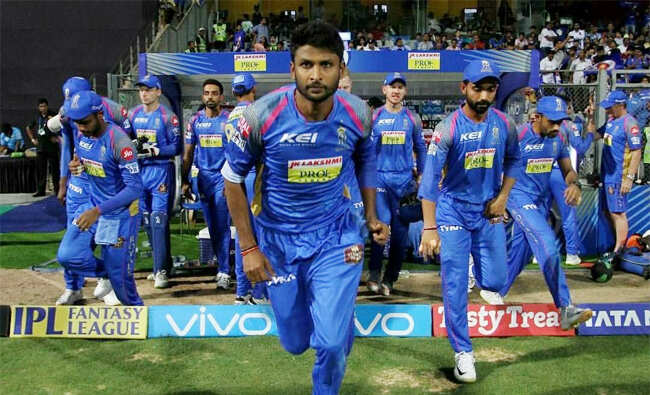 (Photo: K Gowtham Facebook)
"I am ready for every sort of challenge at CSK. Whatever responsibility they will give me, I will grab them with both hands. I am ready to perform with both bat and ball. I want to win matches for CSK," Gowtham further said.
Gowtham was released by Kings XI Punjab ahead of this season and entered the IPL 2021 Player Auction at a base price of Rs. 20 lakh. Within minutes, he became a franchise favourite as multiple teams were involved in an intense bidding war to buy the 32-year-old.
In the end, Chennai Super Kings managed to secure the services of the off-spinning all-rounder for a whopping Rs 9.25 crore, making him the most expensive uncapped buy ever in the history of the IPL auction.
"I have played under Ajinkya Rahane at RR and KL Rahul at KXIP [now Punjab Kings]. Both are wonderful captains. Now, I am really excited to play under Mahi bhai. It's a dream come true for me. I always wanted to be a part of the unit which he [Dhoni] leads. He has won World Cups for India and has three IPL titles too. I can't wait to play under Dhoni bhai," Gowtham told Timesofindia.com in an exclusive interview.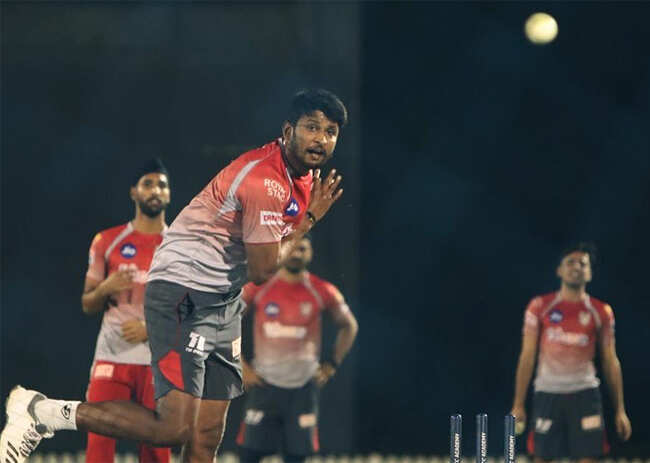 (Photo: K Gowtham Facebook)
"Last year I was playing with RR and managed to meet him [Dhoni] and got a mini bat signed. I also spoke with him for a few minutes and asked him a couple of questions regarding cricket and he answered them so nicely. He is a legend of the game. I am really excited to meet my idol and play under him," Gowtham, who played only two matches for Punjab last season, scoring 42 runs and taking one wicket.
GOWTHAM NO STRANGER TO BIG PRICE TAGS
The 32-year-old all-rounder has been part of three franchisees in his IPL career so far and kbnows a thing or two about teams splurging big bucks to retain his services . In 2017, he was picked by Mumbai Indians for Rs 2 crore (base price Rs 10 lakh), but he didn't get to play a single game in the tournament.
In the 2018 IPL Player Auction, Gowtham entered the pool at a base price of Rs 20 lakh and became a hot buy again when he was snapped by Rajasthan Royals for an enormous Rs 6.20 crore. He played for Rajasthan Royals for two seasons (2018 and 2019) and scored 144 runs and bagged 12 wickets. After a below par outing in 2019 (18 runs and 1 wicket in 7 matches), he was traded by the Royals.
In 2020, Rajasthan Royals traded Gowtham to the Punjab Kings. He played just 2 matches with the Punjab outfit and scored 42 runs and claimed one wicket. Punjab also released Gowtham ahead of the 2021 player auction.
Now, the Karnataka all-rounder is all set for this fifth IPL appearance and will be itching to justify yet another hefty price tag.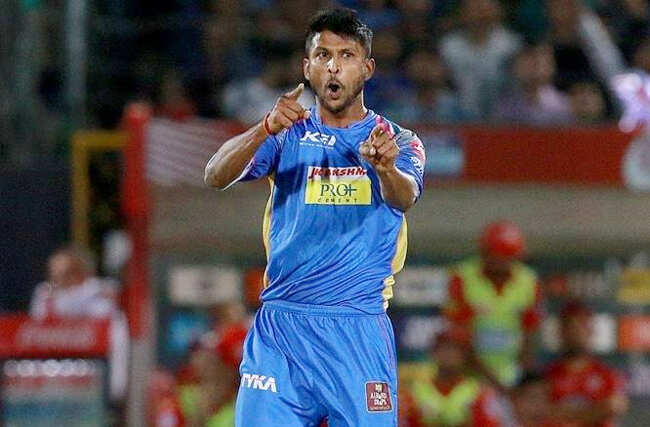 (Photo: K Gowtham Facebook)
"I am so happy that I am going to be a part of CSK now. As a cricketer, you want to get better every day and with time and that's what I have been doing. I have been working so hard. I played some good knocks in the domestic circuit and took wickets as well. And I will aim to continue the same for CSK," Gowtham told TimesofIndia.com.
"It's been great and I have learnt a lot during my stints with both teams (RR and PK). When you play and meet players all around the world under one roof, you learn a lot. I learned new things. New things and new learnings – that's the beauty of the game," Gowtham further said.
WHEN THE AUCTION WAS ON, GOWTHAM WAS BOWLING TO THE INDIAN TEAM
Gowtham was busy bowling to the Indian batsmen, including captain Virat Kohli and vice-captain Ajinkya Rahane, at the nets ahead of the third Test vs England, when his name was called by the auctioneer Hugh Edmeades.
He was picked as one of five net bowlers as the squad for the last two Tests vs England was announced by the BCCI.
"All the seniors and Indian team members congratulated me after I was bought by CSK. I was busy bowling at the nets when the auction was going on. It's a great feeling. My journey has been a roller coaster ride for me, but at the end of the day when your hard work pays off, it feels amazing.
"I will be playing for CSK and under a big captain MS Dhoni. The feeling is surreal. I am fortunate and pleased that CSK showed so much faith in me. I am really looking forward to being part of a wonderful IPL team," Gowtham signed off.