Cricket
Motera, World's Largest Cricket Stadium All Set To Host First International Test Match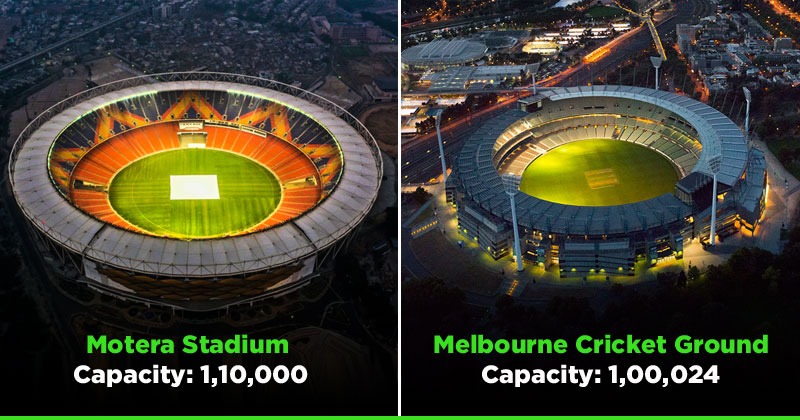 The huge and magnificent newly constructed
Sardar Patel Stadium which is also known as Motera Cricket stadium is all set to host the first international test match between India and England starting on February 24. Take a look at the pictures:
Renamed in tribute to Sardar Patel –
Motera Cricket stadium was renamed in tribute to India's first Home Minister and Deputy Prime Minister Sardar Vallabhabhai Patel.
Largest spectator capacity –
The Motera stadium, with the largest spectator capacity for a cricket venue in the world, is built to offer every modern facility for the cricketer.
Bolster other sports –
This outstanding stadium in Ahmedabad will not only serve as a world-class cricketing landmark but also has the potential to bolster other sports like football, hockey, basketball, kabaddi, boxing, lawn tennis, athletic track, squash, billiards, badminton and swimming.
Newly installed LED floodlights –
The new-look Sardar Patel Stadium in Motera's newly installed LED floodlights will eliminate shadows making it easier to spot the aerial balls during the upcoming Day/Night Test between India and England.
11 centre pitches, 4 dressing rooms –
The world's largest cricket stadium will also have 11 centre strips, which is also unique along with never before heard four dressing rooms with in-built gymnasium, said Gujarat Cricket Association's joint secretary Anil Patel.
Seating capacity –
With a seating capacity of 1,10,000, which is more than Melbourne Cricket Ground. 
Only 55,000 tickets on sale –
The GCA will put up around 55,000 tickets on sale for the next two Test matches at the venue.  
Spread in 63 acres –
The stadium, spread in an area of 63 acres, also has 6 indoor pitches with bowling machines.  
Outdoor practice pitches –
In addition to the outdoor practice pitches and two practice grounds with a small pavilion area, GCA joint secretary Patel said.
Magnificent –
"This is the only stadium in the world with four dressing rooms for the players. Each dressing room has a state-of-the-art gymnasium among other amenities. The stadium also has a clubhouse with 50 deluxe rooms and five suites" Patel said during the media tour of the stadium.