NFL
Mel Kiper predicts where Mac Jones will land in 2021 NFL Draft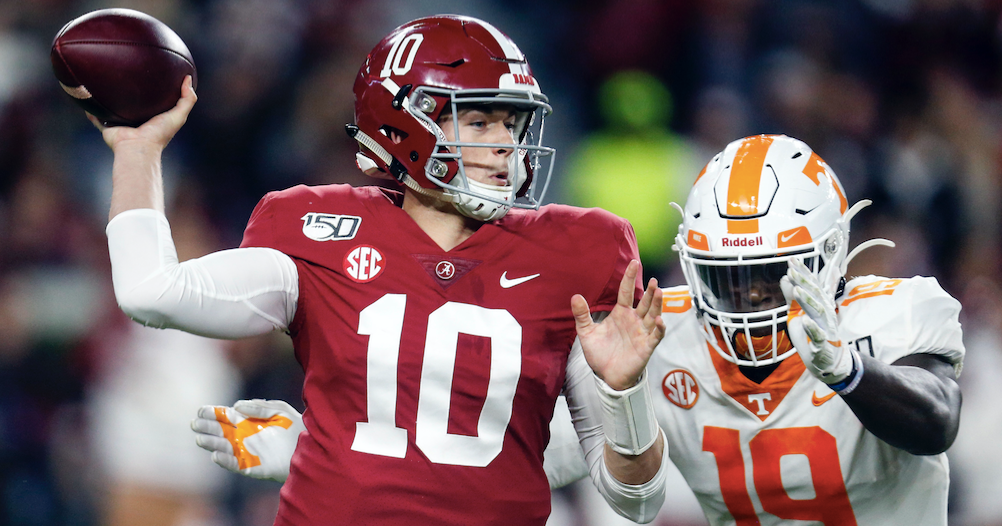 ESPN NFL Draft analyst Mel Kiper Jr. is hard at work studying prospects ahead of Monday's College Football Playoff National Championship and one player that sticks out on film is Alabama quarterback Mac Jones, one of two Heisman finalists for the Crimson Tide this season.
Projected in the first round in most recent mocks, Jones has thrown for 4,036 yards and 36 touchdowns this season, shredding opposing defenses with a completion rate at 77%. He is a grade-A prospect at the position, Kiper says, and he believes there's a team in the middle of the first round that will have him circled come draft time.
"His accuracy on all levels is really incredible," Kiper said Monday on ESPN's Get Up. "I think the way he played this year, after only four starts last season, and to not have (Henry) Ruggs, to not have (Jerry) Jeudy and then Waddle got hurt and it's the DeVonta Smith show. His accuracy, no matter who's out there, is spectacular. He is not Joe Burrow. Those comparisons are exaggerated. He doesn't beat you with his legs like Burrow did. He's not the runner Burrow is. That's what beat Alabama, is the legs.
"When you look at Mac Jones, middle of the first round sits the New England Patriots. We know about the Saban-Belichick connection. Is Mac Jones going to be a Patriot? We'll see. That's, I think, the ceiling, as high as Mac Jones could come off the board is the middle of the first round."
Last month, Jones thanked Alabama coach Nick Saban for sticking with him and giving him a shot at QB1 status following the exit of Jalen Hurts and Tua Tagovailoa. Jones played behind both and learned the offense.
"Shoutout to Coach Saban for getting me to Alabama and giving me a chance," Jones said after a standout performance in the SEC title game. "My teammates, obviously, make me look a lot better than I am and they always do their job. And I just try to do my job to the best of my ability and tonight was just a great team win. We never really looked at the scoreboard, we just kept playing. There's a lot of different situations to learn from but we'll get better when we watch tape."
There's no doubt New England will be looking for potential quarterback help considering the franchise is mum on the future of Cam Newton following the Patriots' first losing season since 2000. The Patriots are not expected to re-sign Newton, who's on a 1-year deal and largely struggled this fall.
Newton was asked after Sunday's win over the Jets what the future will hold.
"I have my desires. I know where my heart's at," Newton said following the game. "I know the things, who I am. But as far as that, I can't really speak on it right now. But just my whole time here in New England has been a blessing. I've learned so much about myself, about great teammates, unbelievable coaching. Yeah, so I just see how it goes, go from there."
Get the fastest scores, stats, news, LIVE videos, and more. CLICK HERE to download the CBS Sports Mobile App and get the latest on your team today.
Alabama plays Ohio State in Monday's national championship game in Miami.