USA
LSU bounces back to beat Mississippi State, avoid weekend sweep | LSU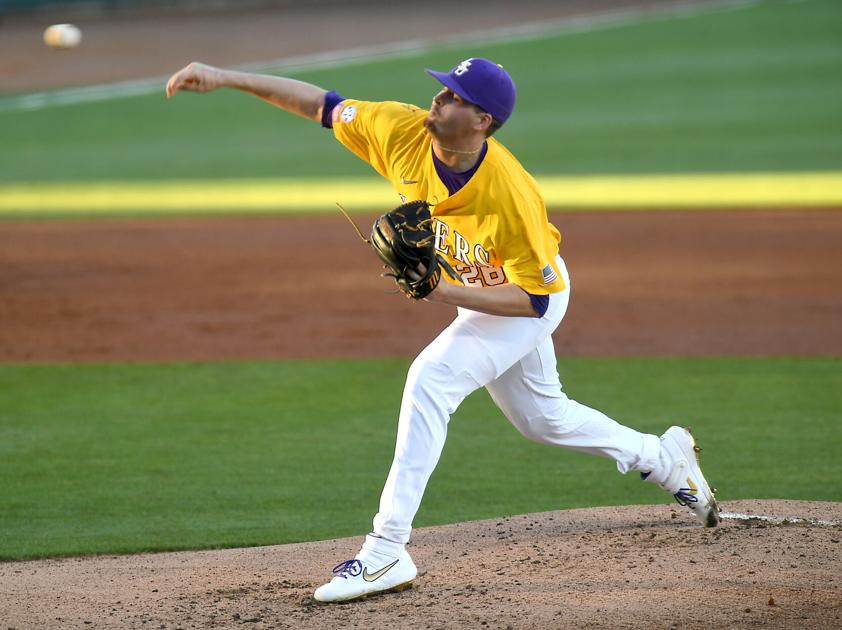 Mississippi State left fielder Brayland Skinner retreated, his eyes locked on a fly ball floating through Alex Box Stadium, moving closer and closer to the warning track until he reached the wall. Skinner stopped and watched the home run from LSU junior Gavin Dugas land halfway up the bleachers.
Dugas' go-ahead solo shot in the sixth inning provided LSU a one-run lead, which the Tigers stretched and the bullpen protected Sunday afternoon to win their first Southeastern Conference game.
After losing the first two games of the weekend series, No. 10 LSU avoided getting swept by another SEC team for the first time since April 2018 by beating No. 6 Mississippi State 8-3, a much-needed bounce back after getting shut out for the first time this season.
Restricted for two days by Mississippi State's vaunted pitching staff — the Bulldogs (16-4, 2-1 Southeastern Conference) entered with a 2.05 ERA — LSU finally broke through with Dugas' home run. The next inning, freshman first baseman Tre' Morgan hit an RBI double and freshman designated hitter Brody Drost crushed a two-run home run on consecutive at-bats, extending the lead with two outs.
As Drost homered, Morgan jumped down the third base line and players erupted from the dugout. Drost screamed once he touched home plate, his teammates shaking his shoulders in celebration.
The win came a day after LSU (16-5, 1-2) missed multiple scoring opportunities in a 3-0 loss, leading coach Paul Mainieri to harp on the importance of a young team learning situational hitting — such as putting a ball in play with a runner on third base and less than two outs — in his postgame press conference.
The Tigers did a better job of that Sunday. In the first inning, LSU scored two runs without recording a hit. Morgan and Drost walked, and freshman right fielder Dylan Crews pushed Morgan into scoring position with a ground ball. Morgan scored on a wild pitch. Crews later scored on a groundout for LSU's first lead of the series.
Meanwhile, redshirt junior pitcher AJ Labas limited Mississippi State. He allowed two runs over six innings, keeping LSU in the game until it retook the lead on Dugas' fourth home run of the season.
Leading 3-2 in the bottom of the seventh, sophomore Mitchell Sanford hit a leadoff single. Sanford had entered as a replacement for center fielder Giovanni DiGiacomo and went 2 for 2 with a double, making a case to remain in the everyday lineup. Sanford advanced to third on a sacrifice bunt and a groundout, two more cases of situational hitting.
With Sanford on third, Morgan approached the plate. He batted leadoff for the first time this season. Morgan, mired in a 2 for 25 stretch, reached a 1-2 count against Mississippi State reliever Carlisle Koestler. Morgan smacked the next pitch up the middle, scoring Sanford and bringing Drost to the plate.
Drost started for the first time this weekend. The freshman had shown glimpses of potential this season but struggled against offspeed pitches. He also reached a 1-2 count. He also hit the next pitch, depositing a ball 397 feet into right-center field.
Mississippi State threatened to tie the game in the top of the eighth against freshman Ty Floyd, who had struck out the first four batters he faced. Floyd let three straight batters reach, bringing the tying run to the plate with one out. Senior pitcher Devin Fontenot entered. He induced two quick fly balls, ending the inning.
LSU further stretched its lead in the bottom of the eighth as freshman shortstop Jordan Thompson hit a two-run double with two outs. Fontenot earned the save.