Baseball
Kris Bryant trade fits | MLB.com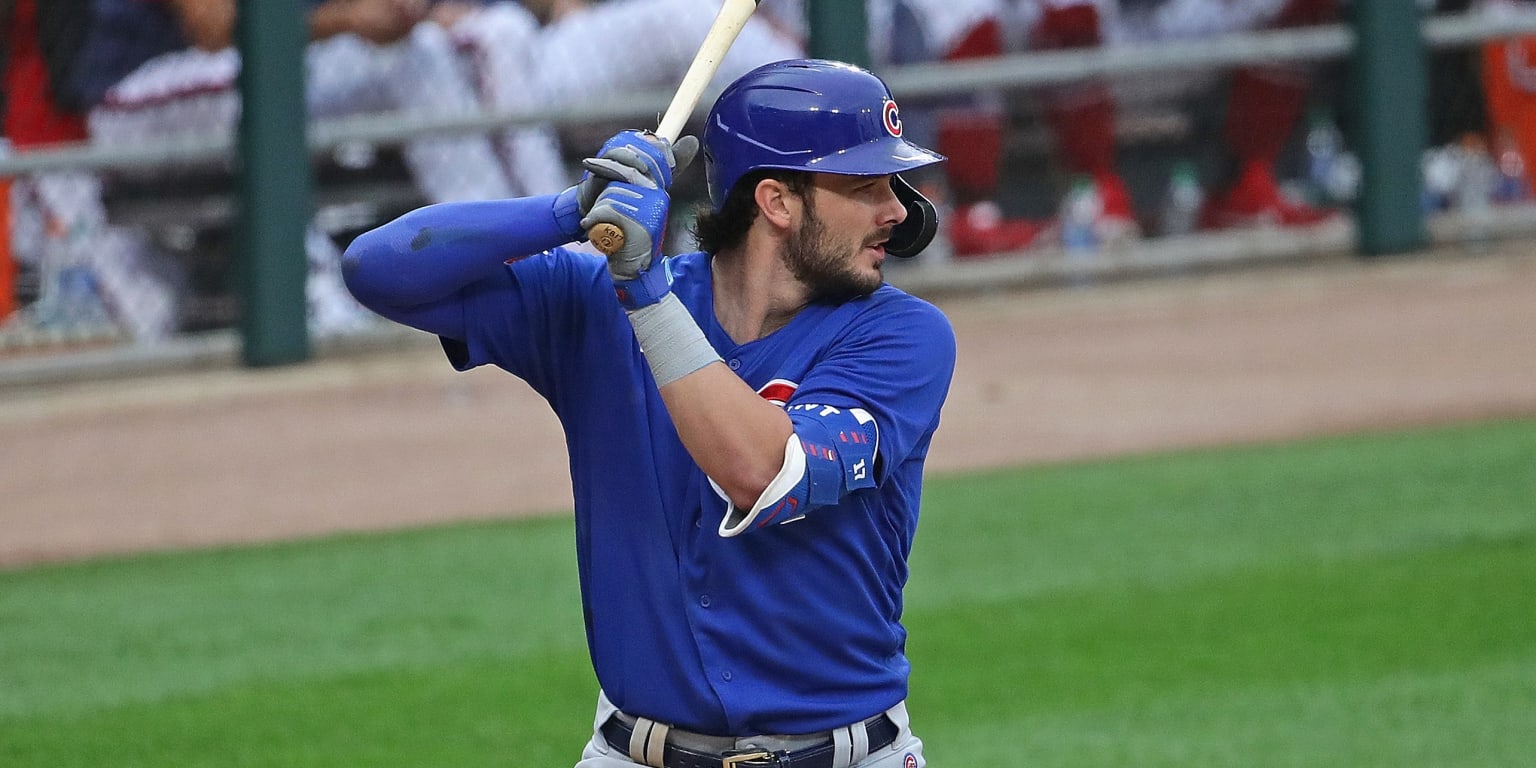 With several pressing needs and Kris Bryant, Javier Báez and Anthony Rizzo all eligible for free agency next offseason, the Cubs are facing some tough decisions. Chicago isn't going to tear it all down and go through another rebuild, especially with no clear favorite in the National League Central, but it could look to the trade market to shake up its roster, create more financial flexibility and bring in some controllable pieces.
If the Cubs take that route, Bryant is the most likely candidate to be dealt from the team's core. The third baseman was reportedly discussed in trade talks last winter, and he could earn upwards of $20 million in his final year of arbitration eligibility.
The problem for the Cubs is that other clubs are unlikely to surrender elite prospects for a player who has only one year of team control remaining and is coming off an injury-plagued season in which he posted a .644 OPS over 34 games. Additionally, the unique financial situation created by the pandemic-shortened 2020 campaign will probably limit the number of clubs willing to take on Bryant's salary.
Still, the Cubs should be able to find a deal that helps them in 2021 and beyond. Here are seven trade proposals for Bryant that could work.
Blue Jays get KB, for real this time
Blue Jays get: 3B/OF Kris Bryant
Cubs get: LF Derek Fisher, C Reese McGuire, SS/3B Kevin Smith (Blue Jays' No. 19 prospect), RHP Josh Winckowski (Blue Jays' No. 26 prospect)
Why it could work: The Blue Jays get Bryant, who they originally drafted in the 18th round in the 2010 MLB Draft out of high school. He did not sign and attended the University of San Diego instead, and the Cubs took him second overall in 2013. For the Blue Jays, Vladimir Guerrero Jr. has said he wants to return to primarily third base, but Bryant has experience in the outfield, and can fill a corner-outfield role on days he wouldn't be playing third. Cavan Biggio is versatile and can play first, second and right field, while Lourdes Gurriel Jr. played left field in 2020 but has experience at both second and shortstop. Between Guerrero, Biggio, Gurriel and Bryant, the team would have third base, first base and left all covered — with the other player available to DH. For the Cubs, who are not in full rebuilding mode, this is a chance to pick up two prospects who are expected to get to the Majors soon and could fill needs, with Smith playing at third and Winckowski in the rotation. With Ian Happ in center, Fisher can play left field with Kyle Schwarber no longer on the Cubs, and McGuire provides a backup option at catcher.
Who says no? Likely the Blue Jays. Bryant is a good player coming off a rough season, but the main problem is he plays a position that the Blue Jays are set with, if Guerrero does indeed return to third base as he's said he hopes to. Toronto has a bunch of young players, many of whom can play a few different positions, like Biggio, and Bryant just doesn't seem to fit with the way their other players slot among each other. And from the Cubs' side, the desire would likely be a package that includes a more solid third-base option.
— Sarah Langs
Braves' infield gains another MVP Award winner
Braves get: 3B/OF Kris Bryant
Cubs get: LHP Kyle Muller (Braves' No. 6 prospect), LHP Sean Newcomb, 3B Austin Riley
Why it could work: The Braves have had success signing star players to one-year deals in recent seasons, first with third baseman Josh Donaldson in 2019 ($23 million) and then with left fielder/designated hitter Marcell Ozuna in '20 ($18 million). Bryant would fit that paradigm, and although it would cost the team money and player capital in this case, it could be worth it for Atlanta to add a player of his caliber. This trade would give the Braves' infield two MVPs, with Bryant joining reigning NL winner Freddie Freeman.
The Cubs would probably push for outfielders Cristian Pache (MLB's No. 10 prospect) and Drew Waters (No. 22) in these hypothetical trade talks, but Atlanta likely wouldn't budge, leaving Muller as the centerpiece. A 6-foot-7 left-hander with mid-90s heat and a career 3.03 ERA in the Minors, Muller could step into Chicago's rotation as soon as 2021. The Cubs also take a chance on two former MLB Pipeline Top 100 prospects in the 27-year-old Newcomb and the 23-year-old Riley. The left-handed Newcomb (controllable through 2024) could pitch in the rotation or bullpen, and Riley (controllable through '25) would provide the Cubs' lineup with a powerful bat to replace Bryant at third base.
Who says no? The Braves, if only because there's still a good chance the NL will have the DH in 2021, leaving open the possibility of a reunion with Ozuna or even a deal with Nelson Cruz. Either would fill Atlanta's need for a big bat without requiring the club to give up young, controllable talent to acquire.
— Thomas Harrigan
Dodgers take on another one-year deal
Dodgers get: 3B/OF Kris Bryant
Cubs get: UTIL Chris Taylor, OF DJ Peters (Dodgers' No. 11 prospect)
Why it could work: There are plenty of reasons this proposal makes sense. For starters, the Dodgers have proven they are more than willing to roll the dice by acquiring a player entering the final year of his contract. They did so with Mookie Betts last offseason, and they were not only rewarded with a World Series title, but they managed to sign Betts to a 12-year, $365 million extension that runs through 2032. Los Angeles also put together a sizable package to bring in Manny Machado as a half-year rental ahead of the '18 Trade Deadline. Next, with Justin Turner hitting free agency, the Dodgers could be willing to take on Bryant's salary to fill that gap at third base. While the '16 NL MVP is coming off a disastrous '20 season, he may benefit from a move to the most potent lineup in the Majors — and a return to full health. As for the Cubs, they would be getting a proven commodity in Taylor, who can play all over the field defensively and has displayed 20-homer pop. As for Peters, he's a 24-year-old outfield prospect who best profiles as a right fielder — a position that figures to be held by Betts for the next decade.
Who says no? The Dodgers — for now, at least. Los Angeles will likely explore a number of options to fill its third-base void, including potentially shifting shortstop Corey Seager to the hot corner and replacing him with another superstar believed to be available via trade this offseason: Francisco Lindor. The Dodgers could also bring back Turner, though the 36-year-old's production dipped in 2020 and his controversial on-field celebration following the World Series certainly didn't make the situation any simpler. Lastly, the Dodgers might not be ready to part with Taylor and his versatility, especially with Enrique Hernández hitting the free-agent market this offseason. A team that has relied so much on its depth in recent years may not be ready to lose a valuable piece like Taylor, though it could come down to how close prospect Zach McKinstry (Dodgers' No. 18 prospect) is to being big league ready.
— Paul Casella
Mets grab spotlight with Bryant blockbuster
Mets get: 3B/OF Kris Bryant
Cubs get: 3B/OF J.D. Davis, RHP Matthew Allan (Mets' No. 4 prospect), RHP Robert Dominguez (Mets' No. 13 prospect)
Why it could work: Mets owner Steve Cohen gets his superstar acquisition, and maybe Bryant benefits from a change of scenery as "co-basher" alongside Pete Alonso and Michael Conforto. An already elite offense (122 wRC+, tied with the Dodgers for the best team mark in 2020) loads up even further to keep pace with the Braves.
Chicago gets a Major League-level Bryant replacement in Davis, just one year removed from a promising season at the plate. Davis is controllable through 2024, and while the metrics say he is far from a perfect defender, he might have finally found a full-time position at third base. The Cubs scouted Allan heavily before the 2019 Draft and are an organization that needs to beef up its pitching pipeline. They have reportedly reached out to the Mets about Allan before.
Who says no? The Mets. Sure, getting Bryant undoubtedly boosts the Amazin's chances in 2021, but a trade for a struggling free-agent-to-be might also qualify as one of the "drunken sailor" moves Cohen alluded to last month. Plus, New York paid Allan roughly four times his slot value to convince him to sign, and it considers Dominguez a steal after watching the 19-year-old ramp up his fastball velocity after signing out of the Dominican Republic.
Cohen wants to turn the Mets into sustainable winners. This kind of gambit is not the way to do it.
— Matt Kelly
Nats find their Rendon replacement
Nationals get: 3B/OF Kris Bryant
Cubs get: INF Starlin Castro, RHP Wil Crowe (Nationals' No. 3 prospect), LHP Seth Romero (Nationals' No. 9 prospect), RHP Sterling Sharp (Nationals' No. 24 prospect)
Why it could work: The Nationals are rumored to be considering a Bryant trade, and it makes sense, as Washington desperately needs to add high-ceiling talent after losing Anthony Rendon to the Angels and then experiencing a rough followup to 2019's World Series-championship run. Bryant, whom Nats manager Dave Martinez knows from his days as the Cubs' bench coach, could slide right into the lineup at third base and hit behind Juan Soto. He could even play left field, depending on what Washington wants to do with young infielders Carter Kieboom and Luis García. Bryant's acquisition makes Castro expendable, and sending his $7 million salary back to Chicago eases the burden on the Nats' payroll.
Meanwhile, Castro reunites with his original team, for which he racked up nearly 1,000 hits from 2010-15, taking Bryant's spot at third and helping Chicago remain competitive in 2021. The Nats likely would not want to part with Kieboom, García or the top couple of prospects from a thin farm system that was ranked 30th by MLB Pipeline. But given that each of their top 10 prospects and 18 of their top 30 are all pitchers, they could offer the Cubs a selection of arms — such as the ones included in this proposal — that potentially could help in Chicago as soon as 2021.
Who says no? The Cubs, though it depends on how committed they are to subtracting the entirety of Bryant's expected contract from their payroll. Factoring in the money owed to Castro and the lack of a high-ceiling prospect in the return, this trade might not be worth the trouble. Conversely, the Nats might be better served spending that extra money on a free-agent left fielder and retaining what prospect depth they have.
— Andrew Simon
Rebuilding Rangers wrangle Bryant
Rangers get: 3B/OF Kris Bryant
Cubs get: LHP Joe Palumbo (Rangers' No. 9 prospect), 3B Davis Wendzel (Rangers' No. 11 prospect), RHP Demarcus Evans (Rangers' No. 22 prospect)
Why it could work: On the surface, the Rangers seem like a mismatched partner because they're rebuilding after finishing with the second-worst record in the Majors and Bryant only has one more year of control. Not to mention, Texas needs a place to play longtime shortstop Elvis Andrus (the hot corner?) now that he's been moved off the position. And yet, Bryant would present both a big-name addition to drum up excitement and an opportunity to buy low on a bounceback candidate to spin for a bigger return at the Trade Deadline.
On the other side of this, the Cubs shed Bryant's 2020 salary and land two young big league-ready pitchers with several years of club control in Palumbo and Evans. The former is an injury-prone but intriguing southpaw with a good curveball who could serve as a starter or a swing man in '21; the latter is a big (6-foot-5, 265 pounds), hard-throwing righty with immediate late-inning potential — not unlike Emmanuel Clase, whom Texas traded for Corey Kluber last offseason. The Rangers, who are deep in hot-corner prospects, also include Wendzel — their second pick in the 2019 Draft after fellow third baseman Josh Jung — as a possible Bryant replacement in a year or two.
Who says no? The Cubs. Despite aiming to reduce payroll, they would have trouble giving up a player who means so much to the franchise — as a Rookie of the Year, an MVP and a World Series champ — without getting at least one piece in return with more upside. The Cubs are better off hanging onto Bryant to see if he can regain his form enough to help them contend again in 2021 … or dangle him over the summer.
— Jason Catania
Red Sox bring Bryant to Boston
Red Sox get: 3B/OF Kris Bryant, LHP Burl Carraway (Cubs' No. 10 prospect)
Cubs get: 3B/1B Bobby Dalbec (Red Sox's No. 3 prospect)
Why it could work: MLB Network insider Ken Rosenthal recently suggested the Red Sox "buy" prospects by taking on a big salary in a trade, and he included a list of starting pitchers to target who are owed in the $20 million range. Well, guess what? That's what Bryant is projected to get in arbitration. So why not target him instead? With Rafael Devers at third base, Boston could play Bryant in left field, as the Chicago Tribune reported was its plan when the Cubs and Red Sox discussed a Bryant trade this summer. And the prospect bought with the absorption of Bryant's salary would be the 21-year-old Carraway, a big league-ready arm who's strictly a reliever but has closer-quality stuff with an upper-90s fastball and big-breaking, high-spin curve. You might have heard, the Sox need pitching.
Dalbec gives the Cubs get a high-ceiling power hitter to replace Bryant at third base — he even drew scouting comparisons to Bryant in college. Dalbec crushed eight homers and slugged .600 in his debut season in 2020, and the projections see him with a 30-homer season or close to it in 2021. There are also reasons the Red Sox might be willing to part with him. Dalbec is blocked at third base by Devers (only in his first year of arbitration eligibility), and he's already 25 (actually older than Devers, who just turned 24). And there are real concerns about his strikeouts — Dalbec K'd in 39 of his 92 plate appearances, over 40%, which is extremely high. But if he booms, he could really boom, a la Aaron Judge after his similar strikeout-heavy debut (42 K's in 95 plate appearances as a 24-year-old in 2016 before his breakout '17). And he's under team control through the 2026 season. That's why the Cubs would want him.
Who says no? The Cubs. With the NL Central still theirs for the taking, Dalbec's boom-or-bust risk ends up scaring them off. So does Carraway's potential to be a star back-end reliever right away in 2021, as the Cubs have had their share of late-inning relief issues. In the end, they hold onto Bryant and bank on the decent chance that his stream of back, elbow, wrist, finger and oblique issues were what sapped his bat of its impact last season. Bryant has a much better chance of leading the Cubs' offense on a postseason run in 2021 than Dalbec does.
— David Adler