Latest
indian hockey: Indian hockey team 'refreshed' after ending one-year hiatus with unbeaten run in Europe, says Graham Reid | Hockey News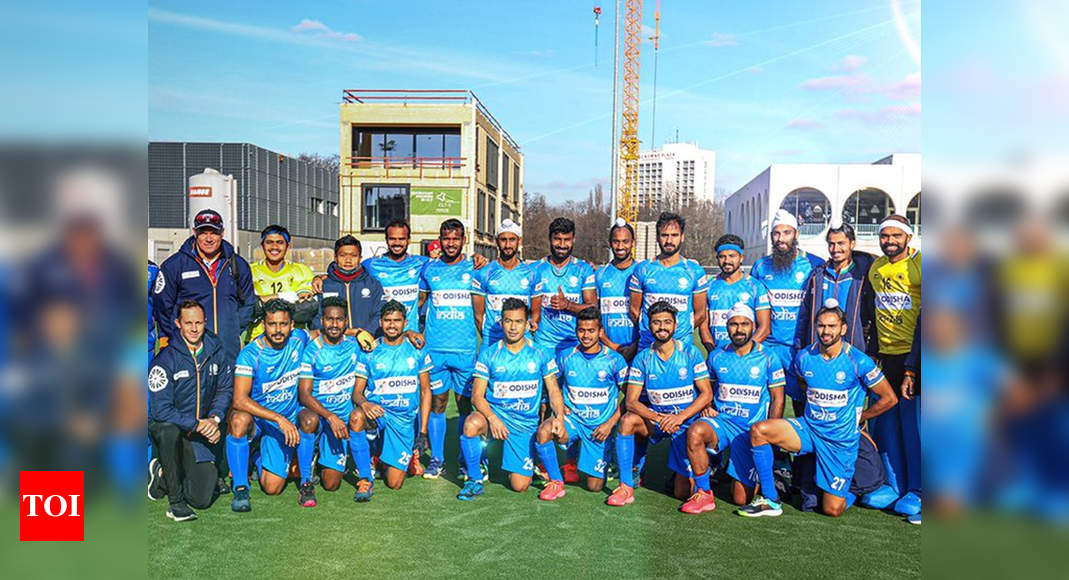 The final score of Indian men's hockey team's four matches in nine days after a year without any international competition read 6-1, 1-1, 1-1, 3-2. They were unbeaten in all four matches played, and to do that against two teams ranked among the world's top eight [number four Germany and number seven Great Britain] adds extra sheen to the team's feat on the tour of Europe that culminated on Monday.
A valuable insight into India's performance came to light a few days after the first leg of the tour in Krefeld, Germany. Having lost the first unofficial Test and drawn the second against India, the Germans travelled to the Netherlands for their Pro League fixture and went on to beat the Dutch 4-2 and 3-1.
The incentive of that success for Germany was a climb up the rankings to number four, and it pushed India down a place to number five.
India's coach Graham Reid could see the lighter side of it. "We warmed them up," he said with a smile. But there's more to correlate between the Germany vs India and Netherlands vs Germany results. It showed that despite not playing internationally for over a year due to the pandemic, India hadn't lost much ground.
"I think one of the takeaways from this tour is how important international competition is in your improvement," Reid said while talking to Timesofindia.com. "Each game brings new challenges and we have to come across different things from different teams. That's what makes you better."
Thank you Very much Germany & England for welcoming us back into the International Hockey World. Intensity, fightin… https://t.co/iI2xwmUWl7

— sreejesh p r (@16Sreejesh) 1615231644000
India scored seven goals against Germany and conceded two [6-1 and 1-1], while against Great Britain in Antwerp, those numbers dipped to four goals scored and three conceded [1-1 and 3-2].
India's stand-in captain on the tour, PR Sreejesh, believed that all the collated statistics from the tour will help gauge where the team stands ahead of resuming their Pro League campaign with the tour of Argentina in April.
"It is most important for us to think where we left [in February 2020] and where we are now…A one-year gap is a huge one and we were just training [after the Covid-19 lockdown ended last year]. So now we know where we stand and how strong we are," the veteran goalkeeper, who was leading the side in the absence of regular captain Manpreet Singh, told TimesofIndia.com.
Manpreet had opted out of the Europe tour due to personal reasons.
Normally they call us the #MenInBlue, but you can also call us #Unbeaten now! 💯 Cheers to a successful… https://t.co/ckTtd0TDUK

— Hockey India (@TheHockeyIndia) 1615216271000
Coach Reid elaborated a little further on those numbers, while hinting that defence needs more work in order to produce clean-sheets.
"Our guys are up there with the world's leading teams…I am quite happy, except for the 10 [penalty] corners we allowed in the first game…Defensively we have been doing a fair bit of work, and that's paying off, which is good," Reid further told TimesofIndia.com.
India were also without experienced defender Rupinder Pal Singh, who is nursing a niggle back home.
An added feature of the tour was the mixed training session with Germany, where the two coaches – Reid and [Germany's coach] Kais al Saadi, worked together on their players.
India had done a similar exercise with Netherlands during a previous tour.
(Surender Kumar has provided a lot of solidarity to India's defence – Photo by Hockey India)
"Very happy with how the mixed training session with Germany went. We did some different drills, which is always good for the players, to learn some different skills. Just seeing them against such good opposition and seeing how competitive we actually are," said Reid.
"We see some different skills that we don't come across every day, and to train with them gave you a much closer view, much better idea of how they perform…It was interesting because we were both sort of viewing the practice session from different eyes."
Reid emphasized on the biggest takeaway from the tour of Europe with his closing comment, pointing out how important it was for the team to resume competitive hockey after being "stuck inside" for a year at the Sports Authority of India centre in Bengaluru.
"We have been stuck inside for 12 months. If there was a major benefit [of the tour], it was getting refreshed."