Canada
India vs England Live Score, 1st Test Day 3: Pujara, Kohli take India to 59/2 at Lunch, trailing by 519 runs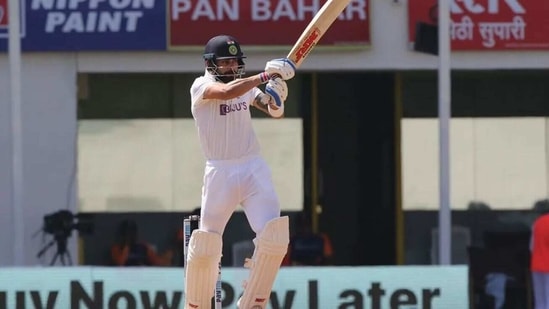 FEB 07, 2021 11:24 AM IST
India reach 59/2 at Lunch on Day 3. Virat Kohli and Cheteshwar Pujara will begin again after the break. Stay tuned.
FEB 07, 2021 11:23 AM IST
Dom Bess on the other end
Spin from both sides now before Lunch. Dom Bess into the attack. This might be the 2nd last over of the session.
FEB 07, 2021 11:20 AM IST
Jack Leach into the attack
Time for some spin as Jack Leach comes on to the attack here to replace Jofra Archer. It is good to get Leach to bowl a few overs Lunch. A wicket here would put England on the hot seat.
FEB 07, 2021 11:16 AM IST
FOUR! Cheteshwar Pujara receives a ball outside off stumps, and he has absolutely hammered it past gully for a boundary. IND cross the 50-run mark.
FEB 07, 2021 11:09 AM IST
GONE! James Anderson dives to his left to take an absolutely stunning catch. Gill was looking superb, but now he has to walk back for 29. IND 44/2
FEB 07, 2021 11:08 AM IST
FOUR! Glorious shot! Everytime Jofra Archer bowls it there, he has been punished by Shubman Gill. There is confidence in Gill that is just astounding!
FEB 07, 2021 11:02 AM IST
A physio is on the ground to take stock of Gill who seems to have been struck on top of this right hand. India do not want injuries.
Ben Stokes comes into the attack to replace Anderson.
FEB 07, 2021 10:57 AM IST
Shubman Gill goes after James Anderson
FOUR! FOUR! Two boundaries in Anderson's over by Shubman Gill. One towards deep square leg, and the other towards the midwicket. This is brilliant batting show from a youngster who simply just cannot get one step wrong.
FEB 07, 2021 10:47 AM IST
FOUR! A loose delivery from Jofra Archer, and Cheteshwar Pujara pounced on it to glid it for another boundary.
FEB 07, 2021 10:47 AM IST
Jofra Archer has tilted the match in England's favour with the early breakthrough and there will be some nerves in the dressing room. But Shubman Gill is looking really good here.
FEB 07, 2021 10:37 AM IST
GONE! Jofra Archer bowls a fuller one to Rohit Sharma, who edges it to wicketkeeper. First blow for India, and an early breakthrough for England. IND 19/1
FEB 07, 2021 10:34 AM IST
FOUR! James Anderson bowls a fuiller one to Shubman Gill, and he drops his bat, uses the pace of the ball to place it for his 2nd boundary. He is off to a solid start.
FEB 07, 2021 10:32 AM IST
FOUR! Archer goes short, but Gill pulls it over midwicket, showing no signs of fear. Not the best shot from Gill, but got the job done.
FEB 07, 2021 10:30 AM IST
England bowled out for 578 in 190.1 overs
· 3rd highest team total by a visiting team at Chennai.
o 652/7d by ENG in 2nd innings in 1985.
o 585 by WI in 1st innings in 1949.
· 2nd longest team innings at Chennai.
o England fell 4 delivery short of longest team innings at Chennai of 190.4 overs by India (759/7d) in 2016.
FEB 07, 2021 10:27 AM IST
Jofra Archer vs Shubman Gill – the battle we wanted to see. Good shot from the India batsman, runs a double. Confident batting at the start from the youngster.
FEB 07, 2021 10:23 AM IST
Shubman Gill out to bat with his India opening partner. James Anderson starts the attack for England with the new ball. HERE WE GO!
FEB 07, 2021 10:21 AM IST
– 20 no-balls by India is the joint-most by India have bowled in a home Test equalling 20 no-balls in the Ahmedabad Test against Sri Lanka in 2009/10.
Source: Cricbuzz
FEB 07, 2021 10:14 AM IST
190.1 overs by England is the longest first innings in Test cricket since South Africa batted out 190.4 overs against India in Kanpur in 2004/05.
Source: Cricbuzz
FEB 07, 2021 10:14 AM IST
England bowled out for 578
GONE! R Ashwin cleans up James Anderson and that is over. England are bowled out for 578 in the first innings. A mountain of a task for India ahead.
FEB 07, 2021 10:05 AM IST
James Anderson and Jack Leach are showing massive resistance here to accomplish mission 600.
FEB 07, 2021 09:57 AM IST
Should India have taken new ball earlier?
India took the new ball 24 overs after it was available to them and it produced a wicket immediately. Should the hosts have taken the new ball earlier?
FEB 07, 2021 09:54 AM IST
GONE! Jasprit Bumrah traps Dom Bess with the new ball! The decision to take the new ball has worked for India. ENG 567/9
FEB 07, 2021 09:50 AM IST
FOUR! Dom Bess gets away with the first boundary of the day – finally time to break the shackles perhaps. Jumped forwards and hammered it towards long-on.
FEB 07, 2021 09:45 AM IST
Dom Bess is going slower than most expected – no sense of urgency from England. Perhaps, the word from dressing room is to use up as much of the first session they could to reach 600 mark.
FEB 07, 2021 09:38 AM IST
Jasprit Bumrah bowls 20th no ball from India – the first one of the day here. This is a serious concern. 20 No balls in a Test match is seriously worrying.
FEB 07, 2021 09:27 AM IST
India vs England 1st Test Day 3 – LIVE!
Dom Bess and Jack Leach have come out to bat. R Ashwin kicks off the proceedings on Day 3. HERE WE GO!
FEB 07, 2021 09:23 AM IST
The weather is pretty similar to the first two days. Temperature is 27 degree celcius, slightly cooler, but humidity has gone up.
FEB 07, 2021 09:18 AM IST
Deep Dasgupta gives an update on Day 3 pitch:
"It's dustier than what we saw yesterday. A few more rough marks for the right-hander too now. Turn and bounce might be on the slower side though giving the batsmen a little extra time," says Deep Dasgupta on the broadcast.
FEB 07, 2021 09:08 AM IST
Dom Bess, Jack Leach will be batting
England tailenders Dom Bess and Jack Leach will be batting for the remaining overs – but the big question is how long will England wait for the two batsmen to reach 600? Will it be hit hard or get out mentality from the visitors?
FEB 07, 2021 08:58 AM IST
Who is India's 'unsung hero?'
Former England batsman Kevin Pietersen praised India pacer Ishant Sharma for his perfomance, and called him as India's 'unsung hero'. Do you agree?
"Fabulous little spell here from Ishant. And I say fabulous, as 170 overs in the field is like a prison sentence! He is also an unsung hero. He has been around for many a year in Indian cricket. As a fast bowler, it is highly commendable!" Pietersen wrote on his Twitter handle.
FEB 07, 2021 08:50 AM IST
Should Bumrah rest for 2nd Test?
Gautam Gambhir believes India should rest pacer Jasprit Bumrah for the 2nd Test.
"100 percent, absolutely. I'm not even sure whether Bumrah should be picked for the second Test match. I think India should preserve him for the pink-ball Test match. See, Jasprit Bumrah is a X-Factor in the series, irrespective of what surfaces to play on and you've got to keep that in mind too," Gambhir said on ESPNCricinfo.
FEB 07, 2021 08:37 AM IST
Ishant Sharma one wicket away from milestone
Ishant Sharma is one wicket away from picking his 300th Test wicket. If he manages to do that, he will become the 6th Indian to take 300 Test wickets and 3rd Indian pacer to do so.
FEB 07, 2021 08:35 AM IST
Ishant Sharma vs Joe Root: A battle worth its weight in gold
"Through his brilliant double hundred, there was one Indian bowler Joe Root didn't master, in the first Test at Chennai. Whether at the start of his innings or when past 100, every time Ishant Sharma came on to bowl, the England skipper looked tentative," writes Hindustan Times' Sanjjeev K Samyal, in his column.
"Middling everything from the rest of the bowlers, against Sharma there were inside and outside edges that fell short of the slips, and balls that thudded into Root's pads. The slowness of the MA Chidambaram Stadium wicket meant the batsman got that little extra time to adjust and keep the crafty Indian pacer at bay, but there was no taking a chance against Sharma. Root wisely played out the pacer."
FEB 07, 2021 08:29 AM IST
Ben Stokes on his innings
Ben Stokes played a handy cameo of 82 runs as he ensured England got off to a great start on Day 2. Here is what he said of his innings afterwards.
Ben Stokes: "I played on instinct I guess (that first six off Ashwin). Something I've been working on. Getting right down the wicket or getting right back. Today initially it looked like a typical subcontinent wicket. But as soon as Nadeem got a couple of balls to turn and bounce out of the rough, I had to make a decision. I decided I would rather get out caught at deep square leg than in timid fashion at short leg. Root's in incredible form. To play like that in alien conditions is incredible. Looking back at my dismissal, probably would've tried to hit a bit straighter. Have to give a lot of credit to Ishant and Bumrah for the way they've run in. Got a lot of respect for that. Something we'll have to do as a unit. Pleasing to win the toss and put a total on the board."
FEB 07, 2021 08:21 AM IST
Stuart Broad at his hilarious best
"When England captain Joe Root was struck by cramps, Virat Kohli was the first to his aid. A heart-warming Spirit of Cricket gesture" posted ICC on Instagram.
England pacer Stuart Broad, however, was not amused by ICC's post. "I ran a drink out too, spirit of cricket award?" Broad replied on ICC's post.
Typical, Stuart Broad! * Laughing smiley*
FEB 07, 2021 08:13 AM IST
India vs England 1st Test Day 3 – LIVE!
Hello and welcome my good friends to another exciting day of Test cricket. Now, look, was Day 2 a little bit of a drag if you are an Indian fan? Yes. Has the pitch been disappointing so far, not having anything for bowlers? Yes. But hey, today, we will get to see India bat very, very, soon. And also it is Day 3 – and maybe the pitch may finally be seeing some cracks, which can open up the game. So, buckle your seat belts and get ready for a thrilling ride as we enter Day 3 of the first Test from the Chepauk Stadium in Chennai.