WWE
How Charlotte Flair WWE TLC 2020 Return Destroyed Lana
Charlotte Flair returned at WWE TLC at the top of her game just where she belongs. She became a Grand Slam Champion in the WWE on that night by winning the Women's Tag Team Championships with Asuka. That wouldn't be possible if Lana wasn't taken out of the equation on the pre-TLC edition of Raw. This definitely was WWE's plan to bring back The Queen.
But it had to happen at the expense of Lana who was destined to receive a huge moment at TLC 2020. WWE didn't have any plan either to ruin her moments until the eleventh hour. According to Fightful Select, several people in WWE stressed that Charlotte Flair's return was "not in the cards or considered" when WWE started building the storyline between Lana and Nia Jax.
Charlotte Flair TLC Return Destroyed Plans For Lana
The report added that it was always expected that Charlotte Flair would return in the "fall or winter" but she wasn't considered for such an angle. There were also "plenty of members" of the roster who were absolutely unaware of Flair's return. WWE did want to create a shocking moment and they were able to create that but Lana was not happy about it.
Booker T Drops Hint Of Returning To Competition In WWE
Ringside News previously reported that WWE made the decision to pull Lana from that TLC match after it was decided that Charlotte Flair was returning. As a result, an injury angle played out where Baszler took her ankle out. Thanks to buzzing in social media, the return may really haven't been a very big secret, but Lana's plans certainly changed in the process.
As reported earlier, Lana was feeling completely heartbroken with the news that she had to go out of the equation of the Women's Tag Team Title Match for which she worked hard over the past several months. She was put through the announce table on nine different occasions by Nia Jax. The Ravishing Russian was up for retribution until Charlotte Flair ruined her moment.
Lana Shows Off Her Assets In Latest Social Media Pictures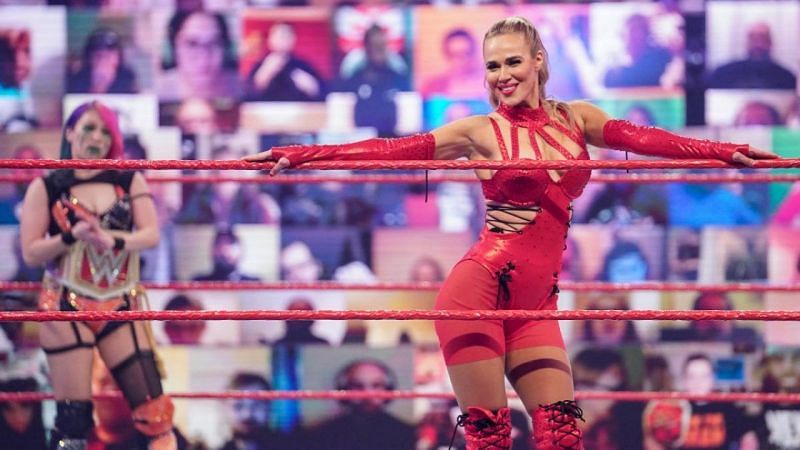 Following the injury on Raw, Lana is out of action for some weeks but she plans to make a big comeback. This is what she had to say about a potential return during an interview with the New York Times,
she has said that she is determined to continue no matter what is thrown at her.
"I've outlasted so many people here," she said. "You're not going to kick me out. And I don't know, maybe it's just determination. I think a lot of things–I really haven't been best at anything in my life. It's always been determination not to quit, to keep going to find a way no matter what." (Quotes courtesy Wrestling Inc)
https://www.wrestlinginc.com/news/2020/12/lana-reacts-to-speculation-that-she-being-punished-by-wwe-678197/