Golf
Hogs Sixth After 36 Holes at LSU Tiger Golf Classic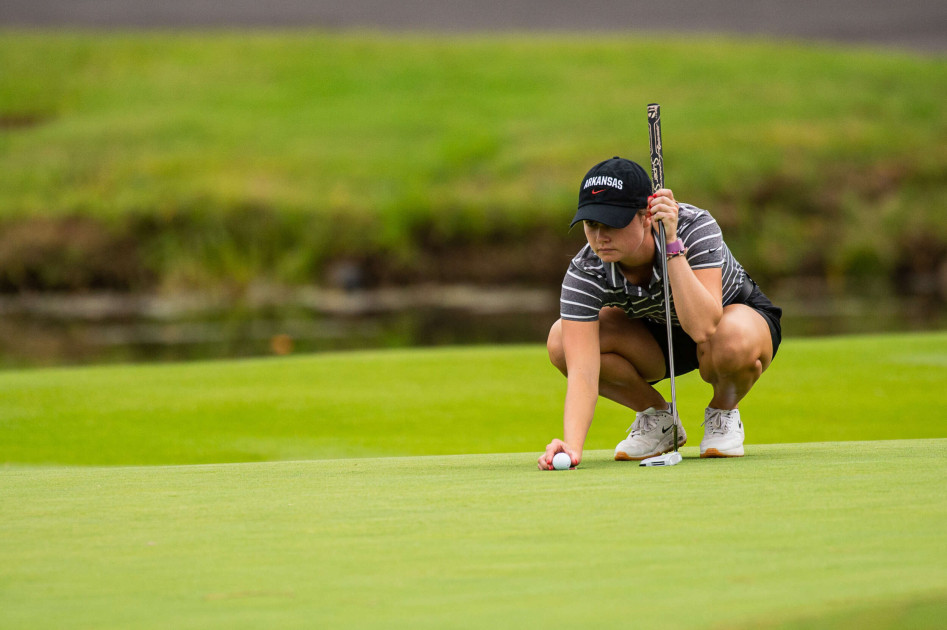 BATON ROUGE, La. – No. 16 Arkansas Women's Golf is sixth after rounds one and two at the LSU Tiger Golf Classic, as Head Coach Shauna Taylor's Hogs are 14-over (292-298—590) after 36 holes of play. After a slow start, the Razorbacks made a push up the leaderboard at the end of round one, and held their spot in the top half in the second. Host LSU amassed a huge lead on day one, as the Tigers sit at nine-under after two rounds. Carla Tejedo Mulet of LSU and Hannah Levi of Mississippi State are tied for the individual lead, both at four-under.
Brooke Matthews is just four strokes off that four-under lead, as the Hogs' leader shot even on day one at the LSU Tiger Golf Classic. The redshirt junior was on point in the first round, shooting a two-under 70, which included four birdies on the back nine during the round. It was her eighth round under par this season. Matthews followed that up with a second round 74, good enough to give her a share of eighth place, and a shot at the individual medal, heading into the final round of the regular season.
Sophomore Julia Gregg is second in the Hog lineup after 36 holes, as she is currently three-over, tied for a share of 23rd place. Gregg shot a 75 in round one, but came alive in round two, firing an even 72. If not for a double bogey on 18 in the second round, Gregg would've continued her ascent up the leaderboard. Still, at just three-over, Gregg is only seven strokes off the lead.
Nipping at Gregg's heels was freshman Cory Lopez, who played similar rounds to Gregg. Lopez started the day with a 73 in round one, going two-over on the front and one-under on the back, before firing a 75 in round two. Lopez, who is tied for 27th headed into the final 18, collected four birdies over the first 36 holes of the event.
Sophomores Kajal Mistry (+7) and Ela Anacona (+15) rounded out the traveling party on day one. Mistry is tied for a share of 43rd, while Anacona is 69th on the individual leaderboard. Miriam Ayora, who played as an individual, is tied for 63rd after shooting a round of 11-over.
More Information
Keep up with all of the latest news and information and get behind the scenes looks into our program on our social media accounts. Follow us on Twitter at @RazorbackWGolf and check out our Facebook page "Razorback Women's Golf." Stats, news and player information can be found at ArkansasRazorbacks.com.