Golf
Hogs Head To SEC Women's Golf Championship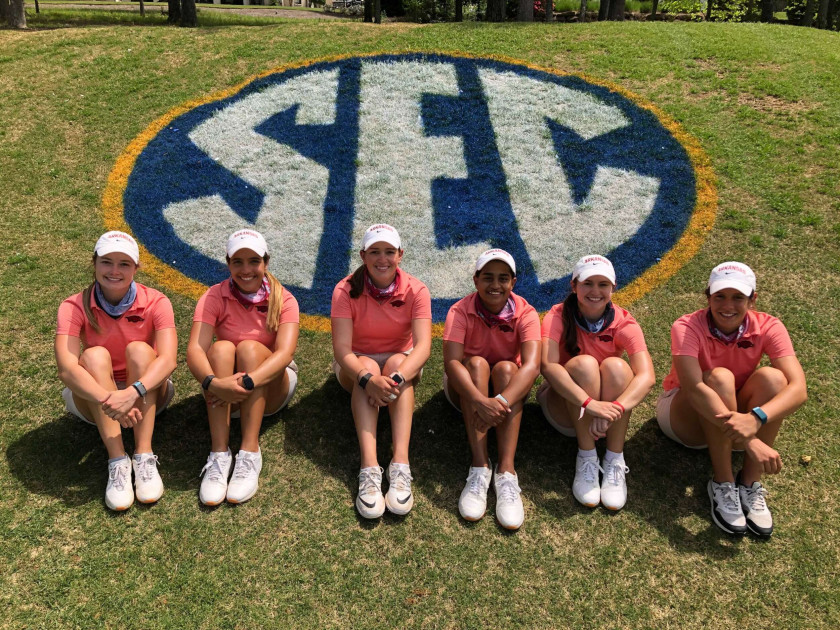 BIRMINGHAM, Ala. – For the first time in nearly two years, No. 13 Arkansas Women's Golf will take part in a postseason event, as the SEC Women's Golf Championship is set to tee off tomorrow, April 14. The annual event, which will once again take place at the Greystone Golf & Country Club, will feature three days of stroke play and two days of match play. Only the top eight teams after stroke play will advance to the weekend. According to Golfstat, Arkansas enters the tournament as the fourth-best performing SEC team during the regular season, trailing South Carolina, LSU and Ole Miss.
The Hogs will be led into the postseason by Brooke Matthews, who is coming off an extraordinary week. Matthews finished as the runner-up at the LSU Tiger Golf Classic, her second runner-up finish of the season. All-in-all, the Rogers, Ark. native put together one of the better regular seasons in program history, as she tallied one win, at the Blessings Collegiate Invitational, two runner-up finishes, and two other top-15 finishes. Matthews' rise was met with accolades, including a spot on the Curtis Cup Practice squad, a spot at the 2021 Arnold Palmer Cup, and a chance to play Augusta National during the Augusta National Women's Amateur. Matthews' consistency has been remarkable during her redshirt junior season, as her 72.63 scoring average this season would be the 12th best in program history if her season ended today.
Sophomore Julia Gregg has started to heat up as the season has winded down, as she has three top-15 finishes over her last four events, including a career-best 10th-place finish at the LSU Tiger Classic. In those three events, Gregg has played four rounds under par, including matching her career-low three times, firing one round of 70 at the Moon Golf Invitational, the Liz Murphey Collegiate Classic, and the LSU Tiger Golf Classic. She also finished an event under par for the first time in her career this spring, firing a career-low 215 at the Moon Golf Invitational.
The sophomore duo of Kajal Mistry and Ela Anacona will also make their postseason debuts on Wednesday, as neither were able to participate in the SEC Championships last year due to COVID-19. Mistry has started to come on strong in the late spring, as she has put together two top-30 finishes over her last three events, including a 16th-place finish at the Liz Murphey Collegiate Classic. Anacona also nabbed a share of 16th at the Liz Murphy, and also tallied top-25 finishes at the BCI and the Moon Golf Invitational.
After going wire-to-wire during her first collegiate regular season, playing in all eight of Arkansas' schedule events, freshman Cory Lopez will make her postseason debut as a Razorback at the SEC Championship. Lopez has shown poise for a freshman, as she has yet to finish outside the top-50 this season. Like Matthews and Gregg, Lopez has closed the season strong, registering back-to-back top-30 finishes at both the Liz Murphey and the Tiger Golf Classic.
More Information
Keep up with all of the latest news and information and get behind the scenes looks into our program on our social media accounts. Follow us on Twitter at @RazorbackWGolf and check out our Facebook page "Razorback Women's Golf." Stats, news and player information can be found at ArkansasRazorbacks.com.