Cricket
Heath Streak accepts 8 year ban imposed by ICC, cricketer apologises for his actions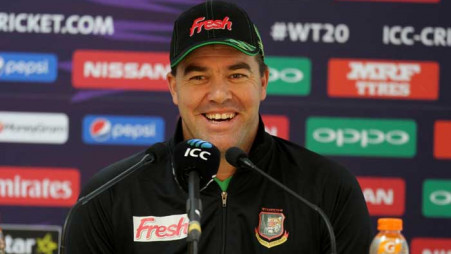 Former Zimbabwe captain and coach Heath Streak was been banned from all cricket for eight years for breaching the …
Former Zimbabwe captain and coach Heath Streak was been banned from all cricket for eight years for breaching the International Cricket Council's Anti-Corruption Code. Now the former KKR bowling coach, has accepted five charges levelled against him for his role as the coach of Zimbabwe between 2016-2018 and as the coach of various franchises. "I apologise sincerely to my family, friends, the cricketing loving public and above all my fellow Zimbabweans, who have over the years shown me love and support, during the numerous trials and tribulations we have faced," Streak said in a statement. "I want to place on record that I was not involved in any match-fixing, spot-fixing or attempts to influence a game or share information from a change room during a match. I hope acknowledgement of my wrongdoing, wittingly or unwittingly, will set an example to current and future stakeholders.
"In hindsight, I should have been more cautious especially given my position and all the information and opinions to which I am privy, however insignificant they appeared to me at the time." "In 2017, I met an individual keen to invest in cricket in Africa and in particular they wanted to sponsor a T20 Tournament in Zimbabwe, which would be called the Safari Blast. The individual was subsequently vetted and cleared through the usual protocols and to be honest I let my guard down as the friendship and potential business partnership blossomed. The nature of our relationship was fraternal and cordial at all times. I genuinely believed it was a safe space. I also hoped the relationship would be beneficial not only to myself and to the Academy but to Zimbabwean cricket and I pursued its growth with vigour. "At the onset I was engaged, and paid the Bitcoin, to assist in buying and building teams in different regional T20 competitions, which was successful, resulting in the purchase of a team in Dubai for this individual. Much later on in our friendship, the only other thing I received was a bottle of whisky and my wife was gifted a phone. Several months down the line the ICC then brought to my attention the fact that the individual with whom I had been dealing, and some of the information that I had shared during our friendship/interaction may have been used for online betting." Streak is set to assist anti-corruption education initiatives, "so that the next generation of players and administrators can see the potential dangers and pitfalls as well as understand the serious ramifications of their actions." 
Streak was the bowling coach of the now-defunct IPL franchise Gujarat Lions in 2016 and 2017 before he was roped in by KKR in 2018. Streak made his international debut in November 1993 against South Africa in an ODI. The 47-year-old's last international appearance was against India in a Test in September 2005. The 47-year-old was considered an all-rounder for his performances in the middle order of Zimbabwe and remained only 10 runs shy of 2,000 Test runs from 107 innings. He has one century and 11 half-centuries in the longest format of the game next to his name. In ODIs, he scored 2,943 runs from 189 games at an average of 28.29 including 13 half-centuries. He is the only Zimbabwe cricketer to have more than 1,000 runs and 100 wickets in Test cricket. Similarly, he is the only Zimbabwe cricketer to score more than 2,000 runs and 200 wickets in ODIs.