Canada
Guerrero Jr. puts exclamation point on breakout month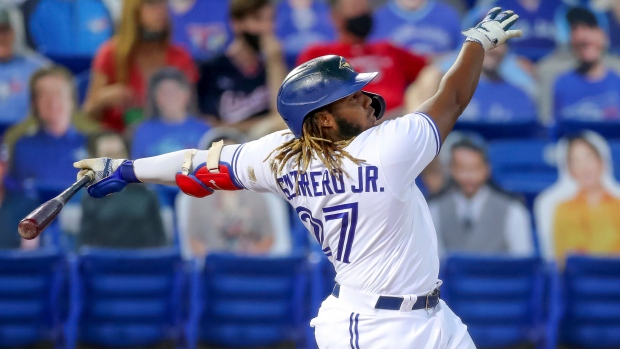 TORONTO — When you've checked a box that your Hall of Fame father couldn't get to in his 16 big-league seasons, you know you've done something right.
Not only did Vladimir Guerrero Jr. author his family's first-ever three-homer game in the big leagues Tuesday night, the 22-year-old put an exclamation point on a breakout individual month that's also carried the Toronto Blue Jays offence as a whole at times.
A slimmed-down Vladdy Jr. has been locked in since arriving at spring training and sensational production has followed.
No matter what number you look at — traditional, advanced or otherwise — Guerrero is posting a career best early on in his third season in the big leagues.
Guerrero put on a show and took a paintbrush to the box score against Max Scherzer and the Washington Nationals on Tuesday at TD Ballpark in front of the announced 1,471 in attendance, finishing 3-for-4 with those three bombs, while also driving in seven and crossing the plate three times himself.
"This is my career game, no doubt," Guerrero Jr. said through team translator Hector Lebron. "First of all, it's the first time I've hit three homers in my entire career, so that makes it very special.
"Having a night like that feels good, locked in like that feels great, but all the trust that I get from my team, from my teammates, all the work I put in with my coaches before the game, all the preparation, that's what it's all about. So I feel good."
The memorable night pushed his season slash line to a godly .360/.484/.693 with seven home runs and more walks than strikeouts in 22 games.
The production this month has been everything that was expected of him when he arrived almost exactly two years ago – and more.
While the traditional statistics and production are looking elite as the second month of the season looms, it's the underlying data that's most exciting.
Guerrero is still tearing the cover off the baseball, sporting a 95th percentile average exit velocity and a max of 116.1 mph, a number not many in the sport can even dream of matching.
His ground balls are down and his fly balls are up, leading to a significant jump in launch angle, from 4.6 degrees last season — one of the lowest in baseball — to 10.9 this month, which lands him 85th out of 140 qualified hitters.
Also on display Tuesday night in Dunedin was Guerrero's extraterrestrial ability to drive the baseball to all parts of the field.
In the third inning, he go things started by launching a grand slam off Scherzer, a no-doubt HOFer, to left field.
In the fifth, it was a moonshot to centre to touch up Scherzer for a second time.
Then, in the seventh inning, he completed the hat trick, driving a Kyle Finnegan offering over the right field wall to finish off the monster night and become the seventh-youngest player in MLB history to hit three in the same game.
Following his home run derby exploits in Cleveland almost two years ago now, this is the second signature moment of Guerrero's young career, with many more sure to come.
"Hitting two homers off a legend like that, it's unbelievable what I'm feeling right now," Guerrero Jr. said of Scherzer.
Vladdy Sr. was enjoying the show from afar, too.
"What a night for my boy," Guerrero Sr. tweeted. "All the hard work is paying off."
It all goes back to the work he did away from the baseball field when anyone is asked about Guerrero's current production on it.
"He deserves all the credit for what he's doing right now because he had an outstanding off-season and he's ready to play," manager Charlie Montoyo said Tuesday night. "He's doing what we thought he was going to do."
But there's also been growth when it comes to Vladdy Jr.'s pre-game routines and that maturation has also been noticed by the coaching staff this season.
"I wish you guys could see his batting practice," Montoyo noted. "That's what he's been working on in batting practice the whole time, trying to go the other way and hitting the ball where it's pitched and he's taking it into the game. It's been fun to watch."
Now back to the .500 mark, there's no arguing the Jays are a fun group to watch.
Bo Bichette has seen Guerrero put on shows like this before, and he hopes there's more to come as the Jays try to find more consistency as a lineup.
"At the top, obviously, but he's had a lot of great games, so like I've said before, nothing he does surprises me," Bichette said when asked where this performance ranks.
"Going through struggles builds you, I think, as a person if you look at it the right way. He's having fun, obviously doing great, and bringing a lot of energy to the team."