Golf
Graham Ewart Q&A on his life in Scottish golf and love of ice cream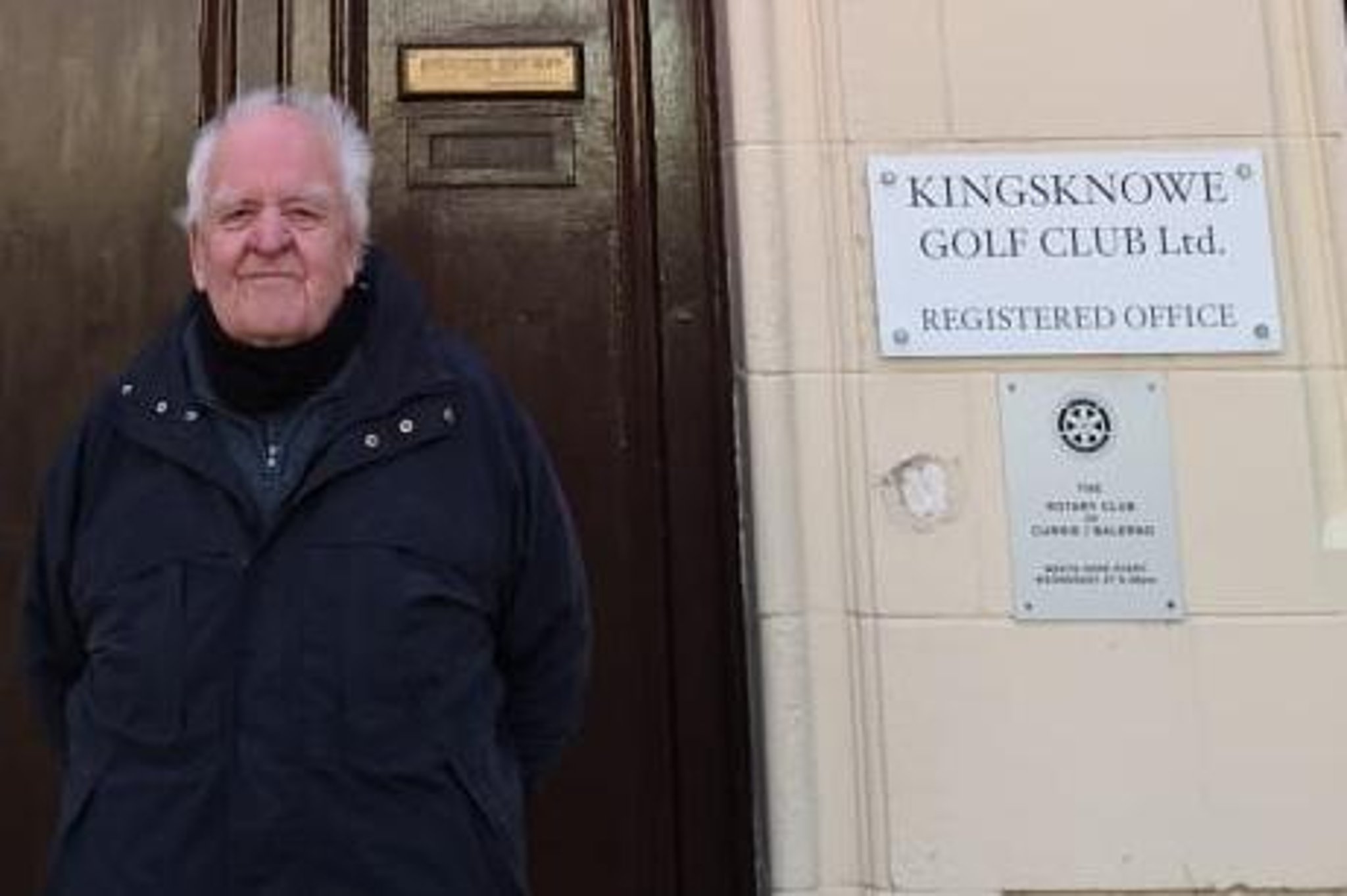 Graham Ewart's name is synonymous with golf in Scotland, having become a well-kent face the length and breadth of the country when he was the Scottish Golf Union's championship secretary/treasurer.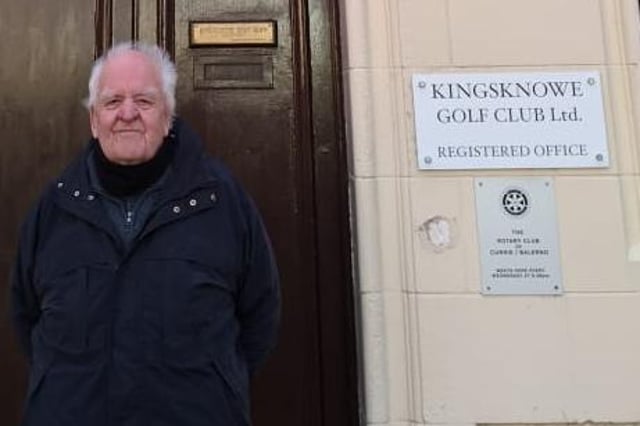 Graham Ewart was the treasurer at Kingsknowe for more than 35 years. Picture: Michael Kanev
It was a well-deserved honour when the Edinburgh man then served as the governing body's president, with few people in Scotland having made a more favourable impression in the game through having a friendly demeanour than 85-year-old Ewart.
In an exclusive interview, the long-time Kingsknowe member looked back on his life in the game and also lifted the lid on his love of ice cream.
How did you get into golf?
Graham Ewart pictured at his beloved Kingsknowe Golf Club, where he has been a member for more than 70 years. Picture: Michael Kanev
GE: My father's next door neighbour was a guy called Tommy Young and he talked my father into taking up golf before I started playing at seven or eight then joining Kingsknowe at nine.
Did the golf bug bite straight away?
GE: Not really. I played any sport I could but mainly rugby and golf and had to make a decision at school to either concentrate on rugby or golf. As I knew golf would last an awful lot longer as far as playing was concerned, I chose that, though, in junior school at George Heriot's the rugby team I was in also included Eddie McKeating and Ken Scotland, both of whom went on to play international rugby.
What was your personal playing highlight in the game?
Graham Ewart's legendary list of his top 10 ice cream parlours in Scotland. Picture: Contributed
GE: That would obviously be representing my country at boys and youths' level. Also winning the Spiers Trophy, the prize for the Lothians Boys' Championship, at 14, which is still the youngest. I have to be honest, though, and say that I preferred having a laugh when I was playing golf and, again being honest, I didn't have the temperament to play at the highest level.
How did you first get involved with the Scottish Golf Union?
GE: When I was 16 or 17, a man called Bill Sivewright invited myself and a fellow called George Scott, who became a captain at Bruntsfield Links eventually, on to the Lothians Golf Association to experience the administration side of things. I've always been involved in administration from that day on, having been treasurer of Kingsknowe, for example, for 35 years.
The SGU was based at Barnton back then. How did the governing body operate in those days?
GE: There was myself and three wonderful people who, like myself, were dedicated to golf. Shelley Milne and Christine Wood were the two women in the office and Ian Hume was the secretary. In those days, and I'm not saying it isn't these days, it was a labour of love. If I am being truthful, the four of us could never have coped with the volume and the way they have expanded. Whether it needed to expand, who knows.
What was the highlight in your tournament role?
GE: I got a great kick out of meeting other people. You came across so many friendly people in golf and I visited every club in Scotland. Only by doing that did I realise they are not all the same. I remember going to Barra, where the clubhouse was a shed and the greens had wire around them. That made me realise that there was more to golf than well-manicured golf courses.
And, of course, it was a real honour when you became SGU president after your term on the staff had ended?
GE: That came out of the blue, to be honest, when Hugh Hunter asked me to become his vice president. I had never sought to be president, but some of the things I experienced as president, including going to The Masters twice, were absolutely unbelievable.
What do you make of the modern-day governing body, which, of course, is the amalgamated Scottish Golf?
GE: In my day, without doubt, golf was run mainly by volunteers who put in a power of work and would work night and day. Nowadays, you have to ask what benefit does the ordinary golf club member get from the affiliation fee? It is worrying.
Do you feel that Martin Gilbert can provide a boost if, as has been proposed, he becomes the next chairman?
GE: He's certainly been involved in golf for a long time. The people in power at the moment – the directors – have the love of the game at heart, I don't doubt that. But one of the worries I have is that golf is becoming more and more expensive. Members are demanding better upkeep of courses but can we afford it?
Which players have you enjoyed seeing come through the amateur ranks then go on to enjoy successful professional careers?
GE: Colin Montgomerie has had an outstanding career. There were times in his career when he came across very poorly but that's been due to him playing for himself and being hard on himself. He wants to win all the time.
What about someone like Stephen Gallacher in your beloved Lothians?
GE: Stephen is an absolute gentleman. When I said I would help with the Stephen Gallacher Foundation after it was launched, I said I would only help on one condition and he said, 'what's that?' and I said, 'as long as you start calling me Graham and not Mr Ewart (laughing)'.
Who do you rate as Scotland's leading all-time amateur?
GE: That is a very difficult question to answer. George Macgregor has to be in the frame, as, of course, Charlie Green as they were two outstanding players. It's very difficult to compare golfers in different eras, to be honest. Of course, I have missed the obvious one – as I knew I would – and that is Ronnie Shade, who won the Scottish Amateur five years in a row after being runner up the year below. I mean, that is unbelievable.
Tell us about your love of ice cream and an infamous top 10 of Scotland's ice cream parlours?
GE: When Mr Boni's in Edinburgh was on the go, you could get a Ewart's Special from the list. Also, at The Open one year, when the SGU ran the Home Unions tent, there was an ice cream van next to it and you wouldn't believe the number of people who brought an ice cream in for me. I had to be polite and eat all of them and I would hate to think how many I had.
And that top 10 came from you travelling around the country and trying them out yourself?
GE: Oh yes. Some of the SGU finance officials were amazed when we held a meeting once in Mr Boni's. Boni's was the original No 1 on that list, but, once it closed, the honour went to Luvians in St Andrews.
All in all, it sounds as though you've enjoyed life and feel lucky to be involved in golf?
GE: Definitely. I couldn't have had a better job and couldn't have met better people.
A message from the Editor:Thank you for reading this article. We're more reliant on your support than ever as the shift in consumer habits brought about by coronavirus impacts our advertisers. If you haven't already, please consider supporting our trusted, fact-checked journalism by taking out a digital subscription.