Basketball
Gonzaga men's basketball team returns home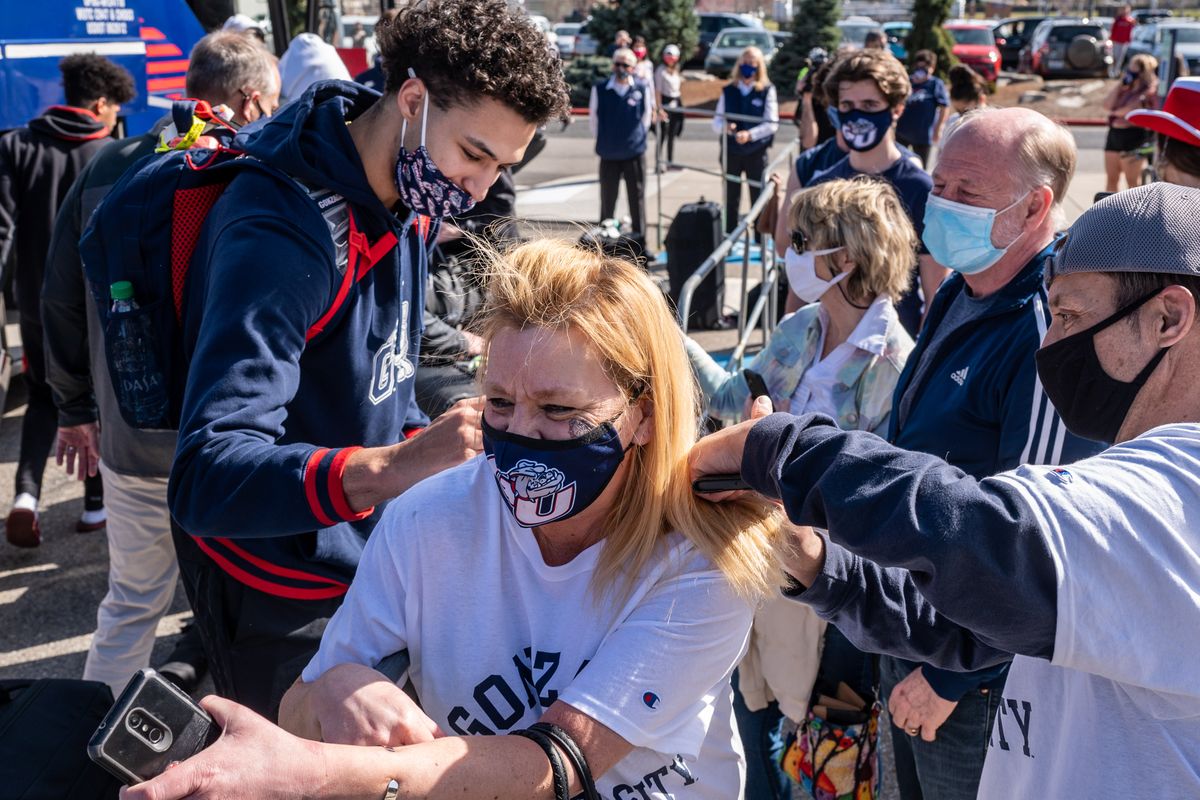 It's been three weeks since the Zags were in Spokane.
Less than 24 hours after a heartbreaking loss to Baylor in the final game of the 2021 NCAA Men's Basketball Tournament, the Gonzaga Bulldogs boarded a plane in Indianapolis, where they had been holed up for three weeks thanks to COVID-19 restrictions.
At roughly 2:30 Tuesday afternoon, the team's charter plane emerged from a cloudless sky. As it rolled along the tarmac at Spokane International Airport, two fire trucks shooting crossing streams of water created an arch about 50 feet high for the plane to pass under.
Players exited seeming tired, some carrying souvenirs and many fist-bumping their drivers as they boarded the buses to return to campus.
The Bulldogs arrived at their home court, McCarthey Athletic Center, to a crowd of more than 100 fans hooting and shouting, "We love you" just before 3:30 p.m. Police motorcycles with lights flashing preceded and followed the three buses.
Seven-year-old Eli Raby – hair dyed blue for the team and wearing a Zags jersey – dribbled with friends outside the athletic center before the team's arrival. As players filed out of the bus, he leaned against the metal barricade set up outside the building and watched for his favorite player, Jalen Suggs.
Casey and Dylan Concienne, 7 and 6 respectively, joined Raby by the barricade.
The Conciennes are longtime Gonzaga fans, and Casey and Dylan's father, Chris, attended Gonzaga basketball camp in high school.
Kile Concienne, Casey and Dylan's mother, said the season "gave us something to look forward to every week and cheer for; it was a good family event every week."
For freshmen Ariel Ragona and Bridget Braun, who have only had the chance to experience Gonzaga University student life under the cloud of COVID-19, cheering on their team has fostered an important sense of community.
"We all look out for each other, everybody's watching the games and we all support them and are proud of them no matter what," Ragona said.