Golf
Georgia Tech #ProJackets Golf Report – Men's Golf — Georgia Tech Yellow Jackets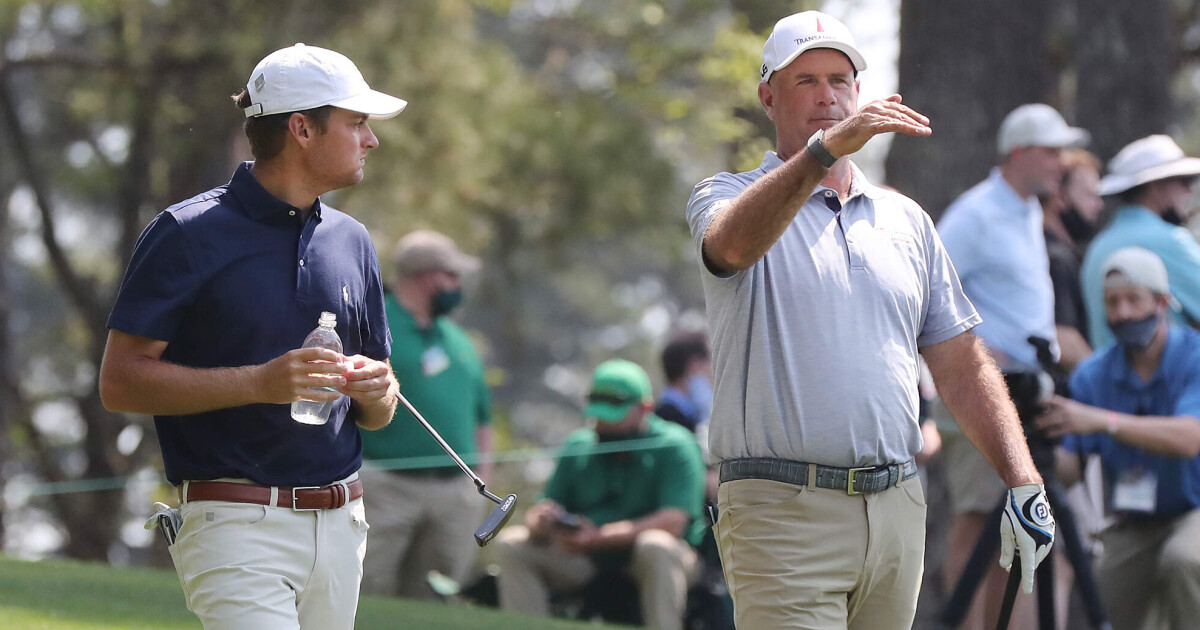 THE FLATS – Stewart Cink ties for 12th at the Masters, earning himself a trip back to Augusta National in 2022 … Luke Schniederjans achieves status on the Mackenzie Tour in Canada … More below in this week's Georgia Tech #ProJackets Report.
*****
CINK PLAYS SOLIDLY THROUGHOUT AT THE MASTERS
Veteran PGA Tour pro Stewart Cink, with his son Reagan on his bag, enjoyed a fruitful week at Augusta National Golf Club, firing a 2-under-par 286 over the 72 holes to tie for 12th place at The Masters. The seven-time winner on the PGA Tour had earned his spot in the field by winning the Safeway Open last fall, and his finish at Augusta earned him a return trip for his 20th appearance in 2022.
Cink, now 47 years old, has had a better finish at The Masters only twice before, placing 10th in 2006 and tying for third in 2008. He surpassed $40 million in career PGA Tour earnings in the process. He shot an opening 74, but came back with a 69 on Friday to make the cut, then finished 72-71 on the weekend. He was the oldest player among those to finish under par.
Matt Kuchar, playing his 14th Masters, and Larry Mize, playing his 38th, as well as amateur Tyler Strafaci, were not able to make it to the weekend.
Cink and Kuchar are among the past champions who will tee it up this week at the RBC Heritage at Harbour Town Golf Links in Hilton Head, S.C. Cink won the tournament in 2000 and 2004, while Kuchar took home the trophy and the plaid jacket that goes to the winner in 2014. Chesson Hadley and Richy Werenski also return to action this week.
Watch Cink's round 2 of 69 in under three minutes
A Grateful Cink has his son on the bag
Stewart Cink on his memorable first Masters week
The Cink player-caddie pairing: It's a blast
Letter from Augusta: Golfing at the Masters a generation game for the Strafaci family
Just try to get smile off Tyler Strafaci's face after tough opening round
*****
KUCHAR GOES REVERSE ARMLICK WITH NEW PUTTER
A new putting stroke resulted in a significant putter shift for Matt Kuchar at the Masters. Kuchar opted to try a stroke in which he arm-locked the putter to his right arm instead of his left, and he needed a new putter to accommodate the shift.
Kuchar visited Bettinardi's Tinley Park, Ill., headquarters during the week of the BMW Championship last August and has been testing different heads, shaft angles and such since. Bettinardi's design team and tour director, David Kubiak, have worked on the concept of right arm-lock with Kuchar for several months, experimenting with several head shapes and loft/lie angles.
*****
OGLETREE SIDELINED BY HIP SURGERY
Five months ago Andy Ogletree was sitting alongside Dustin Johnson in Butler Cabin as low amateur of the Masters Tournament.
On Tuesday, two days before the start of another Masters, Ogletree, now professional, announced that he recently underwent hip surgery. He is expected to miss several months, according to his surgeon, Dr. Benton Emblom of The Hip Center at Andrews Sports Medicine in Birmingham, Alabama.
*****
KORN FERRY TOUR RESUMES IN LAS VEGAS
Four Yellow Jackets – J.T. Griffin, Paul Haley II, Seth Reeves and Ollie Schniederjans – are in the field this week for the Korn Ferry Tour event in Las Vegas, the MGM Resorts Championship at Paiute Golf Resort.
Reeves currently holds the highest ranking among the former Tech players in the field at No. 22, with Haley at No. 29 and Schniederjans at No. 39. The top 25 in points at the end of the regular season will receive PGA Tour cards for 2021-22.
*****
ELSEWHERE
Luke Schniederjans achieved partial status on the MacKenzie Tour (PGA Tour Canada) last weekend when he tied for fifth place at the tour's qualifying school event at Callaway Gardens in Pine Mountain, Ga. The 2020 Tech graduate, who has two PGA Tour starts under his belt, shot 68-66-67-72 for a 7-under-par total of 273. Schniederjans is exempt through the first half of the Mackenzie Tour season, though the tour has one more qualifying even tto come in early June, and the regular-season schedule has not yet been announced. James Clark and Drew Czuchry fell short of qualifying, tying for 40th and 53rd, respectively.
*****
UPCOMING EVENTS
PGA Tour:  RBC Heritage • April 15-18, 2021 • Harbour Town Golf Links • Hilton Head, S.C. • Purse: $7,100,000
Korn Ferry Tour:  MGM Resorts Championship at Paiute • April 16-18, 2021 • Paiute Golf Resort – Sun Mountain Golf Club • Las Vegas, Nev. • Purse: $600,000
PGA Tour Champions:  Chubb Classic • April 16-18, 2021 • Tiburon Golf Club • Naples, Fla. • Purse: $1,600,000
All Pro Tour:  Fore the Kids • April 14-17, 2021 • Brownwood Country Club • Brownwood, Texas • Purse: $130,000
G Pro Tour:  St. Augustine Classic • April 13-15, 2021 • The Palencia Club • St. Augustine, Fla.
SwingThought Tour:  ST 19 Stonebridge Golf Club • April 14-16, 2021 • Stonebridge Golf Club • Charlotte, N.C.
PLAYER
PLAYER
LAST WEEK
DATA
ANDERS ALBERTSON
Hometown: Woodstock, Ga.
Turned pro: 2015
Years at Georgia Tech: 2011-15
Status: Korn Ferry Tour
Did not play
Points ranking: 61
YTD earnings: $106,387
Career earnings (KFT): $628,224
ROBERTO CASTRO
Hometown: Alpharetta, Ga.
Turned pro: 2007
Years at Georgia Tech: 2003-07
Status: PGA Tour
Did not play
Points ranking: 202
YTD earnings: $52,212
Career earnings: $7,463,260
STEWART CINK
Hometown: Florence, Ala.
Residence: Duluth, Ga.
Turned pro: 1995
Years at Georgia Tech: 1991-95
Status: PGA Tour
The Masters
T-12
74-69-72-71–286 (-2)
Points ranking: 26
YTD earnings: $1,939,215
Career earnings: $40,100,356
JAMES CLARK
Hometown: Columbus, Ga.
Turned pro: 2019
Years at Georgia Tech: 2014-19
Status: developmental tours
Mackenzie Tour
Q-School East 4
T-40
72-71-71-72–286 (+6)
Points ranking: T-104
(GPro)
YTD earnings: $2,887.50 (GPro)
Career earnings: n/a
DREW CZUCHRY
Hometown: Auburn, Ga.
Turned pro: 2015
Years at Georgia Tech: 2010-14
Status: developmental tours
Mackenzie Tour
Q-School East 4
T-53
75-72-72-71–290 (+10)
Points ranking: T-175 (GPro)
YTD earnings: $1,800 (GPro)
Career earnings: n/a
DAVID DUVAL
Hometown: Ponte Vedra Beach, Fla.
Residence: Denver, Colo.
Turned pro: 1993
Years at Georgia Tech: 1989-93
Status: none
Did not play
Points ranking: n/a
YTD earnings: n/a
Career earnings: $18,893,931
J.T. GRIFFIN
Hometown: Wilson, N.C.
Residence: Marietta, Ga.
Turned pro: 2011
Years at Georgia Tech: 2007-11
Status: Korn Ferry Tour
Did not play
Points ranking: 75
YTD earnings: $91,998
Career earnings (KFT): $153,975
CHESSON HADLEY
Hometown: Raleigh, N.C.
Turned pro: 2010
Years at Georgia Tech: 2006-10
Status: PGA Tour
Did not play
Points ranking: 131
YTD earnings: $366,807
Career earnings: $8,451,341
SHUN YAT HAK
Hometown: Hong Kong
Turned pro: 2013
Years at Georgia Tech: 2012-13
Status: PGA Tour China
Did not play
Order of Merit: 56
YTD earnings: ¥113,512
Career earnings: ¥251,305
PAUL HALEY II
Hometown: Dallas, Texas
Turned pro: 2011
Years at Georgia Tech: 2007-11
Status: Korn Ferry Tour
Did not play
Points ranking: 29
YTD earnings: $153,111
Career earnings (KFT): $497,882
MATT KUCHAR
Hometown:
Lake Mary, Fla.
Residence: Sea Island, Ga.
Turned pro: 2000
Years at Georgia Tech: 1997-2000
Status: PGA Tour
The Masters
missed cut
78-70–148 (+4)
Points ranking: 91
YTD earnings: $1,082,520
Career earnings (PGAT): $52,600,772
TROY MATTESON
Hometown: Austin, Texas
Turned pro: 2003
Years at Georgia Tech: 2000-03
Status: none
Did not play
Points ranking: n/a
YTD earnings: n/a
Career earnings: $9,392,206
LARRY MIZE
Residence: Columbus, Ga.
Turned pro: 1980
Years at Georgia Tech: 1975-79
Status: PGA Tour Champions
The Masters
missed cut
84-79–297 (+19)
Points ranking: n/a
YTD earnings: $147,670
Career earnings (Champions): $5,000,539
Career earnings (PGAT): $7,947,092
ANDY OGLETREE
Hometown: Little Rock, Miss.
Residence: Roswell, Ga.
Turned pro: 2020
Years at Georgia Tech: 2016-20
Status: none
Did not play
Points ranking: n/a
YTD earnings: 0
Career earnings (PGAT): 0
CHRIS PETEFISH
Hometown: Danville, Calif.
Turned pro: 2018
Years at Georgia Tech: 2014-18
Status: MacKenzie Tour
Did not play
Points ranking: n/a
YTD earnings: n/a
Career earnings (KFT): $5,280
Career earnings (MacKenzie): $16,280
MICHAEL PISCIOTTA
Hometown: Alpharetta, Ga.
Turned pro: 2018
Years at Georgia Tech: 2014-18
Status: Developmental tours
Did not play
Points ranking: n/a
YTD earnings: n/a
Career earnings: n/a
SETH REEVES
Hometown: Duluth, Ga.
Turned pro: 2014
Years at Georgia Tech: 2010-14
Status: Korn Ferry Tour
Did not play
KFT Points ranking: 22
YTD earnings: $208,177
Career earnings (KFT): $469,565
Career earnings (PGAT): $309,588
LUKE SCHNIEDERJANS
Hometown: Powder Springs, Ga.
Residence: Alpharetta, Ga.
Turned pro: 2020
Years at Georgia Tech: 2016-20
Status: Developmental Tours
Mackenzie Tour
Q-School East 4
T-5
68-66-67-72–273 (-7)
Points Ranking: 21 (GPro)
YTD earnings: $6,572 (GPro)
$1,710 (SwingThought)
OLLIE SCHNIEDERJANS
Hometown: Powder Springs, Ga.
Turned pro: 2015
Years at Georgia Tech: 2011-15
Status: Korn Ferry Tour
Did not play
KFT Points ranking: 39
YTD earnings: $148,992
Career earnings (KFT): $438,648
Career earnings (PGAT): $3,879,653
NICHOLAS THOMPSON
Hometown: Coral Springs, Fla.
Turned pro: 2005
Years at Georgia Tech: 2001-05
Status: Korn Ferry Tour
Did not play
Points ranking: 151
YTD earnings: $27,635
Career earnings (KFT): $889,499
Career earnings (PGAT): $5,729,551
CAMERON TRINGALE
Hometown: Laguna Niguel, Calif.
Turned pro: 2009
Years at Georgia Tech: 2005-09
Status: PGA Tour
Did not play
Points ranking: 37
YTD earnings: $1,505,962
Career earnings (PGAT): $13,127,013
RICHY WERENSKI
Hometown: South Hadley, Mass.
Turned pro: 2014
Years at Georgia Tech: 2011-14
Status: PGA Tour
Did not play
Points ranking: 109
YTD earnings: $703,414
Career earnings (PGAT): $5,249,520
VINCENT WHALEY
Hometown: McKinney, Texas
Residence: Fayetteville, Ga.
Turned pro: 2017
Years at Georgia Tech: 2013-17
Status: PGA Tour
Did not play
PGA Tour Points ranking: 138
YTD earnings: $315,279
Career earnings (PGAT): $522,851
Career earnings (KFT): $167,469