Basketball
Game day breakdown: No. 15 Kansas basketball at No. 18 Tennessee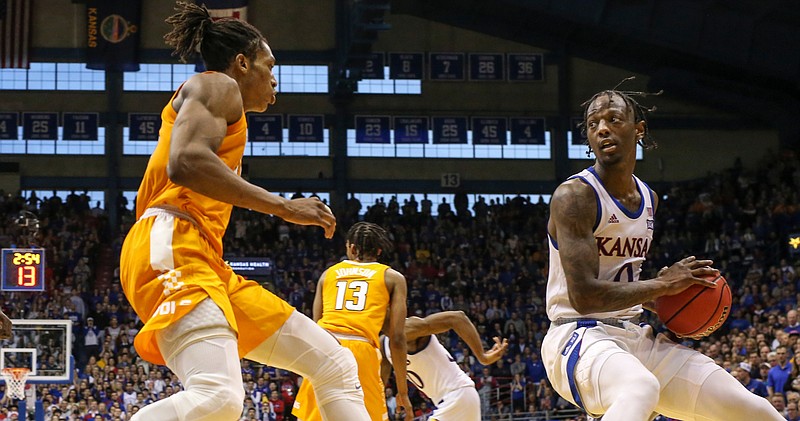 No. 15 Kansas Jayhawks (11-5 overall, 5-4 Big 12) vs. No. 18 Tennessee Volunteers (11-3 overall, 5-3 SEC)
Time: 5 p.m., Saturday, Jan. 30, 2021
Location: Thompson-Boling Arena, Knoxville, Tenn.
TV: ESPN | Radio: IMG Jayhawk Radio Network
Log on to KUsports.com for our live game blog coverage and follow the KUsports.com staff on Twitter: @KUSports @mctait @bentonasmith & @SJacksonLJW
Keys for Kansas
1. Another boost from the bench?
The Jayhawks got a big time lift from the bench in Thursday night's home victory over TCU and it will be interesting to see how much of that, if any of it, carries over into this one.
Tyon Grant-Foster and Dajuan Harris were two of KU's best players in the second half and both contributed heavily to helping Kansas snap its three-game losing skid.
They also both started the second half, bringing energy, athleticism and all-out effort to both ends of the floor.
Regardless of whether either of them, both of them or neither of them starts again at Tennessee, their mentality should be the same.
Not only did it serve them and the rest of the team well. But it also sets a terrific example for others to follow, whether that be Tristan Enaruna or struggling starters Jalen Wilson and Christian Braun.
2. Pass, protect and play with purpose
It's going to be tough for Kansas to match Tennessee's athleticism and energy in this one, which makes playing with poise all the more important.
Add to that the fact that this is a Volunteers team that is known for its defense — ranked second nationally in KenPom.com's adjusted defensive efficiency rankings — and the focus immediately shifts to the Kansas offense and how it attacks the Vols.
The Jayhawks don't figure to deviate too much from what they do and who they have been. They'll look to take open 3-pointers. They'll try to get David McCormack going inside. And they'll look for driving lanes to the rim whenever possible.
But in the process of doing all of those things, KU has to put a premium on valuing each possession. Doing that goes beyond avoiding turnovers; although that would help. Tennessee's defense is forcing an average of 17 turnovers per game so far this season.
The Vols also are allowing opponents to score just 59.3 points per game so far this season and is holding opponents to less than 40% shooting from the field (39.4) and barely 30% (30.8) from 3-point range.
"They're great defensively," Kansas coach Bill Self said Thursday night. "And a team that didn't get to 20 (in the first half vs. TCU) is going to play a team that only gives up (59) a game for the year. So we're going to have to play a little bit better offensively."
One area the Jayhawks could find success in their efforts to do that is on the offensive glass. Not only did Kansas grab eight offensive boards against TCU, but Tennessee also gave up a whopping total of 15 in its recent win over Mississippi State.
KU's offensive rebounding numbers have been a key factor in their success so far this season.
3. Keep Tennessee's guards on the perimeter
The Kansas defense has been inconsistent in a couple of key areas this season, and both of them have been Tennessee weaknesses of late.
The first, 3-point shooting, is something the Volunteers have really struggled with in recent games, making just three of 19 from the outside in this week's win over Mississippi State and three of 18 in a loss to Florida last week. The Vols squeezed a 9-of-22 showing in between those two outings, but that came in a loss to Missouri.
For the season, Tennessee is shooting just 32.5% from 3-point range and its lineup features just two players (Jaden Springer and Santiago Vescovi) shooting better than 31% percent.
Keeping the Tennessee guards and wings outside of the paint will be big in this one, provided the Jayhawks can rotate to shooters and get a hand up to challenge the 3-point shots the Volunteers do take.
The other area KU's defense has struggled is defending the entire shot clock. Even TCU on Thursday night was able to get to the rim late in the clock on several possessions. And if the Jayhawks allow that to happen in this one, not only will they be giving up easy buckets because of defensive breakdowns, but they also will be playing right into Tennessee's hands.
The Vols want to use their length and athleticism to attack off the bounce. But that has not been a strength so far this season.
"I know they're an athletic team," McCormack said of Tennessee. "And a defensively sound team. So we're gonna have to make plays and we're going to have to be defensively sound, as well."
Marquee Matchup
Kansas guard Marcus Garrett vs. Tennessee forward Yves Pons
Both players recently made the mid-season watch list for the Naismith Award's Defensive Player of the Year honor.
Both players have length, athleticism, strength and versatility that allows them to play and defend all over the floor.
And their teammates often look to both players to carry them through a rough stretch or spark a surge when their team needs it.
Pons has a little size on Garrett and tends to play inside more. But, like Garrett, he also has been known to guard the opposing team's best player, regardless of position.
Whether that ends up being KU's leading scorer, Ochai Agbaji or Garrett or even Wilson and McCormack when they're in the game, Pons figures to get his turn on several Jayhawks on the defensive end.
Pons enters this one sixth on the team in scoring (8.6 points per game), second in rebounding (4.8) and as Tennessee's leader in blocked shots, with a whopping 27 through 14 games.
Garrett's numbers — 10 points and 5 rebounds per game — are strikingly similar, with his 22 steals taking the place of Pons' block totals.
This game will be Pons' third time playing the Jayhawks, against whom he has averaged 13 points and four rebounds per game in his previous two matchups. That includes last year's game at Allen Fieldhouse — a six-point Kansas win — in which he went off for 24 points, seven rebounds and three blocks.
Garrett, meanwhile, grabbed eight points, seven rebounds and four steals in last year's win over the Volunteers.
Jayhawk Pulse
There's no denying that the Jayhawks would love to get this win to add to the momentum they're trying to build for the stretch run.
But they have not sold out completely to get it.
Prior to Thursday's home victory over TCU, Self said the Jayhawks had not spent one minute of the week scouting or preparing for Tennessee and he noted that all of their prep for this one would take place on Friday and Saturday morning.
"This is one game that I can't get too worked up (about) from, from a standpoint of (putting) so much emphasis on winning this game," Self said. "We haven't given ourselves a chance, nor will we, to prepare in any way other than mentally to go play this game. Physically, we're not going to be able to prepare for this game just because of the energy it took to play (Thursday night) and then the travel (on Friday)."
"We want to go win this game desperately," Self added. "But (beating TCU) and winning on Tuesday (vs. Kansas State at Allen Fieldhouse) is far more important to me."
This year's SEC/Big 12 Challenge matchup marks the sixth ever meeting between these two programs and Kansas owns a 4-1 edge in the series. The lone Tennessee victory came in January 2010 in Knoxville.
KU is 5-2 in games played as part of the Challenge, which began in 2013.
Here's a fun note about this matchup: It features two coaches, in Self and Tennessee's Rick Barnes, who rank seventh and eighth on the active career wins list.
Barnes, now in his 6th season at Tennessee, of a 34-year head coaching career, currently has 720 career wins. Self, who is in his 18th season at KU and 28th overall, can tie Barnes with a win in this one. Self enters the matchup with a career record of 719-219.
Adding to the interest around the head-to-head coaching matchup is the fact that Barnes, with seven, owns more wins over Self than any other coach in college basketball history.
Michigan State's Tom Izzo also has beaten Self's teams seven times.
Although Tennessee's arena seats more than 21,000, the pandemic has limited capacity this season to around 4,000 fans, and those who make it into the game appear to be in for a coin-flip contest.
In addition to being ranked near each other in the polls, KU and Tennessee are ranked 18th and 19th, respectively in the latest KenPom.com rankings and the KenPom model has Tennessee winning a one-possession game, 66-64.
KenPom gives KU a win probability of 43%.
Probable Starters
No. 15 Kansas
G – Marcus Garrett, 6-5, 195, Sr.
G – Ochai Agbaji, 6-5, 210, Jr.
G – Christian Braun, 6-6, 205, Soph.
G – Jalen Wilson, 6-7, 190, RS-Fr.
F – David McCormack, 6-10, 265, Jr.
No. 18 Tennessee
G – Santiago Vescovi, 6-3, 188, Soph.
G – Keon Johnson, 6-5, 186, Fr.
G – Josiah-Jordan James, 6-6, 207, Soph.
F – Yves Pons, 6-6, 215, Sr.
F – John Fulkerson, 6-9, 215, Sr.