South Africa
England in India 2020-21 – Test cricket makes perfect return to free-to-air stage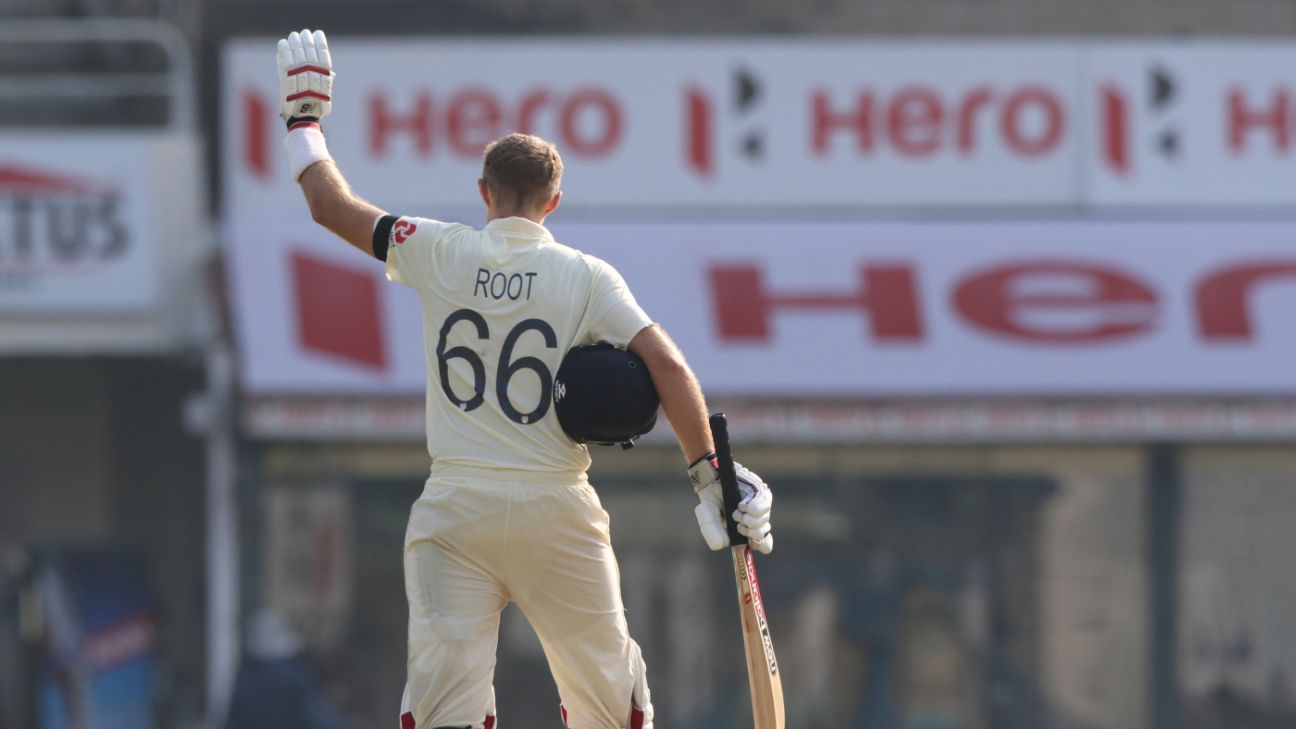 It was, in the end, the perfect return. After years in hiding, Test cricket peeped out from behind its paywall and proved its charms, like Audrey Hepburn or a trip to Paris, are undimmed by time or fashion.
It's quite some knack Channel 4 have of picking their games. The last time a day's Test cricket was broadcast free-to-air in the UK, they showed Kevin Pietersen's maiden century clinching England a first Ashes series in a generation. On their first day back, a decade-and-a-half later, they showed Joe Root cementing his place among the greats of English cricket with a century that was as beautiful as it was important.
First, the historic element: in the course of this innings, Root became the third England player (after Sir Colin Cowdrey and Alec Stewart) to register a century in their 100th Test and the second (after Sir Alastair Cook) to make three Test centuries in a row in Asia. He took his Test average back above 50 in the process.
More pertinently, Root has given his side a foothold in this game. There's a lot of cricket to be played in this match and England are not, by any means, out of danger. But by soaking up early pressure and taking his time to build an innings (he scored 12 from his first 54 balls), Root has shown his side how they compete in these conditions. It doesn't mean they will win, but it shows how they can.
It doesn't seem unreasonable to think a new audience, taking a peek at the game for the first time, may have fallen in love with Root's cover drives in the same way previous generations did with those of Ian Bell, Graham Thorpe, David Gower and Peter May. And if that shot didn't grab them, perhaps they would have fallen for the sweeps – be they reverse, slogged or conventional – or a cut so late it had to apologise to all concerned and promise to buy a new alarm clock.
And if they didn't? Well, maybe cricket isn't for them. For make no mistake, Root is batting at a level very few can match. Yes, we'll see more dramatic days. And yes, we'll see faster rates of scoring. But this was a day which showcased a great player at the peak of his form. And yes, if a new generation are searching for a role-model, they could do a lot worse than England's Test captain. This was a very good day for English cricket.
Every leading man needs a supporting cast, though. And Root's straight man, if you like, was Dom Sibley.
If you were in the marketing department of Channel 4, you could have been forgiven for letting out a little groan when you turned on the TV some way through the second session on the first day of this series. Whatever they were hoping for when they bought the rights for this series, it probably wasn't Sibley nudging and nurdling his way to a run-an-over 85. Had he not lost so much weight in recent times, it really might have been a passable impression of a glacier. In a team full of dashers – the likes of Ben Stokes, Jos Buttler and even Root – he is the anchor. Hoping to watch them and ending up with Sibley is like booking a ticket to see the Beatles and getting a chat with their accountant instead.
But from an England perspective, Sibley is what England have been crying out for. This is, remember, an England side which, within eight months in 2019, was bowled out for under 90 in Test cricket three times. A side which attempted to shoehorn Jason Roy into the role of Test opener. A side which, not so long ago, seemed to react to every challenge by trying to hit the ball harder and further. They were entertaining, no doubt. But they weren't, as a Test side, especially successful.
Times have changed. Since Chris Silverwood was appointed coach, England have embraced a more traditional approach to Test cricket which is based upon making significant first-innings runs. To that end, they have selected more traditional opening batsmen and, if they can covert this start into something above 400 on day two, it will be the seventh time they have done so in their 14 most recent first innings. To put that in perspective, before Silverwood took over, they had not managed a first-innings total of 400 in 22 Tests.
It's no coincidence that the improved record coincides with Sibley's time in the side. Or that England have won four series in a row with him at the top of the order. And while there are times you worry his scorelessness might put him under pressure, such is his determination, his patience and his belief, he seems happy to soak up such periods of play in the knowledge that the bowlers will tire before he does. He richly deserved a century here but can be consoled in the knowledge of the fine foundation he has built for his team.
It's worth comparing, for a moment, Sibley's contribution with that of Rory Burns. Burns, too, had built a decent platform. But in attempting to push on, he perished playing the reverse-sweep. It looked ugly.
We have to be careful here, though. We can't praise Root's daring and criticise Burns' simply on the basis of the success of the stroke. We can't just judge by results. Burns had noticed there was nobody at point and he had tried to exploit that gap. It's not such an unreasonable tactic.
But they are differences. While Root has played the reverse-sweep regularly, Burns had (according to Jarrod Kimber's statistics) played it only 31 times in his first-class career before this innings. Equally, when Keaton Jennings employed the stroke so successfully in Galle, it was on a pitch offering such extravagant turn that he reasoned it was a better defensive option than probing forward with a straight bat.
Here the pitch was flat and the ball offering nothing. Here the strike was being rotated and runs were coming smoothly enough. Here three of the bowlers were coming back from injury and might yet prove vulnerable to a prolonged spell in the field. Here there were just the first signs of a bit of frustration within the India ranks. It was the first session of a Test on a surface on which 500 might be par, too.
You would think, after his experiences against Pakistan, Burns would be ravenously hungry for runs. He scored only 20 runs in his four innings in that series with Shaheen Shah Afridi, in particularly, bowling him a series of unplayable deliveries. When you're a Test opener, these things will happen. But when you find yourself in circumstances like this, you have to make it count.
But he looked a bit impatient. And in trying to force the pace, altered the percentages to such a degree that he gave the bowler a much greater chance of success. Ravi Ashwin, perhaps spotting the move, bowled his slowest delivery of the day to that point and Burns was through his shot too early. Good bowling, certainly, but there was more than a hint of self-inflicted injury about the dismissal. Dan Lawrence's departure, almost immediately afterwards, only compounded the blow. Burns could do much worse than look at his opening partner and learn from his hunger.
The key thing to remember here is the value of first-innings runs. On the most recent Test on this ground – in 2016 – England won the toss, scored 477 and still lost by an innings. The game before, in 2013, Australia made 380 in their first innings and still lost by eight wickets. Make no mistake: this game is not safe. England have to be ruthless.
There is a case, a strong case, for attempting to bat into a third day. It would not only just about take defeat out of the equation in this game, it would put a lot more miles into the legs of this India side. With three more Tests to come within the next few weeks, that is an investment that could pay dividends.
In Root, England have the right man in position to capitalise on the second day. But while he will, quite rightly, dominate the headlines, he will be the first to credit the contribution of Sibley.
George Dobell is a senior correspondent at ESPNcricinfo