New Zealand
England captain Heather Knight considered missing Women's Big Bash over bubble fatigue concerns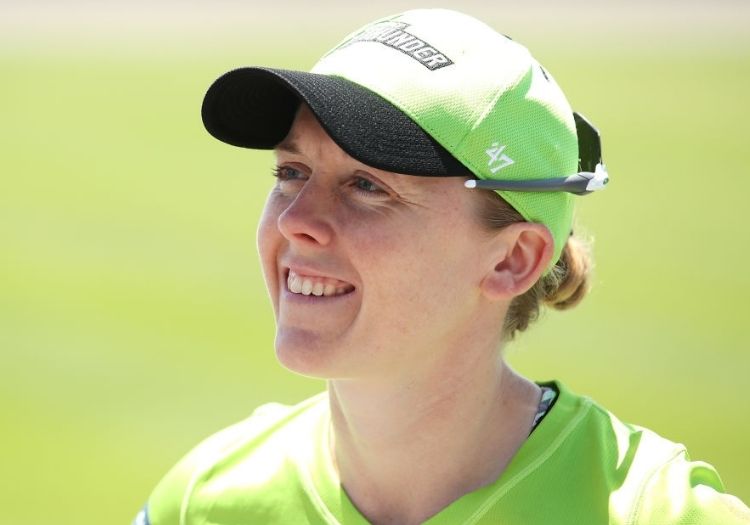 Read more at www.thecricketer.com
OLIVER THORPE: After being in a bio-secure bubble for England's five-match series against West Indies, captain Heather Knight only had two days at home before travelling to the WBBL
"It was a huge consideration when I was deciding to come over here, as it was with all the England girls." 
Those were the words of England captain Heather Knight, telling The Cricketer about her concerns of bubble fatigue during the Women's Big Bash League in Australia. 
Knight is currently in Australia representing Sydney Thunder, having made the switch from Hobart Hurricanes, where she played in previous editions. 
Speaking from her hotel room in Sydney, Knight added: "We managed to get two days at home (after England's T20 series against West Indies) before we had to get on a plane to come here. When we arrived, we had to spend 14 days in a hotel room, so there are a lot more sacrifices being made in order to play cricket at the moment. 
"My partner would usually come out when I play in the Big Bash, but obviously that's not able to happen this year which is a shame but I'm just trying to see the positives. 
"I'm at a point in my career where I want to be playing cricket and it was a choice of being back home training at Loughborough indoors or playing in a brilliant competition; testing those skills in the Big Bash." 
Due to the coronavirus pandemic, WBBL organisers decided that the sixth edition of the tournament should be played behind closed doors in a bio-secure environment. 
The WBBL village is housed in Sydney's Olympic Park, close to all five venues being used. Here, players can relax, train and catch up with friends who are representing other franchises. 
During her two-week mandatory quarantine period, Knight told The Guardian her accommodation was "like prison". 
"It's slightly better [now]," she says. "It's quite funny really because we were given pyjamas by the hotel; all the other English girls were there as well and they (the pyjamas) are grey, making them look a bit like a prison uniform. There were a lot of selfies flying around. 
"Quarantine wasn't particularly easy given you had to spend 14 days in a hotel room by yourself, but you're now in a bubble with 250 people so there's lots of different people top socialise with and there are a lot of England teammates here and friends that I've made here in Australia over the years too which is nice. 
"I've been hosting a few poker nights which has been good, but I've also found time to get away from everyone because it can be quite intense with eight teams in the hotel at the same time."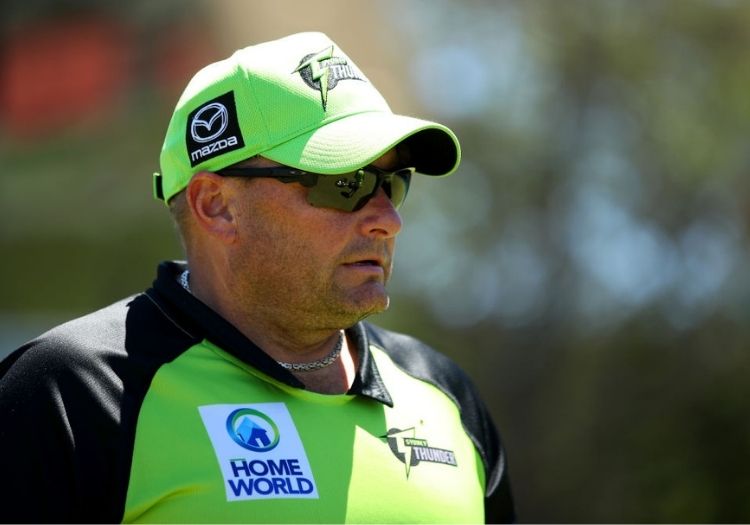 Knight has been reunited with Trevor Griffin, with whom she won two Kia Super League titles
Knight has also been familiarising herself with new teammates at Sydney Thunder, but has been reunited with head coach, Trevor Griffin, with whom she won two Kia Super League titles in 2017 and 2019. 
"I know Trevor very well; he actually coached me at Bristol during lockdown and I've been successful with him as coach at Western Storm, so that was another reason for me coming across. 
"He backs me, trusts my game and knows how to get the best out of me. It's nice to have another England face around too." 
So far, Knight has impressed with her new team and has enjoyed working at her new franchise. To date she has scored 251 runs at an average of 50.20, with a top score of 83 against Adelaide Strikers. On top of the runs, she has taken eight wickets with best figures of 3 for 4. 
"It's always nice to start well," says Knight. "It was nice to get off to a good start and settle. If things aren't going well, the games come thick and fast, so it can be difficult to find form. 
"I've really enjoyed it and it has been nice to make an impact for my new team and that new challenge has helped me with my performances.
"We're going well as a team and we have different types of player – that's exactly what we need if we're going to be successful. I'm really excited to see where we can go as a unit and hopefully, I can keep contributing in more wins." 
An extra comfort that helps Knight relax in her new environment is that England teammate Tammy Beaumont is also in the Thunder squad. 
"It's nice having Tam here. She's a great teammate so to have her in the new environment is nice," says Knight. "They're quite a young team here, so I haven't played against too many of them before.  
"The captain Rachael Haynes is someone who I haven't played with before but have played lots against previously, so it's nice to get things from her perspective and see how she leads the team. It was another reason for leaving (Hobart Hurricanes), to try and get a new perspective in a different environment." 
It was agreed that players wouldn't be forced to take the knee in support of the Black Lives Matter movement during the tournament, but instead the competition would support the aboriginal culture in Australia by partaking in barefoot circle ceremonies.  
Knight had pushed to take the knee but it seems that she and other players have adopted this in addition to the indigenous ritual. 
"Firstly, the aboriginal barefoot and call to country has been amazing. I've been really impressed by some of the girls at Thunder and Rachael, by how she's in terms of putting things into place and acknowledging the community. The team actually has two aboriginal players in it (Anika Learoyd and Hannah Darlington) who spoke amazingly about their backgrounds and what it means to them. 
"Obviously it's an important issue in Australia, and WBBL organisers realise that it's a global competition and there are players from all around the world playing in it.  
"I felt strong, as did many others, that we should continue the conversation around the Black Lives Matter movement and I'm delighted that the Thunder girls have committed to it all season as well as that around the aboriginal culture. Every human life is important irrespective of race, gender or anything like that."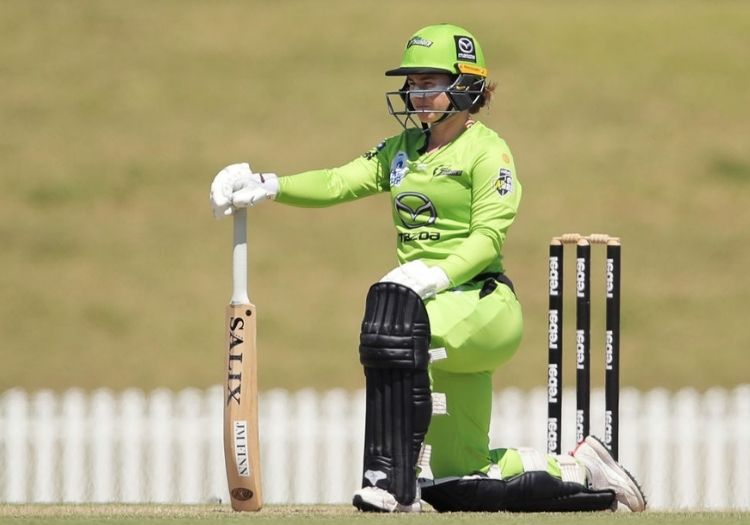 Players have have opted to take the knee as well as participate in the bare foot ceremonies
For a lot of the players in the WBBL, this is the first meaningful cricket they'll have played since the pandemic spread globally and Knight has praised organisers for making sure that the competition could go ahead, capitalising on the success of Australia's women at the Women's T20 World Cup in March. 
"I think it's great that Cricket Australia haven't sacrificed anything to get it on. Women's cricket is going like a train at the moment – it's a huge cost to have the tournament on in this way, having everyone in the same place and cramming the tournament into just over a month. It's a real credit to them; the players are just desperate to play. 
"Around the world – apart from us, Australia and maybe New Zealand, nobody knows what's happening with the international calendar. Players just want to play and are hopeful that some cricket can be planned because women's sport has definitely taken a bit of a back seat all over the world which isn't what you want to see." 
England's women are scheduled to play New Zealand later this winter, but the WBBL will be the last competitive cricket for many, if not all, the players before that series. Knight believes that this tournament comes a little early to be used as preparation. 
"As a cricketer, you learn and improve your skills by playing in games against the best players in the world, by trying to push your game forward to be able to compete. 
"It's a great opportunity for us girls who are out here, in particular for someone young like Sarah Glenn who's 21. She's got a brilliant opportunity at Perth to build on what was a fantastic first year of international cricket for her. 
"When you're brought over to play in these competitions there is an added pressure to perform as you're the overseas player. You're brought in to win games of cricket for your team in an environment that you're maybe not used to. You're expected to go out and do well; those experiences will be great for the England girls moving forward." 
More live cricket could be shown on free-to-air television as BBC to broadcast 2022 Commonwealth Games
With the postponement of the Women's Cricket World Cup until 2022, it makes for a huge year of women's cricket – an Ashes series, in addition to both 50-over and 20-over World Cups.
"Being in a good place for those will be key. I guess the ICC pushed the World Cup back a year to allow for extra preparation so they've obviously got a plan in place to allow for that. I accept it's hard at the moment with what's going on, budgets are being squeezed – you're always hopeful that women's cricket isn't the first thing to get cut." 
Women's cricket will also feature in the Commonwealth Games for the first time. It was recently announced that the BBC will broadcast the event, allowing for more women's cricket to be shown live on the BBC – something that happened last summer for the first time since 1993. 
"Being in the Commonwealth games too is obviously a big thing, it's a big thing for cricket and it should open up a whole new audience that might not have watched cricket before," Knight says. "People might tune in and watch given the prestige of the global tournament.
"The fact that it'll be visible on the BBC will be another excellent thing. The viewing figures this year for the West Indies series were encouraging and there's obviously an appetite for more. It's so important that young girls see women's cricket so that we can inspire them to do the same thing in years to come." 
Please ensure all fields are completed before submitting your comment!