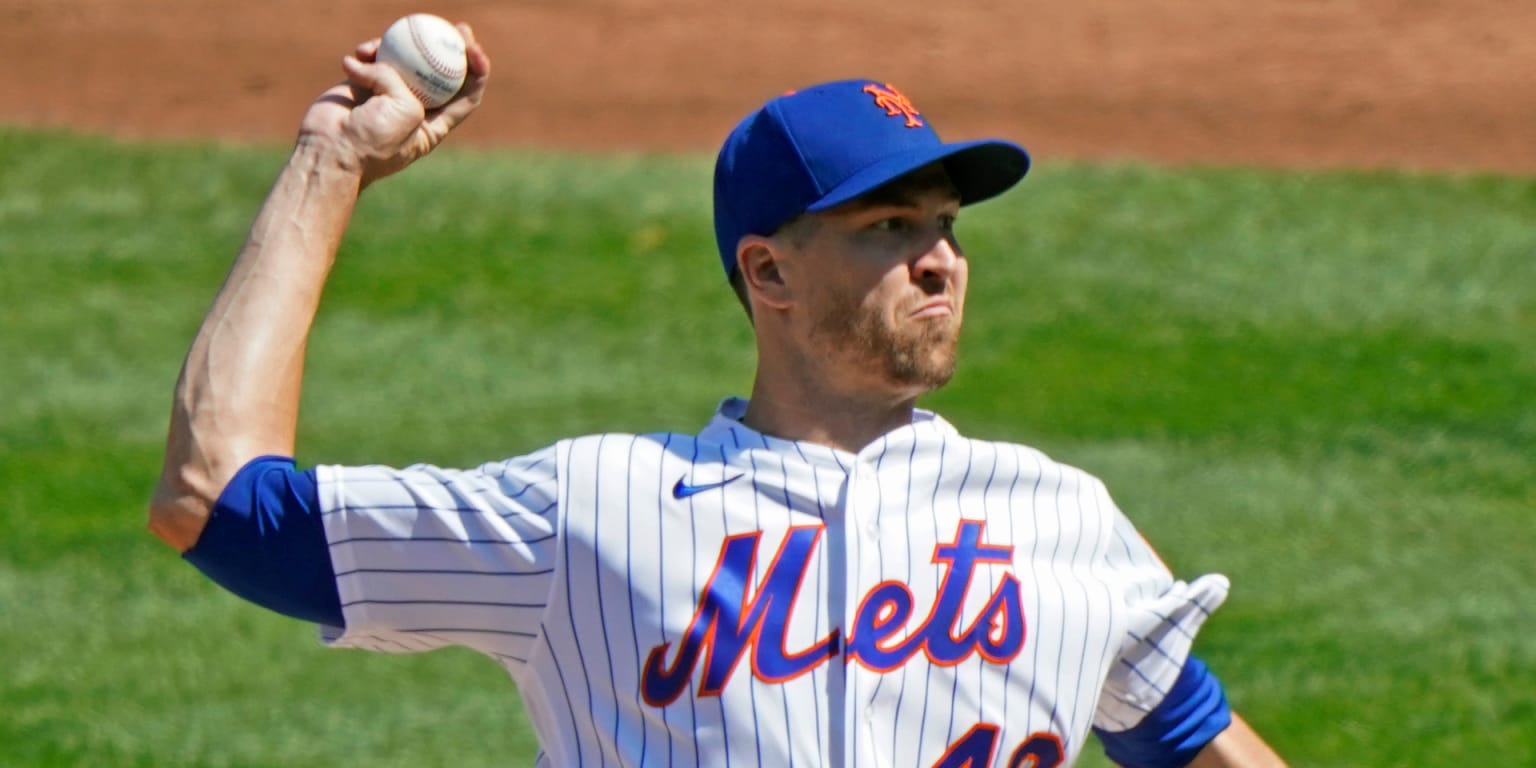 There are all those Cy Young Award winners with the Dodgers now, Clayton Kershaw and David Price and Trevor Bauer. The Padres acquired their own Cy Young guy when they got Blake Snell from the Rays this winter. Just over a year ago, the Yankees, in need of their own ace, spent $324 million on Gerrit Cole. You know what Bauer just got from the Dodgers. Jacob deGrom is still the best pitcher in baseball.
deGrom didn't win his third consecutive Cy Young Award for the Mets in the pandemic-shortened 2020 season; Bauer beat him out. Bauer only won one more game than deGrom did, but his ERA was a dazzling 1.73. Even in the season when he didn't make it a three-peat though, this is what deGrom did:
He dropped his ERA from 2.43 (in 2019) to 2.38, and he carried a 4-2 record in 12 starts for a team that had a losing record. He struck out 104 in 68 innings. He scattered just 47 hits in those 68 innings, meaning his strikeouts-to-hits-allowed ratio was more than 2:1. He averaged nearly 14 strikeouts per nine innings pitched.
deGrom hasn't gotten nearly enough run support for years, or he leaves games and is betrayed by the Mets' bullpen. Still, every fifth day he's throwing fastballs and sliders past the world all over again.
He is still working on the $137.5 million contract he signed in 2019. It is scheduled to pay him $33.5 million for each of the next two seasons. Even at those prices, he is a bargain. And he's still just 32 years old.
deGrom first announced himself to the country, really, in the Mets' 2015 National League Division Series against the Dodgers, one New York won in five games on its way to the World Series, where deGrom lost his first postseason game. He started — and won — two games against the Dodgers, and walked away from the NLDS with a 1.38 ERA and 20 strikeouts over 13 innings. He has been a brilliant constant in the Mets' rotation ever since.
First Matt Harvey, the Dark Knight of Gotham City, was supposed to be the great star of that rotation. Then along came Noah Syndergaard, with all that hair and another comic book nickname — Thor. Harvey battled injuries with New York, and he is trying another comeback, this time with the Orioles. Syndergaard is currently recovering from Tommy John surgery. It is deGrom, who had Tommy John surgery a decade ago after just one season in the Minor Leagues, who has become the most consistently excellent pitcher they've had since Mr. Tom Seaver.
Dwight Gooden, of course, was spectacular when he was a kid, especially in 1985, when he finished 24-4 at the age of 20 and had a Bob Gibson-like ERA of 1.53. While Gooden was later sidetracked by injuries and drug problems, it is deGrom who has been built to last. Over the past two full seasons with the Mets, deGrom allowed just 306 hits in 421 innings and struck out 524.
deGrom is 25-19 with a 2.10 ERA over the last three seasons. In the live-ball era (since 1920), only six pitchers posted an ERA that low over a three-season span in which they made at least 75 starts: Hal Newhouser (1944–46), Sandy Koufax (three times), Bob Gibson (twice), Greg Maddux (three times), Pedro Martinez (twice) and Clayton Kershaw (four times). Five of those six pitchers are already enshrined in the Baseball Hall of Fame; the other will be eventually.
There are a handful of teammates who have watched deGrom's whole show since that wonderful October 2015. Terry Collins was his manager, and then Mickey Callaway, and now Luis Rojas. But one person who has had a ringside seat to all deGrom has done is the great radio voice of the Mets, Howie Rose. He attended Cardozo High School in Bayside, Queens, and went to Queens College. Rose was a 15-year-old Mets kid when he watched Seaver and his teammates become the Miracle Mets in 1969.
Here is what he said about deGrom on Saturday:
"Here's the thing with deGrom," Rose said. "Eventually, the great ones morph from being enjoyable to historical. His place in Mets history was secured against the Dodgers in the NL [Division] Series, but since then, he has taken on an additional layer of greatness because of an unflappability the likes of which I have rarely seen. He simply dares you to reach base, never mind score a run against him, and he has earned his spot on the Mets' Mount Rushmore of pitchers right next to Tom Seaver. It's a privilege to call his games."
So much has happened to the Mets — on and off the field — since the 2015 World Series. Now, there is the feeling that they are starting all over again, with a new owner in Steve Cohen, and one of the bright young stars of the whole sport, Francisco Lindor, coming to play shortstop for them.
But through it all, they have had deGrom. No matter what was going on, every five days he would make you want to watch the Mets. Rose is right. Along the way, deGrom morphed from enjoyable to historical. Mets fans know: He's not Seaver. Just their Seaver.