NASCAR
Dale Earnhardt Jr. Left Josh Berry Speechless When He Surprised the NASCAR Driver With Some Life-Changing News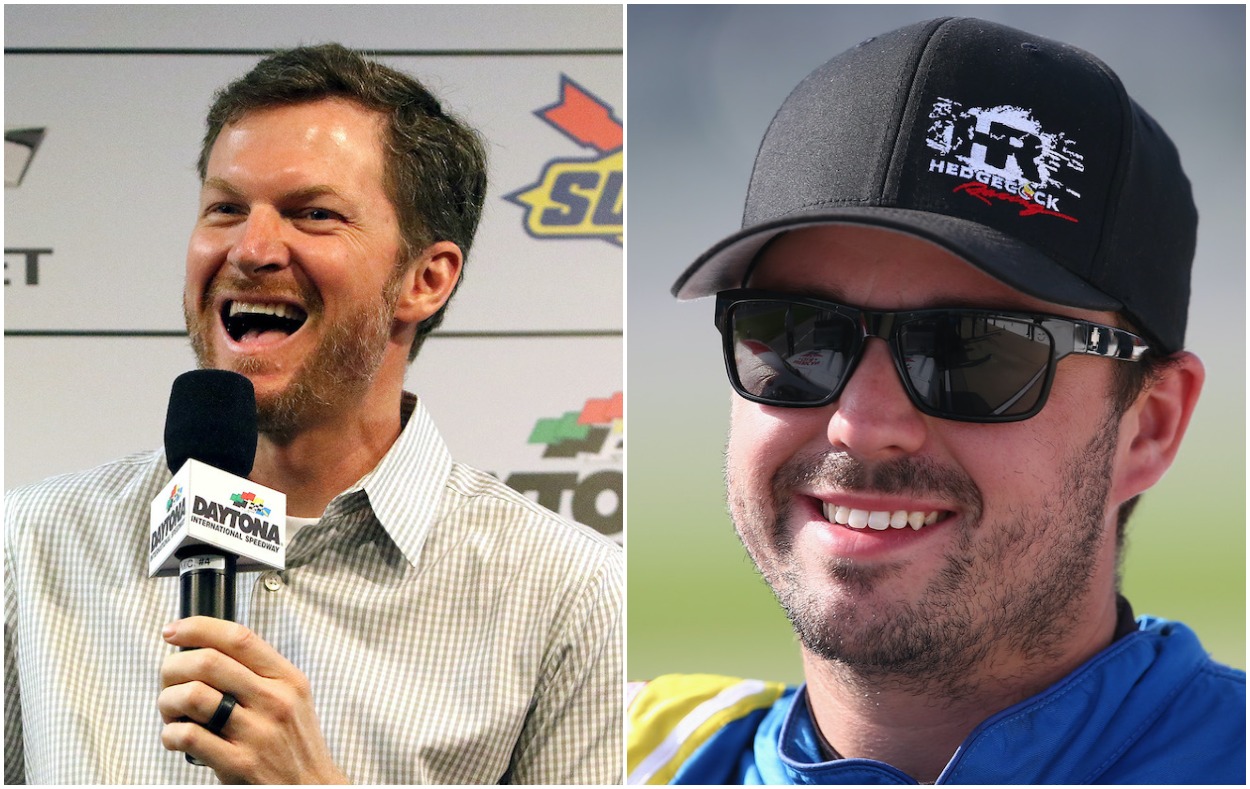 When Dale Earnhardt Jr. surprised Josh Berry with the exciting news that he would be driving the No. 8 car for JR Motorsports in the NASCAR Xfinity Series this season, he decided to have a little fun with the announcement. Instead of sharing the news with Berry in a typical fashion, Earnhardt Jr. played a playful prank on the up-and-comer by making him think he was just appearing on a radio show.
When Earnhardt Jr. hopped on the call to tell him the great news, it left Berry speechless.
Dale Earnhardt Jr. teamed up with Josh Berry for the 2021 Xfinity Series season
RELATED: Dale Earnhardt Jr. Won So Many Trophies in NASCAR That He Can't Even Keep Track of Where They Are
Last October, Dale Earnhardt Jr. was still searching for someone to drive the No. 8 car for JR Motorsports for the first half of the 2021 Xfinity Series season. JR Motorsports had already pegged 17-year-old Sam Mayer for the second half of the season, but he can't race on every Xfinity Series track until he turns 18 in June.
Earnhardt Jr. eventually decided on Josh Berry for the first half of the season. Berry has 10 years of experience with JRM's Late Model program, and he was coming off a championship in the NASCAR Advance Auto Parts Weekly Series.
"At JR Motorsports, we're always actively looking at opportunities to get Josh into the next level and race in our Xfinity cars more often," Earnhardt Jr. told reporters after the announcement. "We've had some opportunities to get him in our Xfinity cars and those have really proven successful, so much so that I was really shocked we didn't any more outside interest from corporate America to run more races, but we're always looking at opportunities to get Josh in our cars.
"He's a prime sort of up-and-comer that has put in a lot of work in the short track ranks to develop himself as a driver."
Dale Earnhardt Jr. left Josh Berry speechless after surprising him with life-changing news
RELATED: NASCAR Legend Tony Stewart Dealt With a Creepy Stalker That Called Him 300 Times Because He Couldn't Honor Her Request
Josh Berry has been trying to fight his way to the Xfinity Series for a few years now. His last start on the circuit before this season was back in 2017 with JR Motorsports, so when he learned he would be back in the driver's seat in 2021, he couldn't believe it.
In October of last year, Dale Earnhardt Jr. decided to have some fun with the announcement. He set up an interview for Berry on SiriusXM NASCAR Radio and jumped on the call to surprise him with the news.
"We're always trying to find opportunities," Earnhardt Jr. said on the radio show. "We have Sam Mayer coming on board to drive the No. 8 car in the back half of 2021. That kind of presents us with opportunities to put Josh in the car for the first part of the season. We also have some partner interest in having Josh back in an Xfinity car. So Josh, I'm excited to tell you, buddy, that we're committing to put you in the No. 8 Chevrolet for a dozen races in the first half of 2021. You worked hard for this opportunity… We're gonna go Xfinity racing next year."
Berry went silent as he gathered his thoughts, and the host intervened with a simple question.
"That OK by you Josh?"
"Uh, yeah, yeah that's OK with me!" Berry exclaimed as he fought back tears. "I'm honestly speechless… Gosh, that's amazing."
Josh Berry has already been making headlines in the NASCAR Xfinity Series
RELATED: Jimmy Florian Made NASCAR History When He Won a Race While Driving Half-Naked
Josh Berry has already been the talk of the Xfinity Series early in the season, but not in the way Dale Earnhardt Jr. would've liked.
Last Saturday, Berry was pushed into the outside wall by Santino Ferrucci during an Xfinity race in Phoenix. His car spun into the infield grass and wrecked out of the race. Shortly after, Berry exited his car and flipped two middle fingers to Ferrucci as he drove by.
Earnhardt Jr. wasn't too happy about his behavior.
"He had a great car and run up to third place in the race, but he gets out and flips the bird, two birds, whatever," Earnhardt said on the latest episode of the Dale Jr. Download. "I told Josh, I said, 'Man, you've been wrecked before. You know how to act. And this ain't it.' I know a lot of people are like — you love the passion, get 'em, Team Josh, right? I get that, too.
"But here's the thing, Josh is trying to become imprinted in people's mind and he ran a great race. Had a lot of speed. Up to third place at one point. Yes, the result was bad but if he gets out of the car and walks away to regroup for the next race, all people will remember is man, what could have been. He was so fast. Now, all they remember is the double-bird and nothing at all really about the performance on the track. I just don't want him to divert people's attention away from what's really important and that is that he is fast, that he can do this, and that given more opportunities, which we're trying to get for him, he could have great success."