NASCAR
Dale Earnhardt Jr. Almost Had His Crowning Moment at the 2001 Pepsi 400 Stolen by Michael Waltrip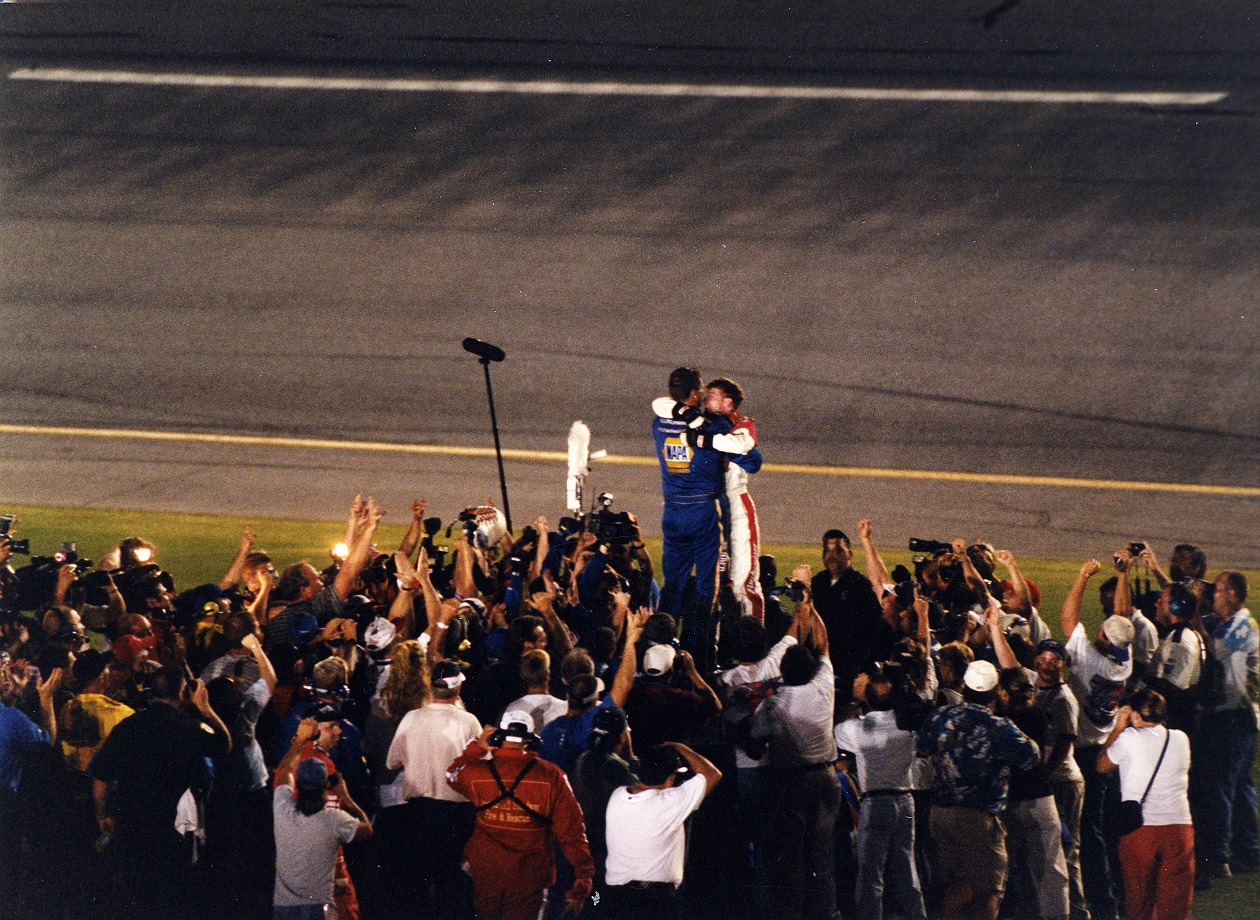 July 7, 2001 may have been the single most emotional night in NASCAR history. Four months after the tragic accident that claimed the life of Dale Earnhardt, his son, Dale Jr., returned to the Daytona International Speedway and claimed victory at the Pepsi 400. It did not come easy, however. Teammate Michael Waltrip, who finished second, had every intention of taking Junior's moment of glory for himself.
Michael Waltrip has something to prove at Daytona
RELATED: How Former NASCAR Driver Brian Vickers Has an Eerily Close Connection to the Late Convicted Sex Offender Jeffrey Epstein
The immediate Earnhardt family wasn't the only one who grieved after the loss of Dale Sr. His untimely death affected the entire NASCAR community, from his close friends to those who barely met him. One of those close friends was Michael Waltrip, who drove for Earnhardt's Cup Series team — Dale Earnhardt Incorporated.
It was Waltrip who won the fateful Daytona 500 where Earnhardt lost his life. The victory, his first in 463 Cup Series points-paying races. should have been the crowning achievement of his career and life. Instead, it would be forever overshadowed in history.
Waltrip struggled to recover from the shock of losing his friend and boss. After the Daytona victory, he failed to record a single top-ten finish in the Napa Chevrolet. For the next 15 races, he picked up an average finish of 28th and slipped as low as 29th in the points standings. Things were so bad, management at D.E.I. replaced his regular crew chief, Scott Eggleston, with Steve Hmiel.
"I had this awesome race car that Dale's team was building me and I didn't run as well," said Waltrip, in the recently-released documentary, Blink of an Eye. "It was probably me. Probably me not being able to do my job like I was paid to do."
Michael Waltrip tries to break out of a slump in 2001
RELATED: Dale Earnhardt Jr. Considered a Purchase That Would Take Honoring the Troops To a New Level
Understandably, when NASCAR returned to Daytona that July for the Pepsi 400, Michael Waltrip was in no mood to return to the site of his greatest personal devastation.
For the first time, in 2001, I'm going to Daytona, somewhere I don't wanna be. And that was confusing. It was hard. But eventually, a couple of weeks before, I told [my wife] Buffy, I said, 'I'm gonna go get revenge on that place. I'm gonna go win the race. I'm gonna go do a burnout, the biggest victory celebration you've ever seen, and I'm gonna celebrate Dale.

Michael Waltrip, Blink of an Eye
Early in the race, that looked like a possibility. After starting 22nd, he worked his way through the field and led two laps, staying near the front for most of the race. Meanwhile, teammate Dale Earnhardt Jr. — who also hadn't had the best of luck in 2001 — was the dominant car of the night, leading for long green-flag stretches.
Dale Earnhardt Jr. and Michael Waltrip duel for a Daytona win
On lap 151 out of 160, Jeff Gordon blew an engine and spilled oil on the track, drawing a yellow flag. The field went green again at lap 154, with Johnny Benson as the leader. That did not last long, however. Dale Earnhardt Jr. weaved through the field, driving all the way from sixth place to take the lead in just one lap. Even more impressively, Michael Waltrip charged all the way from 14th into second by the time the white flag came out.
He had two options. He could do what his boss and friend, Dale Sr., did for him in February and hold off the charging pack to ensure a victory for Dale Jr. Or he could go for the pass, the victory, and a Daytona sweep — something no driver had done since Bobby Allison in 1982. According to Waltrip, he was fully intent on doing the latter.
"I'm coming down the back straightaway, and I say, 'There it is, I'm gonna win this damn race,'" recalled Waltrip in Blink of an Eye. It wasn't until the last minute that he had a change of heart. "Instantly, I went from thinking, 'I'm blowing by this guy,' to, 'I'm pushing this guy.'"
Earnhardt Jr. got the victory, Waltrip finished second, and NASCAR's most emotional moment was secured.
Statistics courtesy of Racing-Reference.