NASCAR
Dale Earnhardt Climbed Out of an Ambulance To Finish NASCAR's Daytona 500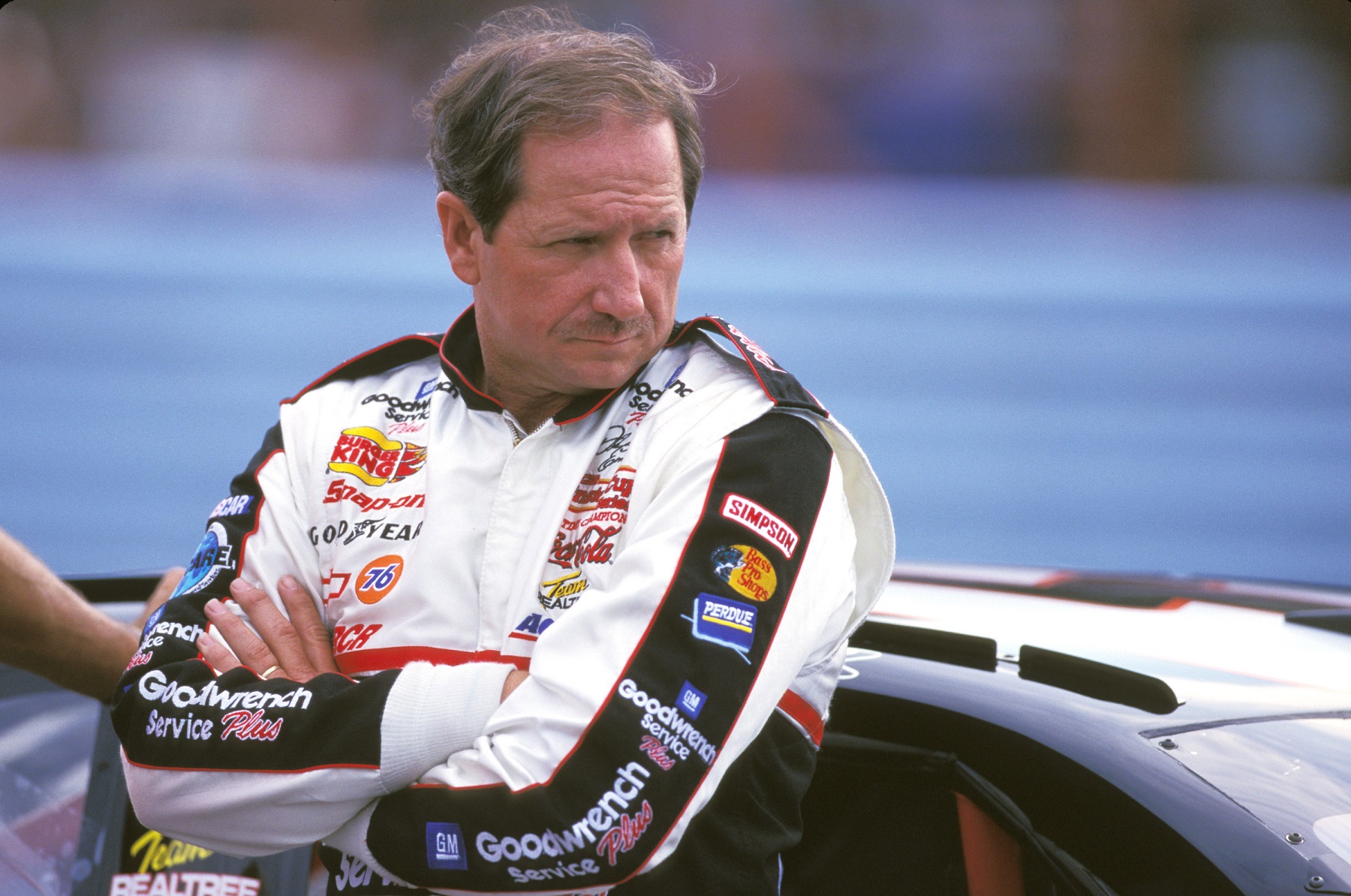 It should be a given that a man with nicknames like "The Intimidator" and "The Man in Black" is going to be as tough as they come. But Dale Earnhardt Sr. went above and beyond in the course of adding to his status as a NASCAR legend with the greatest 31st-place finish ever.
The Daytona 500 title is the most coveted in NASCAR
RELATED: Dale Earnhardt Sr. Went From High School Dropout to Racing Champion
Given his legendary determination to win, Dale Earnhardt Sr. likely was beside himself with anger those first 18 times he came away without winning the Daytona 500. On the 19th time, he was literally upside down at one point. It was the start of a legendary conclusion to the biggest race on NASCAR's annual schedule.
The moment was loaded with irony, too. Firstly, Earnhardt's nearly two decades of frustration finally came to an end the following year when he won Daytona 500 under a caution flag. Secondly, the 1997 Daytona 500 should have been the race that ended all those years of frustration instead of extending it.
It's not as though Earnhardt even needed to win Daytona to establish himself as one of the sport's greats. He had already recorded 70 of his 76 career NASCAR Cup Series victories by then as well as his seven season championships.
Still, everyone in the sport wants that victory at Daytona, the season-opening race on the schedule that is regarded as the Super Bowl of the sport.
A multi-car incident took Dale Earnhardt Sr. out of contention
RELATED: Dale Earnhardt Sr. and Sterling Marlin Had a Chilling Conversation About Death Just Days Before Fatal Accident
After 18 straight misses, the 1997 Daytona 500 looked like the one that could end the frustration for Dale Earnhardt Sr., who would go on to be inducted into the sport's Hall of Fame in 2010. Earnhardt and Jeff Gordon had what appeared to be the best cars that day, and the crowd was anticipating a great finish to the 200-lap race.
On lap 189, however, Gordon was making a strong passing move on the inside, and Earnhardt brushed the wall. The contact bounced Earnhardt's car back toward Gordon's but also slowed him down just enough that Dale Jarrett clipped the famous No. 3 Chevy from behind. That sent Earnhardt into a spin and a roll that left his Monte Carlo upside down for a moment.
Ernie Irvan had no time to react. His Ford plowed into Earnhardt's car, flipping it back onto its tires in the infield. Emergency equipment rolled to the accident scene, and Earnhardt extracted himself from his car.
Everyone – including Earnhardt – believed his day was over. That turned out not to be the case, even if he was no longer in the running to win.
Dale Earnhardt Sr. climbed out of an ambulance to finish
RELATED: The Conspiracy Theory That NASCAR Rigged Dale Earnhardt Jr.'s 2001 Season, Specifically His Win at Daytona, To Help Boost Ratings
Under NASCAR rules, drivers whose day ends with a wreck must be checked out at the on-site medical facility. Dale Earnhardt Sr. had left his car and walked to the ambulance after the wreck on lap 189 for the ride to the medical center.
Suddenly, he had second thoughts. As the emergency responders were hooking his car up to be towed back to the garage area, the competitor in Earnhardt just couldn't quit. The crowd roared as Earnhardt stepped back out of the ambulance.
"I saw the wheels were still on it," Earnhardt said, according to the Baltimore Sun. "I jumped out and told the guy in the car to fire it up. And when it started, I said, 'Get out! Give me my car back!'"
Earnhardt got back behind the wheel and drove the No. 3 Chevy to the pits, where rival crews applauded as he passed. Earnhardt lost five laps while his crew worked on the car, but he did complete six more laps and was still running as Jeff Gordon was taking the checkered flag.
Earnhardt officially finished 31st that day. But finishing at all added to his legendary status.
"Never count that guy out," Gordon said. "He's made of steel. … And that's why so many race car drivers want to pattern themselves after him. Unquestionably, he's the best driver out there."
Like Sportscasting on Facebook. Follow us on Twitter @sportscasting19.